Wellington, Fla.—Feb. 11

When Kent Farrington is facing a jump-off that's 11 riders strong, he has to strategize.
"My plan usually in a jump-off is to try to play to the horse's strengths," Farrington said.
Gazelle's strengths are exactly what her name suggests—lightning quick foot-speed, and a springy jump that allows Farrington to turn and burn and know he can trust the mare to get to the other side. Farrington also had the advantage of going fairly late in the jump-off—there was only one relatively conservative double clear from Catherine Tyree and Bokai, but following Farrington in the jump-off was Canadian power house Eric Lamaze and Fine Lady 5, the individual bronze medalists from the Rio de Janeiro Olympic Gamesand winner of two grand prix classes so far at the Winter Equestrian Festival (Fla.).
"My plan was to do what I thought the limit was for my horse and put the pressure on him to have to really chase me to win," Farrington said of Lamaze. Chase Lamaze did, but he wasn't fleet enough to best Farrington—Fine Lady pulled a rail in the jump-off, and the win was Farrington's.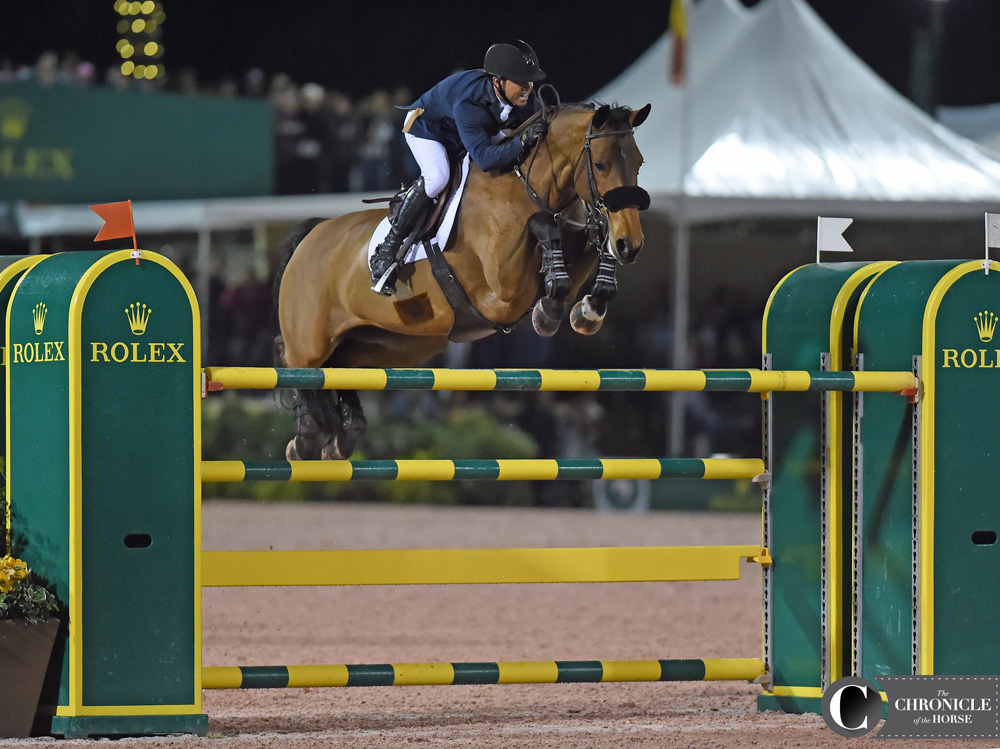 Kent Farrington and Gazelle on their way to the win. Photo by Ann Glavan
 "I knew if we were both running, his horse is probably faster in this type of arena, so I tried to put the pressure on him and hope he'd have one down," Farrington said. "Luckily for me it worked out tonight."
The jump-off for the Fidelity Investments Grand Prix CSI***** was large, but it was not the usual crowd—more than a couple young up-and-comers (Lucy Davis, Catherine Tyree, Chloe Reid and Brazilian rider Luiz Francisco de Azevedo) made it to the short course to do battle with superstars like Farrington, Lamaze, Magie Engle and 2014 Alltech FEI World Equestrian Games (France) team and individual gold medalist Jeroen Dubbeldam, while veterans like McLain Ward, Beezie Madden and Ben Maher found faults in the first round.
"After walking [the course], I thought a lot  was going to depend on the time allowed," Farrington said in his analysis of the Bob Ellis-designed course. "You'd have to ask him to rate his own performance afterward, I thought maybe he would want the time allowed a touch shorter in an ideal world so that there weren't quite so many clear. I thought maybe it was a bit lenient. I think you ended up with a few more in the jump-off then they wanted.
"But the jump-off was still difficult enough to go clear, so you probably ended up with the same spot anyway," Farrington continued. "But I bet if you asked him he would say that one or two seconds less, and I think you would have had a few less clear."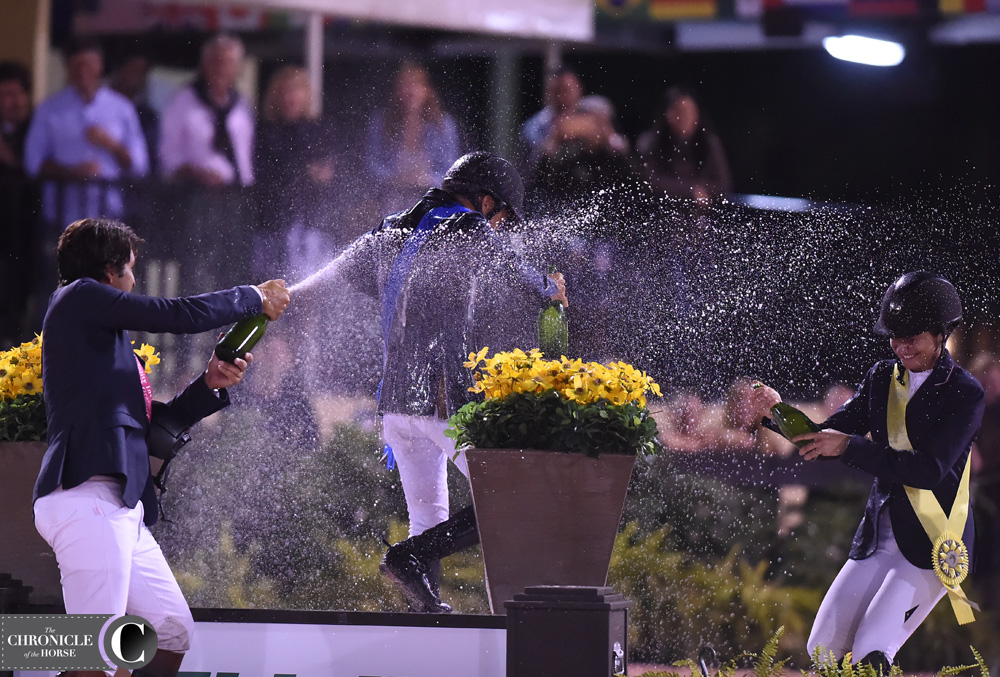 The top three finishers had a friendly champagne fight on the podium. From left: Luiz Francisco de Azvedo, Kent Farrington, and Catherine Tyree. Photo by Ann Glavan 
The jump-off was indeed a challenge, with only the top three finishers posting double-clear efforts. It involved a one-stride combination, an S-turn through the middle of the arena and ended with a long gallop about half the length of the arena to a hairpin turn down the final line. It called for a gutsy rider and brave horse ready to turn on a dime ready to launch over a huge vertical before galloping to the final oxer.
Second-place finisher Luiz Francisco de Azevedo couldn't believe how the night worked out for him and his mount Comic.
"I'm very happy because for me, it's like a win to be second behind Kent Farrington," Azevedo said. "For me it's like a victory!"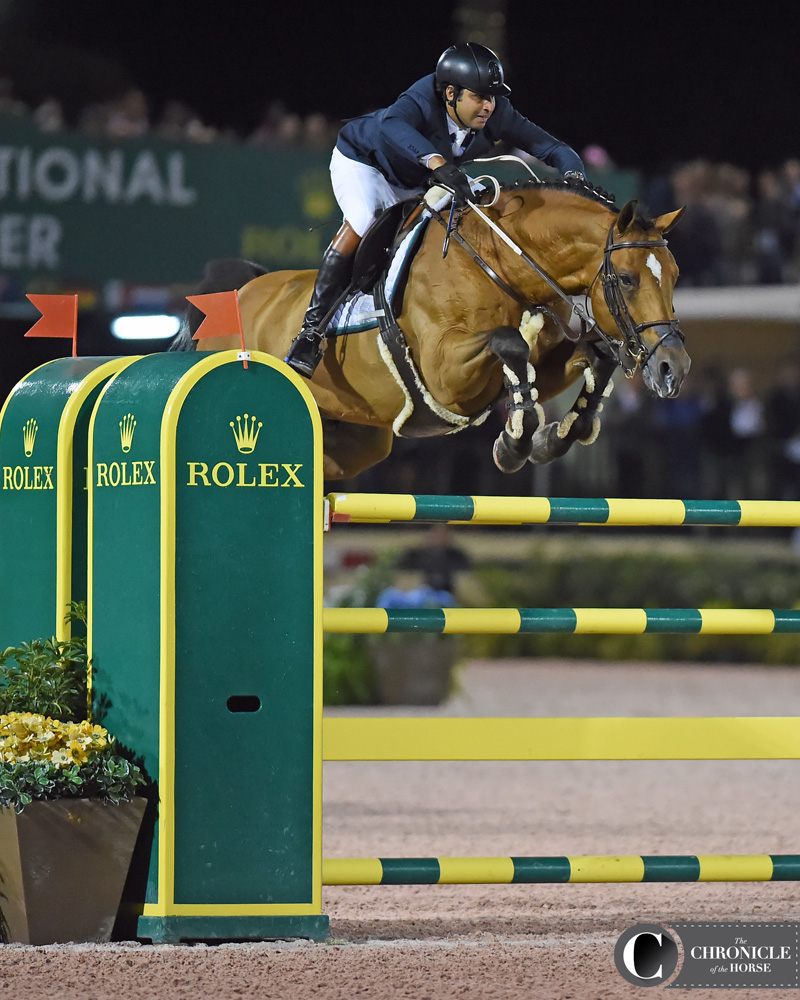 Luiz Francisco de Azvedo and Comic. Photo by Ann Glavan
Making it all the more special is the horse Azevedo rode to the red ribbon—he's an old friend.
"I'm really happy with my horse. We bought him when he was just a 6-year-old horse, and we built him," Azevedo said of the 10-year-old. "My goal was to be there where we are now. So for me I have to just thank God for that."
Third-place finisher Catherine Tyree was also happy to find herself in the top trio of riders from the five-star class.
"To even be jumping these classes is absolutely amazing. It's always been a dream of mine to jump Saturday nights," Tyree said. "To be sitting next to these two riders and this company is something I've really wanted and have worked toward. To finally accomplish that has been an absolutely amazing feat, and it really takes an entire team. I have great people behind me."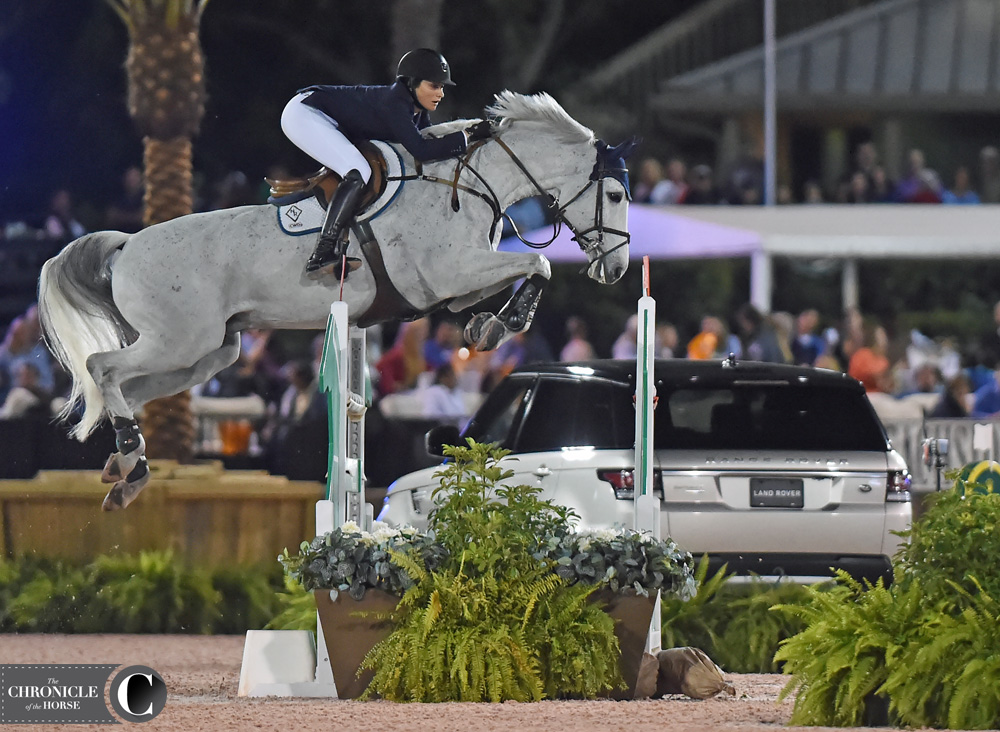 Catherine Tyree and Bokai. Photo by Ann Glavan
Tyree trains with Missy Clark and John Brennan of North Run in Warren, Vt., and her team has carried her through a lot in the past year. At last year's Winter Equestrian Festival, Tyree's mount Free Style VH Polderhof collapsed and died in the arena at the Palm Beach International Equestrian Center. Tyree was sidelined with an injured leg from the mare's sudden collapse before getting back in the saddle and back at the top of the sport.
"The past year has been… it was a little rough," Tyree said. "But now this is a fairy tale at the end. I couldn't be happier."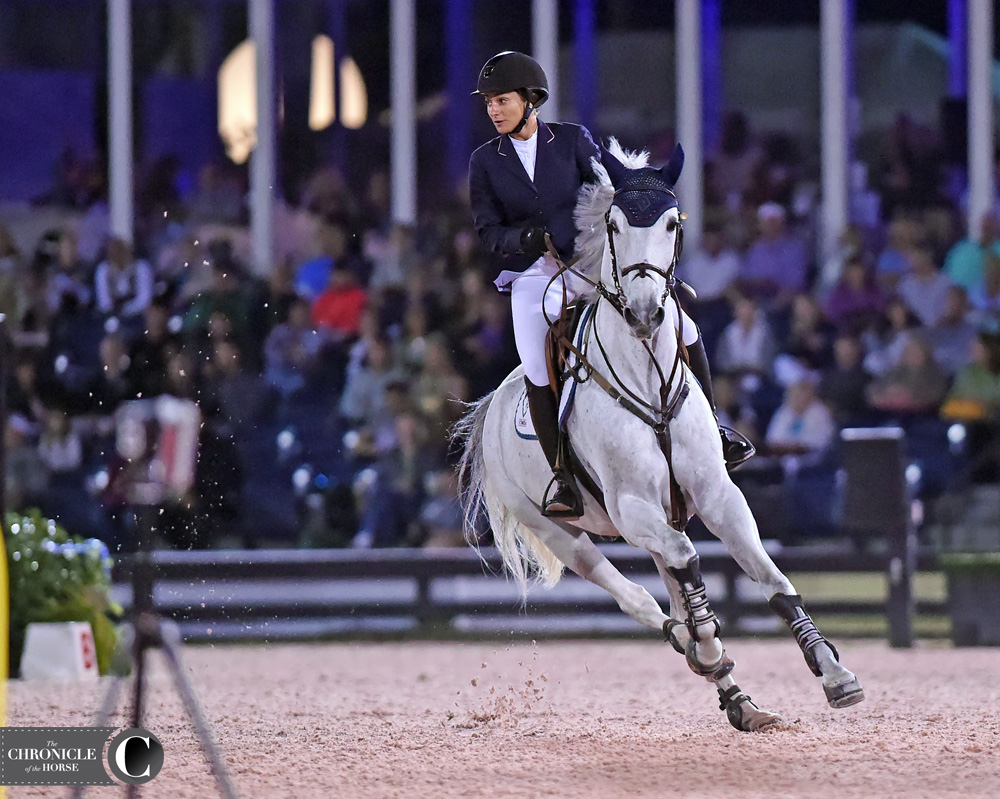 Catherine Tyree and Bokai turn and burn in the jump off. Photo by Ann Glavan
Click here for full results, and don't forget to check out the Feb. 27 issue of The Chronicle of the Horse magazine for more coverage from the $380,000 Fidelity Investments Grand Prix CSI*****!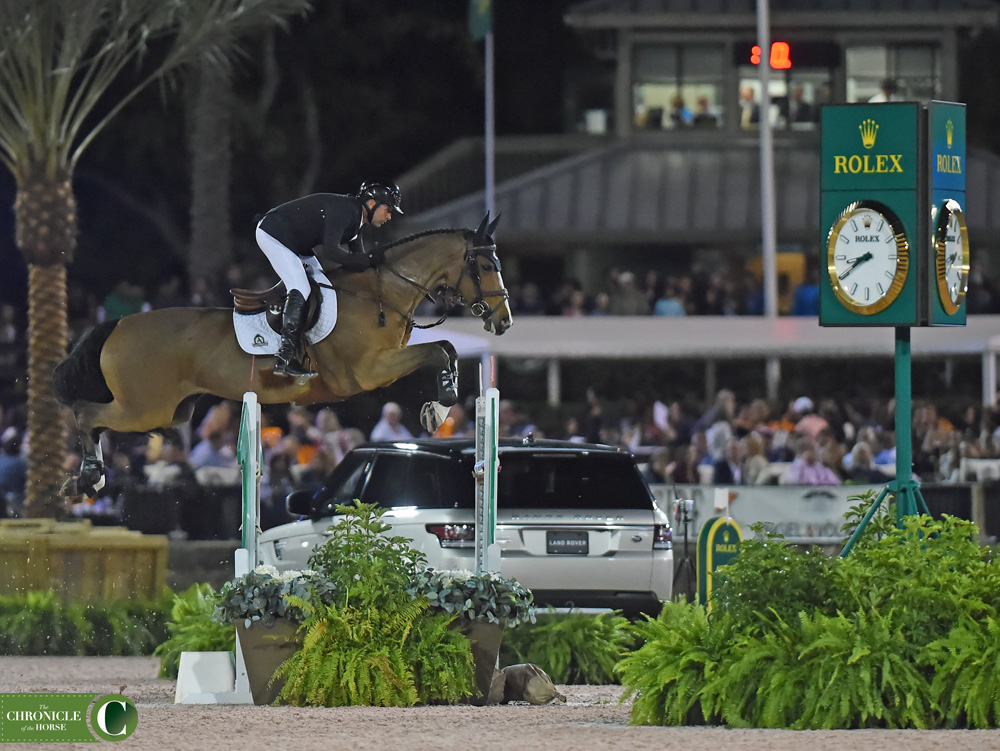 Eric Lamaze and Fine Lady 5 took fourth place. Photo by Ann Glavan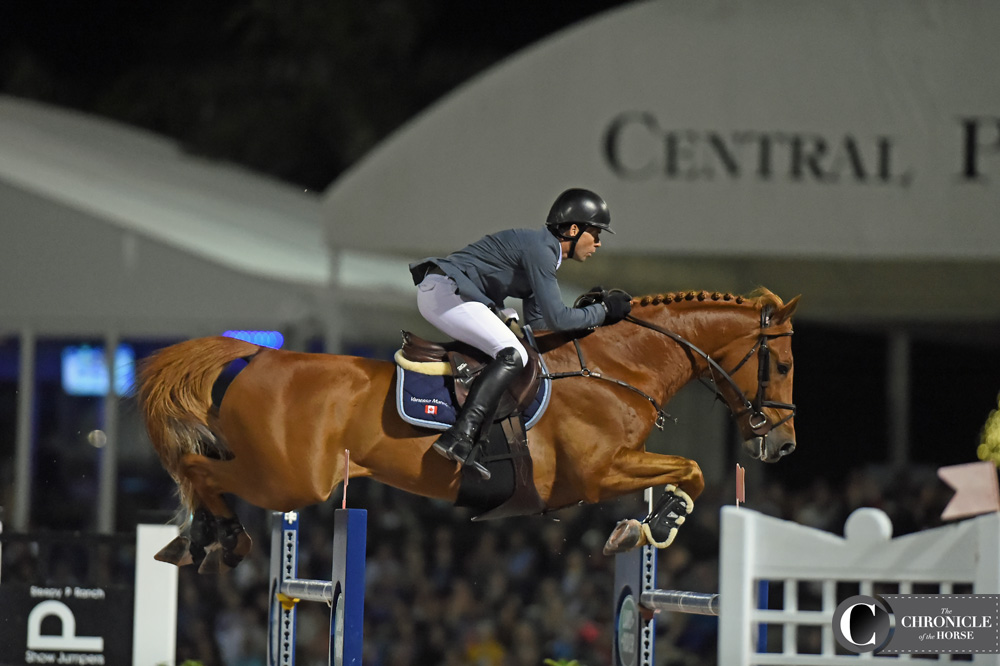 Conor Swail and Rubens LS La Silla took fifth place. Photo by Ann Glavan.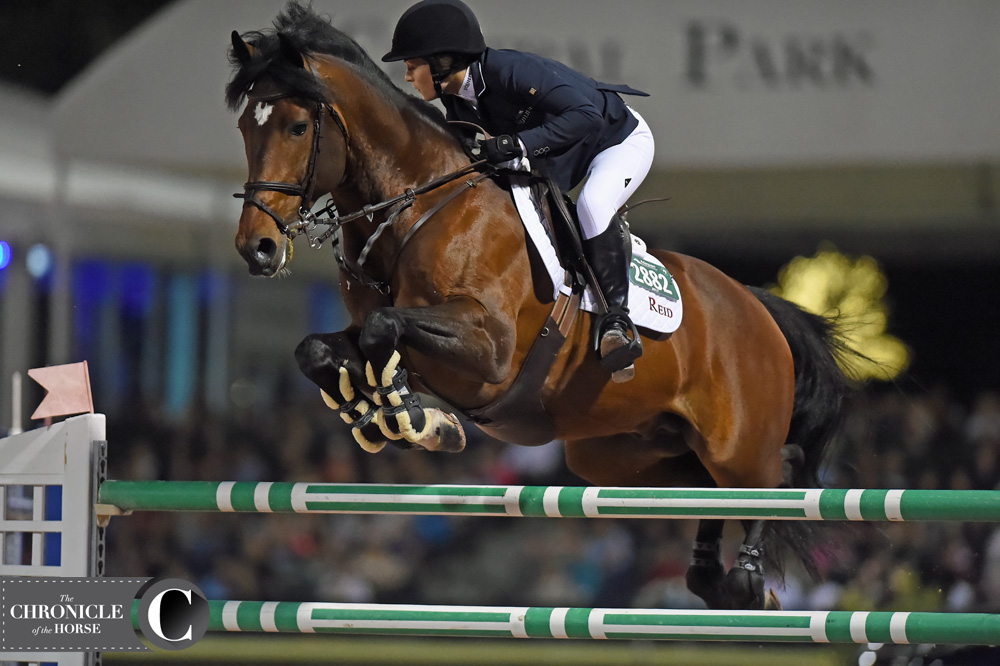 Chloe Reid and Codarco took sixth. Photo by Ann Glavan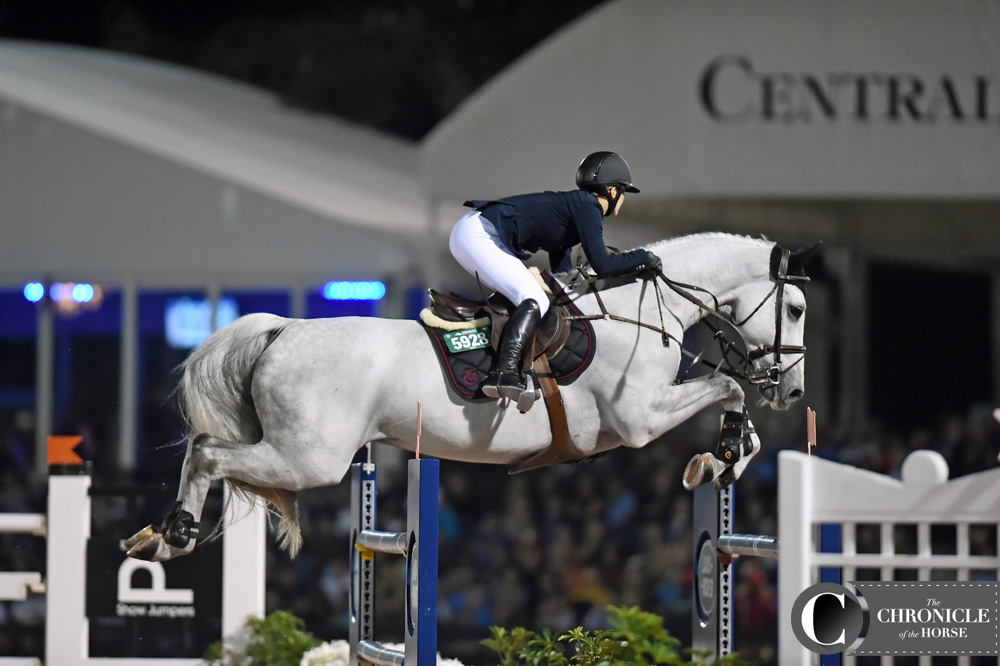 Cassis 54 and Lucy Davis took seventh place. Photo by Ann Glavan
Margie Engle and Royce took eighth place. Photo by Ann Glavan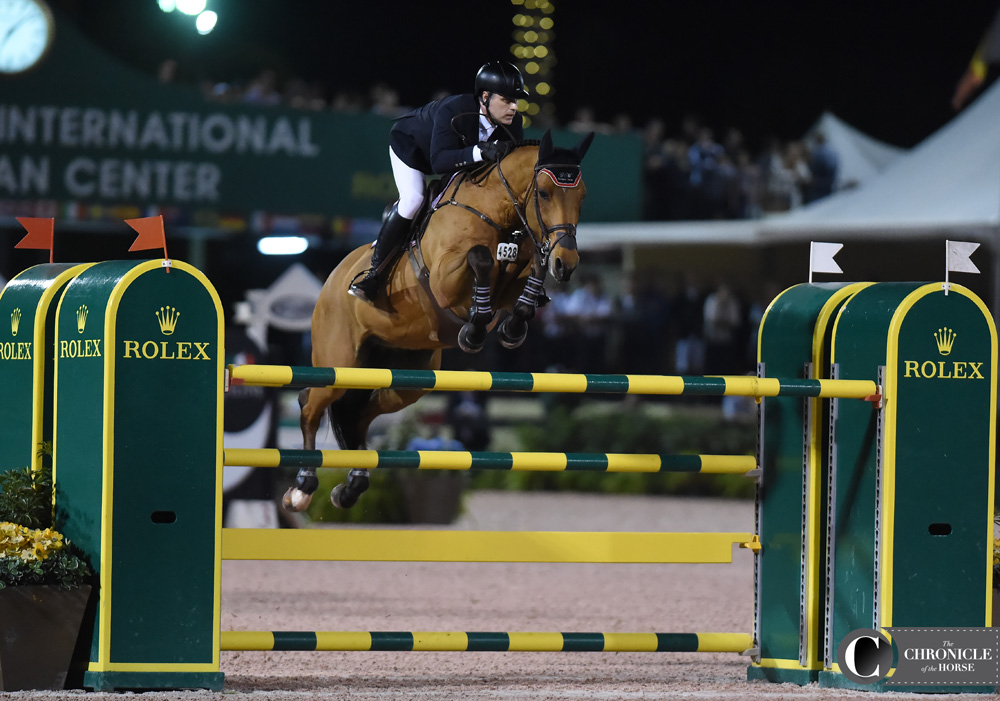 Peter Lutz and Robin Du Ponthal took ninth. Photo by Ann Glavan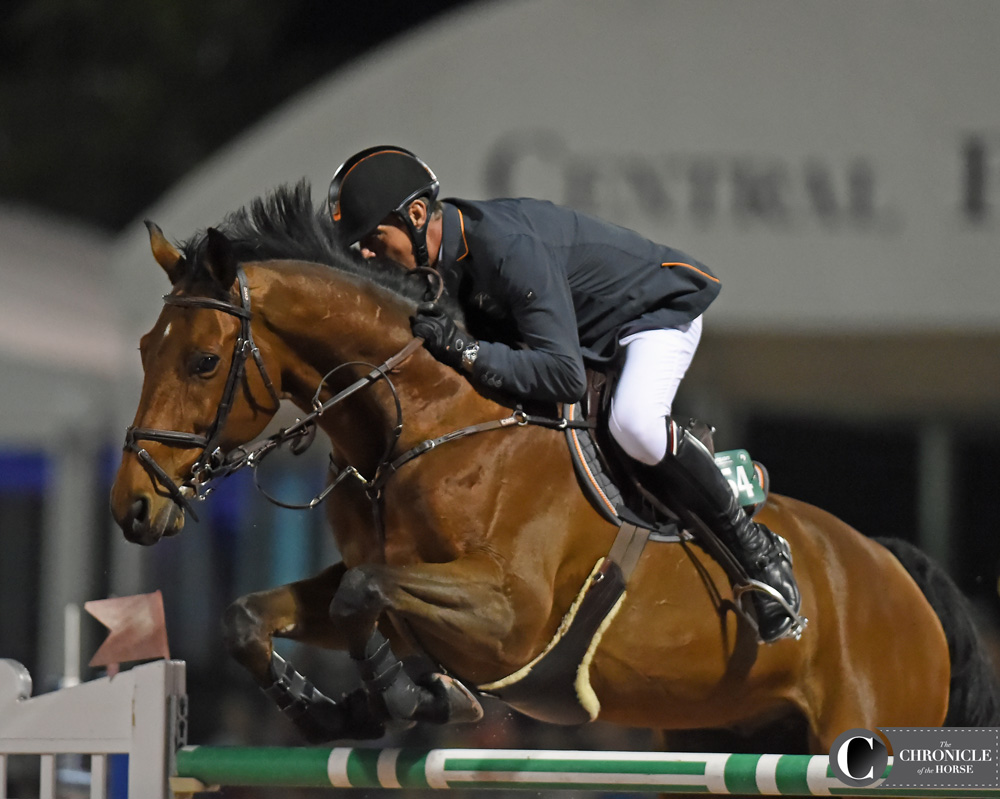 Jeroen Dubbeldam and SFN Zenith rounded out the top 10. Photo by Ann Glavan