New Albany, Ohio—Sept. 23  
What did Kent Farrington do after winning the $216,000 U.S. Open Grand Prix at the Rolex Central Park Horse Show in the heart of New York City? He hopped on a plane to fly to Ohio to win another big class.
Just 36 hours after he'd ridden Creedance to the Central Park win in a compact ring with a backdrop of skyscrapers, Farrington piloted Voyeur to another top check on a rolling grass field at Abigail Wexner's farm in New Albany, Ohio, as they sped to the top of the $125,000 New Albany Classic Invitational Grand Prix.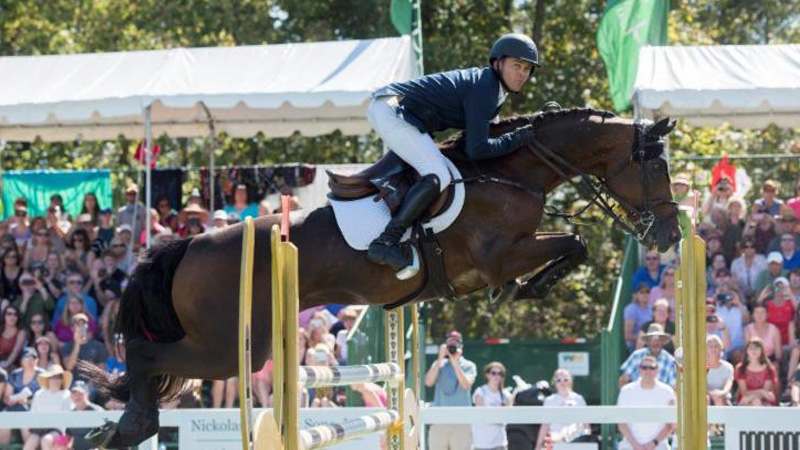 Thirty top horse and rider combinations jumped for the chance to have their name on the perpetual Authentic Cup trophy at New Albany. After an incredible jump-off of six, Farrington and Amalaya Investment's Voyeur claimed the cup before a crowd of 15,000 cheering fans. This was the 20th anniversary of The New Albany Classic Invitational Grand Prix & Family Day, which has raised a total of $32 million to support family violence initiatives in central Ohio through The Center for Family Safety and Healing. Currently ranked No. 1 in the world, this was Farrington's third win in New Albany, having won with Up Chiqui in 2010 and in 2013 aboard Blue Angel.
The beautiful Richard Jeffery-designed course proved challenging, with only six duos going clear in Round 1, including hometown favorite Ali Wolff, who piloted her own Casall to a strong fourth place finish with friends and family cheering her on from the sidelines.
Rounding out the top finishers, Daniel Bluman continued his strong run and was a close second to Farrington aboard his own Sancha LS. Farrington finished the jump-off in 38.84 seconds while Bluman came in at 38.89 seconds in a nail-biter. Margie Engle was third with the impressive Dicas, an 8-year-old gelding owned by Gladewinds, Storm Ridge CAP and Showhorses, Inc.
"It was good to be back at New Albany, especially after today's results," said Farrington. "The crowd is terrific and Voyeur jumped very well, even with the heat. I'm proud to post my third New Albany win and appreciate all that Abigail Wexner does to further the sport."
"We are so grateful for the support of the show jumping community, our sponsors, volunteers, community partners and fans who come out to spend the day in New Albany to help advance the efforts of The Center," said Abigail Wexner, founder and host. "When we created The New Albany Classic 20 years ago I don't think any of us had an inkling that it would develop into the No. 1 specialty equestrian event in North America, let alone raise $32 million. I am proud of the impact The Center is having on families every day in central Ohio and I'm humbled by the generosity of so many who continue to make this work possible."