"Many kids would rather ride on the back of a horse… than pilot a spaceship to the moon." – Walter Farley
I must have read Walter Farley's Man O'War a million times when I was a kid. I pored over the pages so much that by the time the book finally found a more permanent home on my bookshelf—its spine worn and creased in comparison to the shiny hardbacks that flanked it—it was easy enough to tell which one was my favorite.
I'm not sure why I loved that book so much. Perhaps it was the inspiring story of Man O'War himself that drew me in, but looking back I think it had a lot to do with Farley's voice, and the way he was able to so elegantly portray the big red stallion's life and the people that lived it with him.
Farley's fame as an author, however, didn't rise from his book about the greatest racehorse of all time, but rather a wild black stallion that galloped into our hearts as he carried Alec Ramsey into the ranks of myth and legend.
Farley, born on June 16, 1915, in Syracuse, N.Y., grew up in New York City and dreamed of owning a horse of his own. He immersed himself in books about horses and spent as much time as possible with his Uncle Bill, who was a professional horseman. He also spent much of his time riding at various stables in the city, as well as at Belmont, Jamaica and Aqueduct racetracks. He began writing The Black Stallion as a teenager in high school in the 1930s, though he'd been writing stories since he was 11. He continued to work on the story for several years, occasionally using bits of it for his college writing assignments.
After he graduated, Farley began working for a New York advertising agency, but he still kept writing. It wasn't until 1941 that Random House finally published The Black Stallion. Farley was 26 at the time, and his first editor informed him he'd never be able to make a living writing for young people. However, the story of Alec Ramsey and The Black proved a fantastic success, and letters from boys and girls across the country flooded Farley's mailbox, urging him to write more stories.
After traveling and living in several different countries on the advance payment he received from his first novel, Farley spent five years in the U.S. Army, writing for Yank, the army's weekly magazine, and training with the Fourth Armored Division. As soon as he returned from the war, however, he jumped right back into writing, and published The Black Stallion Returns in 1945. He continued to release a new book almost every following year.
In all, Farley wrote 34 books, with 21 novels based around The Black Stallion and The Island Stallion. In the 1940s and '50s, the series was so popular that the New York Times annual list of best-selling children's books often featured the titles. Farley's books have been published in more than 20 countries and read by several generations of children. The Black Stallion was immortalized in film in 1979, which was another dream of Farley's.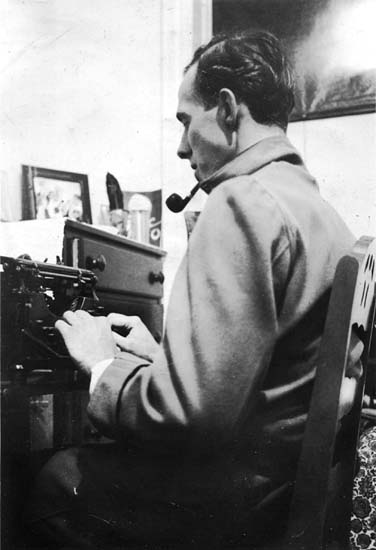 Walter Farley writing in the 1950s. Photo courtesy of Rosemary Farley and www.theblackstallion.com.
Farley and his wife Rosemary raised their four children, Pam, Alice, Steve and Tim, on their farm in Pennsylvania where they bred and raised Arabians, the horses he dreamed of when he began writing his novels. They also spent time in Florida at their beach house, which is where Farley wrote most of his books.
In addition to his writing, Walter was also a huge voice when it came to children's reading programs, and he often made appearances at schools and libraries. In 1962, he and Rosemary organized an effort to form the Friends of the Library of the Venice Area (Fla.) in order to establish a free public library. The Venice Public Library opened in 1965, and in 1989 the library opened the Walter Farley Literary Landmark in honor of the family's contributions.
On October 16, 1989, Walter passed away in Sarasota, Fla., but he left behind an even greater legacy than his books: inspiring children to read.
In 1999, Mark Miller, the owner of the Arabian Nights Dinner Attraction in Kissimmee, Fla., and Tim Farley, Walter's son, combined their passion for horses and their desire to improve literacy into a program for students in first and fourth grades. The Black Stallion Literacy Foundation combines live horses and Walter's books to create an interest in reading through a fully developed curriculum and workshops for teachers.
In the first grade program, children receive two hardcover books by Walter and have the opportunity to touch the horses at their school. In the fourth grade program, the children travel to visit the horses, and they're encouraged to read to them. Many children might hesitate to read to an adult but will happily read to a horse.
Since its inception in 1999, the Black Stallion Literacy Society has brought the joy of reading to more than 400,000 children in 10 different states, was awarded a "Daily Point of Light" by President George H.W. Bush, and was recognized as the "best motivational reading program" for school children by ABC Nightly News.
"There is no way to explain the magic that some people have with horses," Walter once said. "It is almost a mystical gift. It may be that horses sense that these people truly care about them. It may be a handler's sensitivity that accounts for his or her uncannily precise timing and coordination that creates a oneness between horse and rider. Or it may be none of these, but a form of art itself, as creative as any art can be and just as unexplainable and rewarding… I've been writing about a subject I love as long as I can remember, horses and the people associated with them, anyplace, anywhere, anytime. I couldn't be happier knowing that young people are reading my books. But even more important to me is that I've enjoyed so much the writing of them."
One of web writer Coree Reuter's favorite parts of working at The Chronicle of the Horse is adventuring up into the attic. While it's occasionally a journey that requires a head lamp, GPS unit and dust mask, nearly 75 years of the equine industry is documented in the old issues and photographs that live above the offices, and Coree is determined to unearth the great stories of the past. Inspired by the saying: "History was written on the back of a horse," she hopes to demystify the legends, find new ones and honor the horses who have changed the scope of everyday life with this blog.
Curious about anything in particular? Have a question or an interesting topic? Please e-mail Coree, she'd love to hear from you!