Akiko Yamazaki's Ravel may not have been to the Rolex FEI World Cup Final before, but don't expect him to show up just for the learning experience. Although he and Steffen Peters have done just a handful of freestyles together, those tests—including at the 2008 Olympic Games—have quickly put the pair among the best in international competition, with scores ranging from 76 to 79 percent.
But Peters keeps improving his popular test to contemporary music, and the best may be yet to come this year in Las Vegas.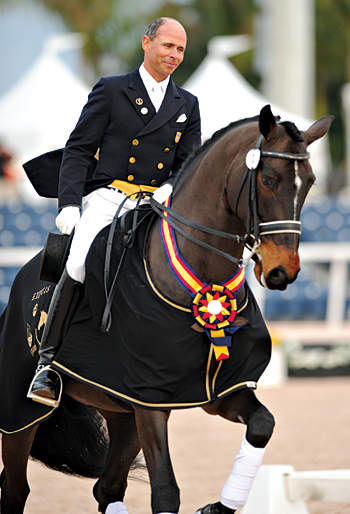 "I like popular songs that people have heard, that are upbeat and exciting," he said. "It's so important to use the proper interpretation of the music; that's what's most important. And for me, the music has to be recognizable for all ages."
He uses "Sympathy For The Devil" by The Rolling Stones, as well as "The Safety Dance" by Men Without Hats. His 2008 freestyle, which earned him a spot on the U.S. Olympic team and then helped him become the top U.S. rider at those Games (placing third in the freestyle), included music used at the 2002 Federation Internationale de Football Association World Cup in South Korea. But he abandoned the Asian theme after the Olympic Games in Hong Kong.
"The trotwork from the test in Hong Kong had a serious Asian flavor, and I was not sure if that was right for Vegas, so I picked up an interesting piece of Coldplay," he said. "The beat matches Ravel's footfalls perfectly."
He only had the chance to showcase the test with its new music once before Vegas, at the final U.S. Dressage World Cup qualifier, the Dressage Affaire CDI in Del Mar, Calif., where he won with a score of 79.95 percent.
Peters, San Diego, Calif., selects the music and choreography for his freestyles, and Terri Gallo, of Klassic Kur, edits the pieces. Peters believes the music especially plays into Ravel's strengths at the end of the test. "The end is relatively easy for him, where we do the trot half-pass to a passage half-pass. The end is so exciting, and the music underlines that, with the trot, the passage and piaffe and quarter turns."
Ravel's natural elasticity has given Peters an advantage in creating the perfect ride. "I have the luxury of going from extended canter to canter pirouette, straight into piaffe, then straight into a very relaxed extended walk," he said. "It's always worked out very nicely, and it shows his adjustability from pure collection to pure relaxation."
He performs his tempi changes on a curved line, then goes straight into the trot half-pass, to a passage half-pass, to quarter turns and piaffe. "He's only been doing this for a year, so I don't want to overwhelm him with making it too difficult," said Peters of the dark bay, 11-year-old Dutch Warmblood (Contango—Hautain, Democraat).
The only way to increase the difficulty, said Peters, would be to do his tempi changes on a circle. "But I've never gotten the comment that it isn't difficult enough," he said. "And I want to take it slowly. I will let him tell me when he's ready to do that."
The best part of preparing a freestyle for Ravel is that he doesn't have any weaknesses, said Peters. "I've always had to compromise a little bit [with other horses] before," he said. "With Floriano I rode the piaffe very carefully, and Grandeur had to be ridden diplomatically because he was a firecracker. Ravel is very reliable; he's really without a weakness, which makes it fun to show off his highlights."

Beth Rasin