He's handsome, and he knows it. H&M Tornesch will pause in the warm-up ring and hold his dish-faced head up high, looking out over the crowd. He's got quite a lot of character, and you can tell he's a proud, confident horse.
That's why it's a bit jarring to see that he's missing an eye. The handsome Dutch Warmblood stallion (Lux—Ninerta, Libero H) had his right eye removed last year, but it hasn't slowed him down at all. In fact, rider Malin Baryard-Johnsson of Sweden thinks he's better than ever. They're headed into the last day of the Longines FEI World Cup Final in Lyon, France in 26th place after consistent rounds.
Tornesch had an eye injury in his youth that compromised his vision in his right eye. He had about 30 percent sight in that eye, but he did just fine moving up the levels with Baryard-Johnsson. They competed at the 2011 European Championships and the 2011 Rolex FEI World Cup Final for Sweden. But after the 2013 Rolex FEI World Cup Final, Tornesch injured the eye again while breeding.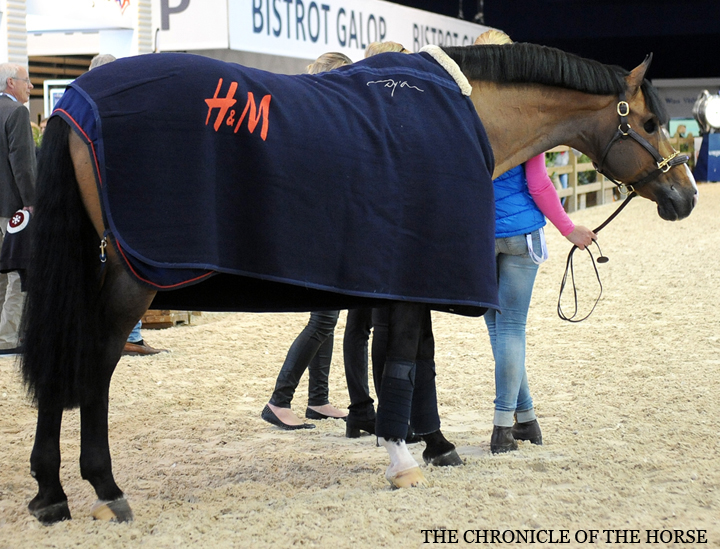 H&M Tornesch, checking out the scene.
Photo by Kat Netzler
"He banged it somehow; we don't know what happened. It was so bad that they couldn't save the eye," said Baryard-Johnsson. They operated to remove his eye in July, and Tornesch healed quickly. Baryard-Johnsson put him back to work and started showing again in October.
"You never know how they'll be after something like that, but I think in the end, he's better now," said Baryard-Johnsson. "I think the advantage that he had was that he had a bad eye in that side for many years, so it wasn't that much of a change like it would be for another horse. But I think before he saw things moving, but he couldn't quite see what they were and that bothered him. Now, he can't see them, so he's not worried. He's super confident. I'm very happy with how it's turned out."
Baryard-Johnsson has been riding Tornesch for eight years, so she's familiar with all his quirks. And they've developed a particularly close relationship.
"At the beginning, we thought he was going to be a 1.40-meter horse, and here he is jumping the biggest jumps. He's a fantastic horse, and we're really good together," she said.
When she's walking the course, Baryard-Johnsson makes sure to plan ahead to let Tornesch see the jumps with his left eye.
"Whenever there's a jump-off with many right turns, I'm quite sure I'm not going to win. I have to stay out in the turns," she said. "But then he trusts me like nothing else, so I can turn sharp, and he sees the jump at the last minute, and he confidently jumps the fence with no doubt and so little effort. He's really, really with me. When I'm on course, I don't have to think about it anymore. It's just what I do with him."