To ban or not to ban Depo-Provera, aka medroxyprogesterone, was the central question of the USEF Town Hall meeting held at the Upperville Horse Show on June 5 (and you can read all about it in COTH's "Working Through Welfare, Wrongdoing And Depo-Provera At Upperville USEF Town Hall"), but it wasn't the only hot topic. The discussion over horse show standards and how to enforce them also grew heated at times.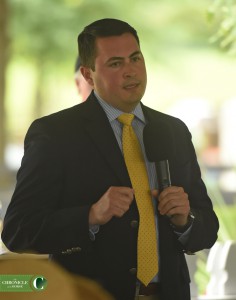 U.S. Equestrian Federation Chief Compliance Officer Matt Fine gave a brief introduction to his new department, which was set up to inspect horse shows for standards violations. Exhibitors can submit evaluations online under their My USEF tab or by mailing or faxing them in, and these reports can be completely anonymous. The compliance department aims to investigate complaints and write enforcement letters.
"This is no different than a USDA inspector coming into a food plant," said USEF President Murray Kessler. "We're coming in and saying these are the standards and these are minor violations and these are major violations. These are shut down the show; these are you get it fixed. And there are big teeth in it."
Those teeth are losing mileage protection.
But while competitors were all for the concept, they shared fears regarding its implementation and retribution.
"If you go online and you fill that out, is it confidential?" asked trainer Jimmy Torano. "We all have to make a living, and there are a lot of shows where you could get blackballed. A lot of times it seems there's a leak. You maybe filled something out, and it gets back to management. If it gets back to management, we're done."
He also raised concerned over fines. "If a show has several violations, what are their fines? I heard in the past it was like $200," he said. "If I do something wrong, I get a $5,000 fine and three months off. It just seems like the management never gets what the exhibitor gets."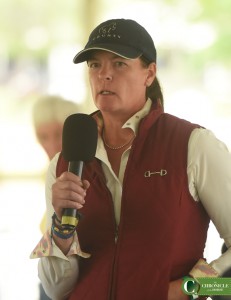 Trainer Deloise Noble-Strong from Ruxton, Md., asked if losing mileage protection would actually impact some of the worst offenders.
"My biggest concern that I have right now is that your idea of dissolving the mileage rule for certain shows that don't meet requirements and criteria is that a facility that's in the same area does not exist," she said. "For example, [HITS] Saugerties [N.Y.] has no competition because there is no facility that can hold 2,000 horses. So your mileage thing doesn't hold water. The only place that's going to hold water is in Ocala [Fla.] where there is a new facility being built. What about Thermal [Calif.]? There is no other show facility in California that those people can go to."
"I appreciate your emotion, but you're just not correct on that," replied Kessler. "We get so many requests. The organizers are out of their minds afraid of losing their mileage protection. It's the Holy Grail for them. Whether they use it to sell off their permission, whether they use it for protecting their business, it scares the heck out of them. [A fine of] $200 or $5,000 doesn't scare them. Losing their mileage protection does. There is no place in the country including Saugerties—even 125 miles from Saugerties covers a ton of ground."
Jockey, foxhunter and trainer Gerry Newman of Allwyn Court suggested that inspectors go to shows ahead of time, just as they do for sanctioned race meets in England, Ireland and the United States.
When Kessler replied that there were just too many USEF competitions to make that feasible, Newman suggested they just visit the known worst offenders. "You have your suspects," he said. "Start there. I agree with Jimmy. The confidentiality thing is not working. I know people who have been snowballed for doing it, and that's not fair."
The number of submitted forms so far seemed to back up their concerns. Fine said he's only received 60 show evaluations in 2017, and half of those came from dressage competitions.
Show jumper Kama Godek chimed in with her fears. "I am guilty of not filling out a form for the same reason as Jimmy, for the same reason as Harold Chopping," she said. "I rely on a wild card to get into a five-star for the [HITS] $1 million. I'm not going to get in because of my ranking class. I don't have a horse to do it right now. I'm too scared to fill in those forms because I'm not going to get into that show then. I'll put my neck on the line and say I've had a lot of problems with shows in this area, so someone please step up."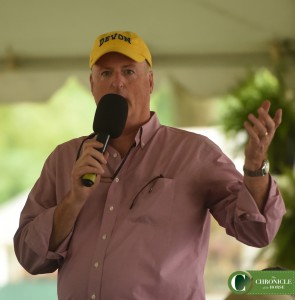 As heads nodded in agreement, show manager Oliver Kennedy suggested competitors vote with their feet. "If you're too scared to send those forms in, just don't go to the show," he said. "Vote with your wallet. That's the easiest way to put them out of business. You guys keep going back, so you're enablers."
But Kessler got right to the point. "I heard a bunch of people say they're afraid to say they've got a real problem with HITS," he said.
He highlighted a number of shows that had willingly made big changes based on feedback and letters from the USEF.
"I know you're all worried about retribution," he said. "But we haven't met organizers yet that have been furious. It's been the complete opposite. When we go in and we say, 'Here are the comments that we have and the feedback and the discussions,' for the most part—I know there are a couple outrageous organizers—but for the most part people wanted to fix this and they take the feedback well."
But he admitted, "You're picking a tough one right now; you're picking a tough organizer," of Tom Struzzieri, who owns and manages the HITS circuits, which reach from New York to California. "I'm not going to disagree on that."
Mike Smith, Upperville's president, pleaded with competitors to be patient with show managers.
"We've worked really hard at Upperville to turn it around," he said. "When you turn a show around like this that had fallen behind the times, it takes a lot of time and money. I agree we've probably been too lenient on some of the larger shows, no doubt. I wasn't happy when Tryon [N.C.] put their biggest week against us. But I decided I wasn't rolling over. We're going to take it back out of them, and we're going to take the entries back from them, and we did. Competition in the show ring is great for everybody. Competition between shows is great for everybody. We were losing entries, and that was our wake-up call to turn this show around."
But he also said that it's taken him four years to revamp Upperville. "I couldn't have done it any faster," he said. "I have a full-time job running this horse show, and then I run my business. You get upset with organizers, and there are things we can always do better, but most of us do try, and we try to listen.
"You do have to give them a little bit of a chance after you've knocked them to give them time to come back in a certain period of time and decide what they're going to do and give a commitment and have that be open to the public what those fines or penalties would be and what their response is and how they're going to fix it," Smith added. "It puts a lot of pressure on that show to put their money where there mouth is and make it happen."
"At the end of the day you didn't do it because you got an anonymous form. You did it because you care," said Kessler. "If somebody cares and wants to get a great horse show, they're going to work with us, and we're going to get it done. But you need people who care like Mike. This horse show is good again not because of slaps on the hand."
But Torano responded differently to Smith. "You're running one special top-level show," he said. "You're not making a living doing it. The horse show managers that have a monopoly and do that for a living, they aren't like you. You want to run a top-level show. I haven't been here in 15 years, and I told you today that's unbelievable over there. You're running a one-week top-level event. Those horse show managers who are making a living and have a monopoly with their shows? They don't care."
Save