Gothenburg, Sweden—Feb. 24
He was once so frightened and unmanageable that no one could get on him as a young horse. But in the hands of one of the most celebrated equestrian athletes of all time, the 11-year-old gelding Emilio gave Germany's Isabell Werth her fifth victory in the FEI World Cup™ Dressage Western European League qualifiers at Gothenburg in Sweden.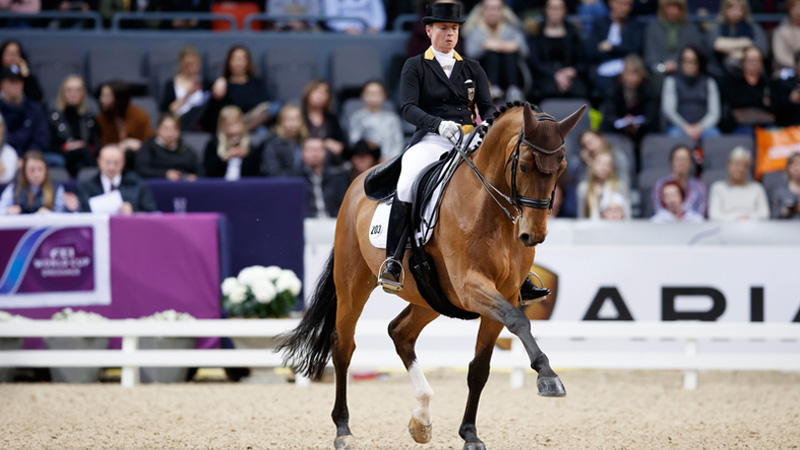 Her score of 84.20 percent put her well ahead of Swedish runners-up Patrik Kittel and Delaunay (80.91%) while, mirroring the results of the Grand Prix, Germany's Jessica von Bredow-Werndl and Unee BB (80.84%) slotted into third.
Werth, 47, only had a two-day turnaround after winning the previous leg of the World Cup qualifying series with Don Johnson at Neumunster (Germany) last weekend. "So I asked my rider at home to prepare Emilio in the right way—and I think she did that!" she said.
Werth did say that the horse lost a bit of confidence in the freestyle. "I realize now that he needs more training because he didn't always know what to do and we had two mistakes, in the pirouette and tempi changes." she explained.
However that has just inspired her ahead of the last qualifying leg in 's-Hertogenbosch (the Netherlands) where she will again compete Emilio in two weeks' time. "I'm really excited about going there now," said Werth who holds an unassailable lead at the top of the league table.
Her preferred ride for the FEI World Cup™ Dressage Final in Omaha, Neb., next month is her Olympic mare Weihegold, but she now considers Emilio a strong reserve. Werth's perseverance with this horse is really paying off. "He has great potential, already his piaffe and passage are fantastic!" she said.
Talking about the erratic behavior that left Emilio with something of a reputation in his early years, Werth explained, "it was as if he could see something out of the corner of his eye when you tried to get in the saddle. He was terrified and would go crazy."
There seemed no future for a horse with such a dangerous and debilitating level of inexplicable fear. Werth almost gave up on training him, but now she has very high hopes for him.
"Emilio was lucky to come to Isabell; not all horses find the right people!" said Kittel, who was thrilled with his result with the ever-improving Delaunay today. The Swedish star has now moved up to ninth place on the league table from which the top nine will qualify for the Final. He won't be travelling however, "it was never in my plan," he said.
But von Bredow-Werndl, who holds sixth place, certainly will. She has the next few months carefully mapped out. "I will go to Omaha, then do two more shows and then I take a break," said the rider whose is expecting her first baby in August.
See full results from the Gothenburg CDI-W freestyle.