The Plains, Va.—July 8
All morning it looked as if Friday's dressage leaders at the Great Meadow International CICO***, Jessica Phoenix and Pavarotti, couldn't be beat.
But as the final rider of the day, Phillip Dutton was able to slip ahead on Kristine and John Norton's I'm Sew Ready, scoring a 42.0 to have a 2-point lead heading into tonight's show jumping.
Dutton originally took over the ride on "Jackson" in 2014 for his regular rider Kristen Bond when she had her first child with husband Andrew, then she competed him a bit before becoming pregnant with her second child last fall.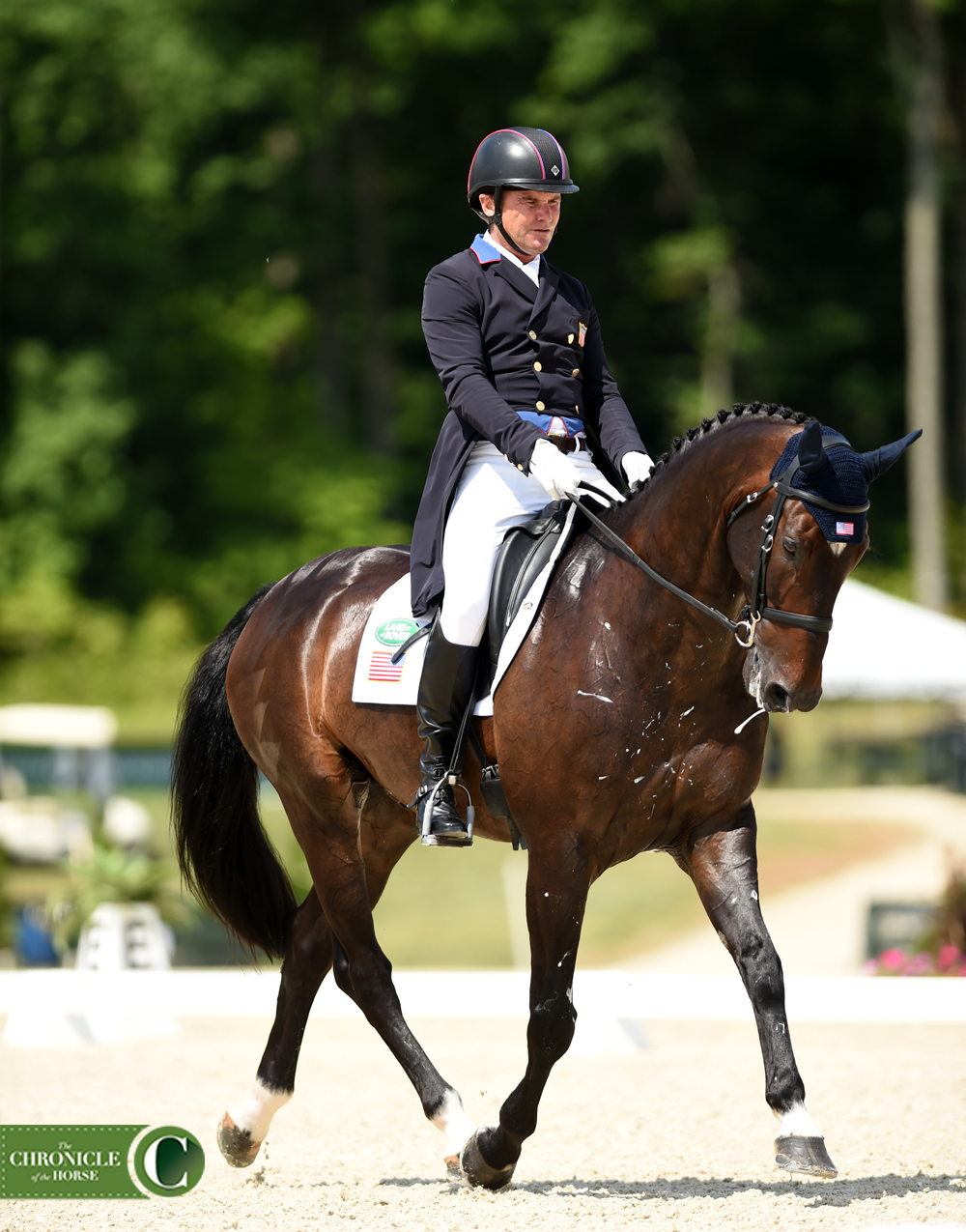 Dutton competed him again this spring, finishing the Rolex Kentucky CCI**** in 10th place, and he plans to continue competing the 13-year-old Dutch Warmblood gelding into the fall, targeting the Pau CCI**** (France).
"I'm pleased with the score," said Dutton. "There's always parts that you can do better. He's a good-moving horse. I'm fortunate to get him at this stage of his career. Kristen Bond put in a lot of the work so it's fun for me to take him on and see what he can do at this level."
Dutton said he's excited to tackle Mike Etherington-Smith's cross-country track tomorrow, and he's confident in Jackson's show jumping, which riders will contest tonight.
"This should be a good outing for him. I ran him a couple of weeks ago in an intermediate. It's a proper track with big, bold fences, and I'm looking forward to it," he said. "This is an incredible venue. It's got it all—a country atmosphere and a great arena and has terrain for the cross-country with atmosphere. It's an honor to be here and to ride here."
Phoenix relayed her thoughts on her ride yesterday again, saying that Pavarotti, a 15-year-old Westphalian gelding owned by Don Good, was a lot of fun to ride.
"I couldn't have been happier with him. He really was a workman, and he loves every minute showing, so it's really just a pleasure to ride him at this level," she said. "He's super careful and has a ton of scope, so as long as he stays focused and relaxed it should be a fun evening for us."
In the team competition, the U.S. riders lead on 139.1, followed closely by Canada on 140.2. Great Britain is in third on 151.6.
2017 Great Meadow International CICO*** - Dressage
Lindsay Berreth / Jul 8, 2017 12:18 pm
IMPORTANT LINKS:  Ride times  |  live scoring  |  full event schedule  | virtual cross-country course walk  |  map of the Great Meadow facility |  live stream