Apparently, Phillip Dutton just can't help winning. Read all about his and Mighty Nice's somewhat inadvertent victory over Marilyn Little and Buck Davidson in the Red Hills CIC*** in Kat Netzler's online coverage, full of photos and the stories behind the scenes.
And over in Wellington, Fla., German rider Daniel Deusser showed just what to do when you see that flyer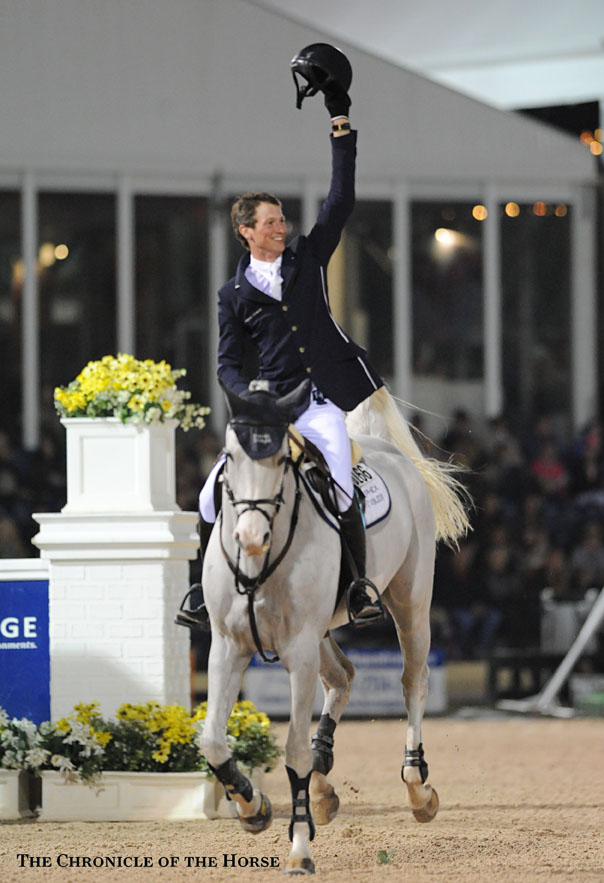 Germany's Daniel Deusser laid it
on the line to win the $300,000
CSI-W at WEF on Cornet d'Amour.
Photo by Mollie Bailey
spot in the jump-off—he kicked and made it happen and ended up winning the $300,000 FEI World Cup Grand Prix CSI-w with Cornet d'Amour. Read all about it and see great photos in Mollie Bailey's coverage for the Chronicle. Deusser and Cornet d'Amour picked up some major prize money this weekend, also placing third in the $125,000 Ruby et Violette WEF Round 9, which was won by Christine McCrea on Zerly. (see results)
Out in California, the dressage scene got into swing at the Rancho Valencia Dressage Affaire CDI. Steffen Peters kept Legolas on his trajectory into his next top mount bay claiming victory in the Grand Prix and Grand Prix freestyle. (see results) Peters also dominated the small tour, winning the Prix St. Georges and the Intermediaire I on Vaya Con Dios. See Lisa Slade's photos of the event here.
At the finale of the Gulf Coast Winter Series in Gulfport, Miss., Tom Brennan rode Gramercy Park to the top of the USHJA International Hunter Derby over Holly Shepherd on two rides. The Genn family continued their dominance of the grand prix classes there, polishing off their circuit with Wilhelm Genn's win in the $25,000 Budweiser Grand Prix on Winchester. (see results)
Back in California, Meredith Michaels-Beerbaum staked her claim on the $50,000 HITS Grand Prix during HITS Desert Circuit VI in Thermal. She and Malou won their second consecutive Sunday grand prix there. Michaels-Beerbaum was also second and third (on Unbelievable 5 and Malou) in the $25,000 SmartPak Grand Prix, which John Pearce won on his trusty Chianto. (see results)
At the HITS Ocala Winter Finals back in Florida, Lisa Goldman scored her third major grand prix win on that circuit this winter by riding Centurion B to the top of the $50,000 Purina Mills Grand Prix. Amanda Steege and Kingpin picked up their third first year green hunter tricolor; Steege also rode Balou to the top of the 3'6" performance hunter division. Greg Crolick collected multiple tricolors, riding Imagine to the second year green title, Carson to the high performance hunter championship, and Illusionist to the conformation hunter reserve. (see results) In addition, Crolick guided Carson to the top of the $10,000 USHJA International Hunter Derby, where he also placed second on Grey Street.
In Arizona, Bjorn Ikast took first, third, fourth and fifth in the $25,000 HITS Grand Prix at the Arizona Desert Finals, the final show of the HITS series in Tucson. (see results)
Other shows from the weekend included: the Blue Ribbon Spring Festival (Texas) (see results), March Madness II (S.C.) (see results)
Other events from the weekend include: Full Gallop Farm March I Horse Trials (S.C.) (see results) and Southern Pines Horse Trials I (N.C.) (see results)