London, England – Dec. 17
The crowd watched in awe as Great Britain's Charlotte Dujardin and Valegro smashed the Grand Prix freestyle world record with a breathtaking winning performance of 93.97 percent at the London International Horse Show in Olympia. The result provides the 28-year-old rider and her mighty steed with the full set of world records for the sport of dressage.
Double-gold medalists on home turf at the London 2012 Olympic Games, the combination has not been seen in public since adding the European Championships individual title to their stunning list of achievements at Herning in Denmark this summer. But their legions of fans were well rewarded for the wait, as the dynamic duo marched resolutely to make it not just a British win in front of their home crowd at the much-loved Christmas fixture, but another watershed moment in the story of this most remarkable partnership.
New York fashion designer and title sponsor, the Beirut-born Reem Acra, chose the right night to make an appearance at one of the qualifiers she has been sponsoring for the last four years. In another pivotal moment for the sport, Dujardin pinned the man who previously held the freestyle record, Edward Gal, into the runner-up spot.
It was also at Olympia that the Dutchman and the fabulous black stallion, Totilas, set the target at 92.30 percent back in December 2009, and tonight Gal produced a really strong test with Glock's Undercover for a mark of 87.42 percent to finish second.
It was a glittering evening from start to finish, and, as Dujardin said tonight, the end result was "the best Christmas present!".
In Her Sights
After winning the Grand Prix, in which she finished more than 4 points clear of Gal and his black gelding, Dujardin admitted that she had the freestyle record in her sights. "Obviously that's what I want to do, but you know it just all depends on the night really and how it goes."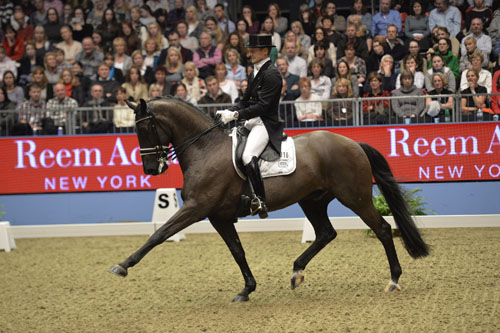 Edward Gal claimed second in the Grand Prix
freestyle at Olympia with the maturing
Glock's Undercover.
Photo by FEI/Kit Houghton
The golden pair followed Gal and Undercover into the atmospheric cauldron of Olympia's Grand Hall, and you could hear a pin drop as the triumphal musical score created for their sensational Olympic appearance began to play. Dujardin and Valegro needed to exceed Gal's target score with Undercover, whose self-discipline and self-belief seems to be growing with every outing. The 12-year-old horse demonstrated some fabulous work with rock-solid piaffe and flowing canter to really throw down the gauntlet to the reigning Olympic individual champions, but nothing could throw that pair off their stride.
Quite often Dujardin and Valegro have won despite major blunders but for this freestyle, there would be no mistake. "I had the ride of my life!" said Dujardin. "I thought at the Europeans, he gave me such a great feeling. I tried to recreate that without any blips, and that's what I got!"
All I Wanted To Do
"You all know I came here thinking about breaking the world record," Dujardin said. "That's what I wanted to do, but thinking it and doing it is something else. To think I have that world record, in fact all three now, is fantastic. And to do it on home ground and in front of the supporters is incredible," she pointed out.
She expressed her appreciation to friend, trainer and mentor Carl Hester who finished 11th of the 15 starters tonight with Fine Time. "Thanks to Carl, and for all those days of screaming at me! And thanks to everyone that has made this happen. I couldn't do it without them," she said. "And thanks to Roly [Luard, co-owner of Valegro] who allows me to ride such a great horse!
"I wasn't sure how high [the score] was going to be, but when I finished that left pirouette that went wrong at the Europeans, then I could breathe. What a ride!" Dujardin exclaimed.
Hester meanwhile reflected on the development of his pupil and the extraordinary Valegro, and on their record-breaking win tonight. "I was clever enough to give the ride to the right person rather than trying to do it myself. It was a privilege to see. It's important for us older riders to see the sport develop. Roly [Luard] bought [Valegro] for me, and I had to say 'Let's try and develop a partnership with Charlotte.' It is very exciting to see new people come in, and inspirational to young riders to see how quickly someone with talent and with a truly exceptional horse can go and win gold medals and break world records. We all love that story. I'm very, very, very proud of her," said Hester.
Watch FEI coverage of Dujardin and Valegro's freestyle…
Poignant moment
Before the hectic prize-giving ceremony there was a poignant moment for Dujardin's London 2012 silver medal winning teammate Laura Tomlinson, who officially retired her great horse Mistral Hojris, more popularly known as "Alf." Tomlinson and Alf were instrumental in Britain's steady ascent in the world of international dressage in recent years, and the 28-year-old rider said, "I want to celebrate all he's given me and the sport. Alf is leaving British Dressage in very safe hands."
She admitted that tonight's performance by Dujardin and Valegro left her "speechless," and she wasn't the only one to be staggered by pair who now hold the full hat-trick of records—for Grand Prix, Grand Prix Special and Grand Prix freestyle—tightly in their grasp.
Gal wasn't too surprised that his freestyle record, set in the very same arena four years ago, has now been broken. "Valegro is an amazing horse and Charlotte is a very good rider; I like them both. I always knew that some day it will happen" he said.