He and Corinne Ashton take their third victory at this Massachusetts fixture.
Open intermediate winners Corinne Ashton and Dobbin certainly know their way around the victory gallop at the Groton House Farm Horse Trials II, June 27-29 in Hamilton, Mass.
The venerable pair have won at Groton House twice before (advanced intermediate in 2004 and 2005) and finished second in intermediate last year.
"Dobbin knows and likes this place," said Ashton, from Princeton, Mass., of her 14-year-old, Thoroughbred gelding. "I let him come here to have a good time, so it's not always Rolex when he goes out there.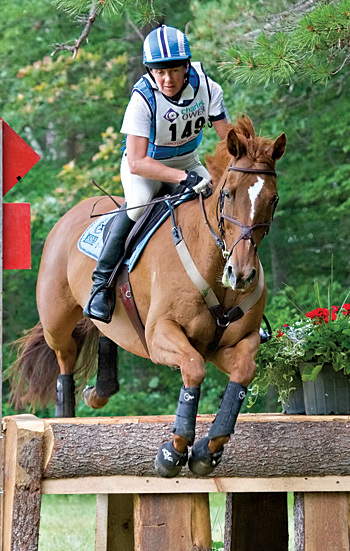 "It's always spectacular to come here," Ashton added. "We're fast losing upper-level events in [U.S. Eventing Association] Area I, and I think it's important to compete here every year and support [the upper-level sections]."
After winning the dressage and jumping faultlessly, Dobbin displayed only a moment of impetuous behavior during his victory lap, where he cavorted like a youngster and forced Ashton to canter him all the way back to the trailers, where he finally settled down.
"He's dreamed about running with horses his entire life," said Ashton of Dobbin, a homebred who never raced.
"The closest place he gets is during the prize giving."
Groton House marked Dobbin's first run since completing the Rolex Kentucky CCI**** in April. "He feels the best physically and mentally than ever before," said Ashton. "Neither of us are ready to retire."
Dobbin's stellar dressage test was marred only by the two 5s he earned on the canter diagonals, where Ashton lost her way. "My daughter, Marissa (12), warned me that I didn't know the test, and I should have listened to her," Ashton confessed. "I couldn't remember whether I was meant to ride long or short diagonals."
Eight of the 12 cross-country intermediate starters jumped clear rounds, Dobbin among them, although no one finished under the optimum time. Three riders incurred problems at the double corners (13AB) while the narrow off a steep drop (15) caused one elimination.
"In the past I've hit the odd distance from the half-moon (22) to the water (23ABC), so this year I was determined to ride forward in four strides," said Ashton. "But Dobbin remembers it here, and he said, 'Mom, I need five here.' So he popped a short one in. Next time I'll let him make all the decisions."
Carol Kozlowski, Geneseo, N.Y., and Lynn Blades' 15-year-old Connemarra crossbred Take Time posted the fastest cross-country time of the division, incurring 11.6 time faults, which moved them into second place.
"The course really flowed well, and it tested everything you'd want an intermediate course to test—to go forward, come back, brake and turn, to be quick one place and careful another, like the double corners," Kozlowski explained. "It's a known fact here, the time is hard to make because the course goes through so much varied terrain."
The Groton House show jumping course, held on undulating terrain in grass footing, "always has the potential to change things," Kozlowski said.
She'd hoped to do just that, but Take Time gave Dobbin breathing room when he pulled a rail at the oxer at fence 7.
Ashton, meanwhile, worried slightly about Dobbin's lackluster attitude in the warm-up ring. "He had the audacity to rub some poles, so I jumped one bigger fence just to let him know what was happening," she said.
But once he entered the arena, Dobbin returned to form and jumped an effortless clear round to win.
"[Dobbin] went in there and tried his heart out," said Ashton. "He knows not to touch the poles; he was just born that way."
Ashton believes that Dobbin's reluctance to hit rails stems from his one quirk—he doesn't like anything touching his body. "He hates being groomed and rubbed up, he can't stand bandages of any sort, and he won't even lean on the sides of the trailer when he's shipped," Ashton said. "He says, 'I'm fine if you just leave me alone.' "
Take Time's dropped rail still left him in second, the same spot he earned with Kozlowski at the Jersey Fresh CCI** (N.J.) in May.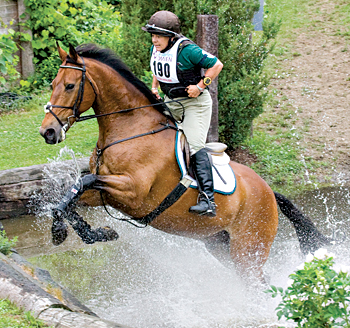 "We were just a little rusty, and the show jumping didn't flow as well as I would have liked. I haven't jumped him a lot since Jersey," said Kozlowski.
Kozlowski's partnership with Take Time blossomed last year when she tried a new approach to his training. "We're friends now, where we were co-workers before," she explained. "He believes in me, and I believe in him. He's a worrier and he's very sensitive, and I've learned to be a cheerleader for him."
Wizekrack Finds His Game
Like Kozlowski, Rebecca Coffin-Vickery, Rhinebeck, N.Y., has struggled to form a partnership with Wizekrack, the 12-year-old, Irish-bred gelding she purchased as a 5-year-old.
Her efforts paid off this year as the pair won open preliminary, division 1. They also won a preliminary section at King Oak Farm (Mass.) a month before.
"He's always been a careful, spooky horse, and in past seasons, he would always place first or last," Coffin-Vickery said. "He's so talented, but he's had to understand that he can do this. I've just kept practicing, jumping a ditch every day when I have to, until this year he just came out and said, 'I know exactly what I'm doing, let's go for a ride.' "
The pair tied for first in dressage, then slipped to second after a clear but slow cross-country round. A clear show jumping round returned the win to Coffin-Vickery when overnight leaders Mark Weissbecker and Dare Devil lowered two rails to finish third.
Coffin-Vickery, who trains and teaches out of Cool Park Farm in Millbrook, N.Y., will aim Wizekrack for the Area I preliminary championships at GMHA (Vt.) in August.
Maytham Nets Young Rider Win
Heather Maytham, Southborough, Mass., and her 10-year-old, Thoroughbred gelding In The Net won the junior/young rider preliminary section.
Maytham, who will enter her junior year at Boston College (Mass.) in the fall, placed second in dressage, then entered show jumping with a seven-point lead, adding only 4.8 cross-country time faults to their dressage score.
"I just went out and gave him a positive ride," she said of her cross-country round. "He has a huge gallop, and he's gotten to the point where I can set him up closer to the jumps and he comes right back."
A clear show jumping round clinched Maytham's win, although she had a few anxious moments in the ring.
"The crowds worry him, and some of the jumps were right next to the patron's tent, so he got spooky there," she said. "I was worried he might get excited with the atmosphere and start to jump long and flat, so I tried to get him to shorter distances wherever I could."
Maytham, who trains with Stephie Baer, will move up to intermediate at Millbrook (N.Y.) in August.
Ward A Familiar Winner
William (Randy) Ward proved a popular winner in open preliminary, division 2, on James, a 6-year-old, Holsetiner cross gelding owned by Anne Kaplin of Lincoln, Mass.
Ward grew up riding on Boston's north shore, and now he's relocated back to Harvard, Mass., where he's head trainer at Firefly Farm, after several years training in Pennsylvania and Florida.
James won dressage and jumped faultlessly to add another victory to an already stellar season, with wins at Rocking Horse (Fla.) and Red Hills (Fla.) and a sixth place in the Ocala (Fla.) CCI*.
"He just so trainable and such a trouper," said Ward. "He's very consistent in all three phases, and he never gives me any surprises."
James gave Ward one anxious moment in the show jumping, however, putting an extra stride in one combination.
"He was a little spooky near the tents," said Ward. "But he still got out of it; that's what makes him so special. He's a phenomenal jumper, and if I just get him the right distance, he'll jump clean. He didn't touch a jump out there."
Ward plans to move James up to intermediate later this season.
Annie Eldridge