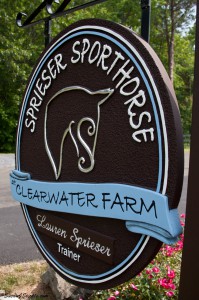 Ten years ago this week, I left New Hampshire, where I'd been a working student for Pam Goodrich, to move to a farm in Virginia. It had 12 stalls, two of which the previous owners used to store hay and grain, because there was no feed room or storage area. They kept shavings in a pile on the driveway, under a tarp. My parents, with whom I own the farm, lived in the one-bedroom apartment upstairs; I slept on an air mattress in what would eventually be the tack room. The indoor arena wasn't finished. The outdoor arena when we bought it was too small, and with small round pebbles for footing; when we redid it, the footing was too deep for the first year, so I mostly rode in the field. I had five small paddocks. Billy was 15, Cleo 9, Ella 6, Midgey 5, and I was 23.
And while I'd shown Grand Prix, and I'd taught some lessons and clinics, and done some sales, and worked for some incredible people, I just laugh now at all that I thought I knew then.
Many of my first students are still my students today. Others brought me the kinds of horses that every young dumb and new trainer takes on, because they don't know any better. Many were dangerous. Some were beyond me, and fortunately I was just smart enough to know when I was in over my head.
But I still made so many mistakes. None egregious, thank goodness, but I sometimes gave bad training advice because I didn't know any better. Some of my first lessons were disorganized. The way I billed for horse shows for years cost me a fortune. I took on too much, and was too slow to learn to delegate, and to bring in the people I needed. I wasted time and energy. I took too long to find a coach, instead taking lessons from multiple people and losing my cohesive training plan. I forced my own riding goals and dreams to take the backseat more often than I should, and it burned me out.
But I learned.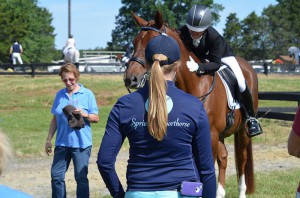 I learned how to take impeccable care of my clients without letting my care of my team or my own horses slide. I learned how to make horses and riders up the levels. I became a better teacher. I became a better rider. I became a better boss. And I became aware of how much more I needed to learn, and continue to do what I can to learn those lessons, both on and off the horse, in and out of the ring.
I'm proud of all I've learned, and I'm proud of all I've taught to others. I'm proud of the 13 USDF bronze medalists, eight silver, and one gold that we've made. We've finished, or helped our students finish, 14 horses to the FEI levels, including seven to Grand Prix. We've brought eight to the USDF Finals, taken champion or reserve at the regional and BLM Championships 18 times, qualified for nine USEF Championships and four NAJYRCs, and won champion or reserve at almost every USDF Youth Team Championships.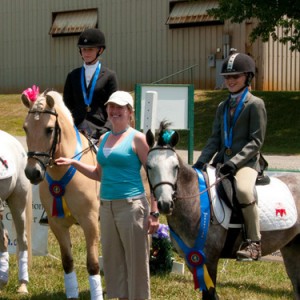 I'm proud of the clinics, the schooling shows, the Fix-A-Tests, the camps and the other educational programming we've contributed to our local riding community. I'm proud of the matches I've made between horses and riders. And I'm proud of the friendships made at my farm.
I am proud of careers I've contributed to. Former working student Kelly runs her own farm in New Hampshire, and has shown through Grand Prix. Lindsey is an expert on equine nutrition. Sarah is the assistant trainer for a prominent breeder. Liz is a vet. Several others have stayed in the industry; many more have left for other things, but I still hear from them from time to time. It's a joy.
And I'm endlessly, endlessly proud of, not to mention grateful for, my current team. My assistant trainers Lisa and Lauren, without whom I truly would be lost. I work every day at being the kind of trainer who deserves you, and I'm grateful every time you kick my ass and make me better. My working students Skye and Renata, and the soon-to-arrive Hannah, who I think are one of the best teams I've ever had.
My long-suffering coach, Michael Barisone., and my longer-suffering veterinary team: Virginia Equine Imaging's Dr. Cricket Russillo, Dr. Kent Allen, Dr. Susan Johns, and Drs. Stephanie and Chad Davis of Davis Equine. My farrier, Don Maley. My sponsors, with a special nod to my auxiliary back-up parents Colleen and Matt Meyer of Advanced Saddle Fit, and my wonderful friends at Uckele Equine, who've been with me from the beginning.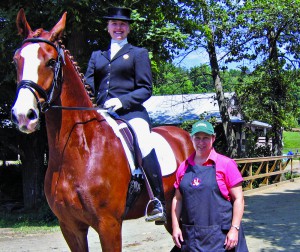 I'm proud of this crazy blog, the friends it's made me, the doors it's opened for me, and the fact that I do, occasionally, use my college degree. You can read all those blogs here!
And I am proud, proud, proud of every student who's ever walked through my door. You've made it all possible. You've humbled me, inspired me, carried me and cracked me up for 10 years.
Here's to many, many more!
SprieserSporthorse.com
Lauren Sprieser on Facebook