Pine Top Farm in Thompson, Ga., has been a staple of the East Coast eventing show circuit for many years, so when I got onto Highway 302, I was not surprise to find that I instantly became part of a convoy of truck and trailers, all heading West towards Georgia. At least I was not the only one who got up at 4 a.m. to feed horses, in my case in order to arrive in time to help my first student with the dressage warm-up.
The voice on the PA system told us that it was actually the 92nd horse trial held at Pine Top. Now that has to be some kind of a record!
The entire 2010 US WEG Eventing Team was present, with up and coming horses, mind you. Phillip and Boyd seemed to be everywhere, as was Matt Flynn. Busy riders!
It was a balmy 25 degrees and, believe me, a few of those fit event horses were impressively leaping around. As Doug Payne put it, "The walk, in cold weather like this, gets you every time."
I was very proud of my students and left to drive back to Aiken to get on my own horses. A long day, but oh, sooo much fun!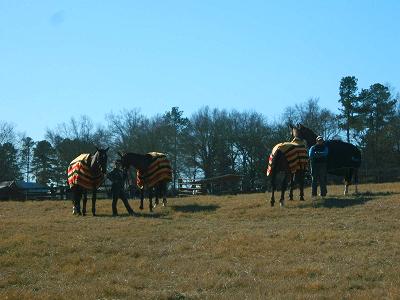 Horses waiting for their turns to jump at Pine Top Horse Trials. Photo by Elly Schobel.