Rio de Janiero—Aug. 10
Germany's Dorothee Schneider was the last to canter down centerline today as the light was fading, and she didn't disappoint, scoring an 80.98 percent with Showtime FRH to take the lead after the first day of the Grand Prix.
The 10-year-old Hanoverian gelding's scores have been creeping into the 80s over the last year, and Schneider was thrilled with her ride, which also helped the German team to an early lead ahead of the Netherlands and Great Britain.
The Dutch are down to three riders now after Adelinde Cornelissen retired Parzival during their ride when he wasn't feeling right.
The United States is in a close fourth place after their first two riders, Kasey Perry-Glass (75.22%) and Allison Brock (72.68%).
We caught up with the top five riders to hear their thoughts on their tests. To read about the top morning rides, click here.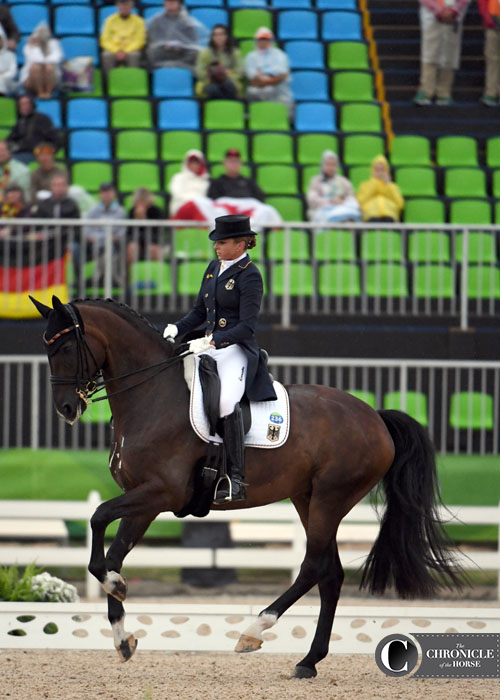 Dorothee Schneider and Showtime FRH (Germany, first place, 80.98%)
Schneider had one small mistake in the first of two pirouettes on the final centerline when Showtime broke to trot coming out, but she was still happy with her ride.
"I'm very, very happy with the test. I'm very happy that the horse stayed the whole time in front of my aids, and worked with me, and I celebrate this difficult test this day with the German team," she said. "The feeling is amazing because he's amazing outside and amazing in the ring. He feels like he wants to do this with me together. I think that's also the point where you get points, when the judges can see that you do it in the light way, that the horse is listening to the rider, and he wants to do this with me together. The feeling is amazing with this horse. It's easy. I don't have to do anything with pressure."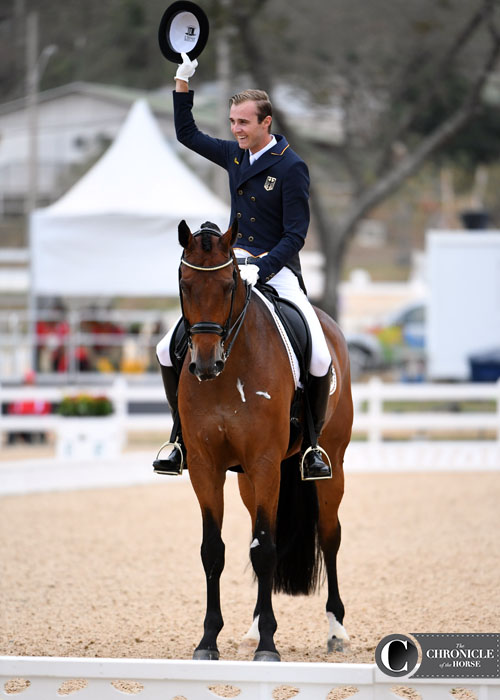 Sonke Rothenberger and Cosmo (Germany, second place, 77.32%)
Cosmo is the youngest horse in the field at age 9. Bred to be a jumper but showing talent for dressage, he brought Rothenberger, who spent several years as a jumper rider, back to dressage.
"He felt really happy in this arena, and I think we showed a safe round. We had a slip up in the first extension, but we had a really nice passage, and the rest of the trot extensions were nice, and the [extended canter] was nice. I'm really happy with my horse," Rothenberger said.
"When you walk him, he's really calm, and when you take up the reins it's like you put a Ferrari motor on. You start trotting, and you get goosebumps down your back. That's what makes it fun every day, to work with a horse which wants to work, and a horse which always does his best. I'm happy I'm allowed to ride him every day."
Cosmo didn't take to the water he was served in Brazil, earning himself the nickname "Gourmet Cosmo," and he's been drinking bottled water since he arrived.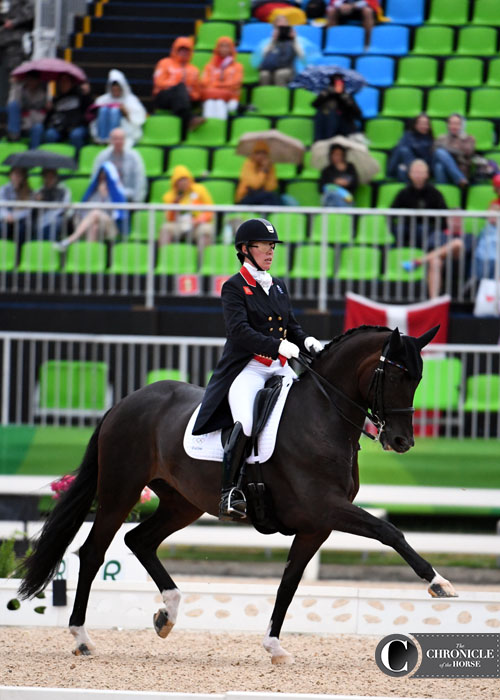 Fiona Bigwood and Orthilia (Great Britain, third place, 77.15%)
"I'm over the moon! Going down that last centerline Carl [Hester] and my husband [Danish rider Anders Dahl who rode Selten HW in the morning session] in the stands said that last extended trot, 'I'll bet she goes for it now! If she blows it now…' I came around that corner and thought, 'I've got nothing to lose,' and I just went for the extended trot. I was very emotional after, and I know I was meant to come [right to the media] but I had to go give her sugar and give her a big hug and tell her how good she was," she said.
Bigwood wears an eye patch after she suffered a fall from a horse last year and got a concussion. She experiences double-vision still, but trusts her mare to take care of her as she continues to recover.
"Just the fact she's listening to me from the minute I get on, and then you drop the reins, and she walks, there's no tension. You just feel you're riding with a friend. The whole thing, I just loved it. I've had many horses over the years, but to get a real friend like that is something special. She is such an honest horse I love her to bits," she said. "When I had my accident I wasn't allowed to ride anything that could be a little cheeky or naughty, so I kept riding her, she's got the biggest heart, she'd never do anything to hurt you. She's the one that kept me going. I was going to stop riding, such a lovely relationship with her."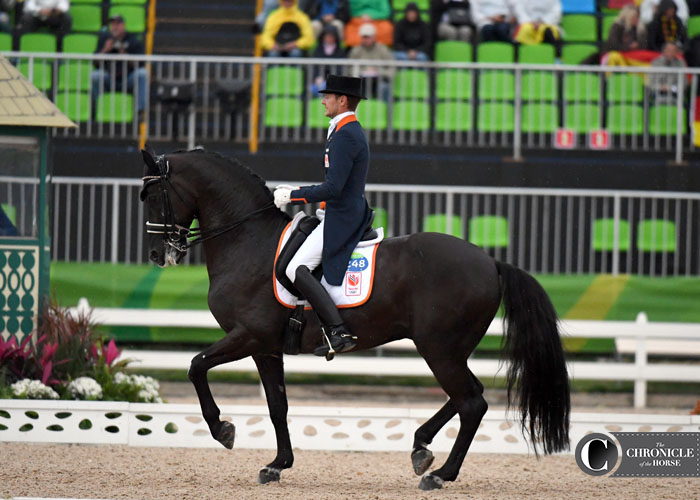 Edward Gal and Voice (Fourth place, 75.27%)
"The first part of the test I was a little bit careful because at the start he wanted to run away a little bit," said Gal. "The second piaffe wasn't so good because I came in, and I felt he was going back, and I wanted to ride a little bit forward, and of course from the passage to the canter was not so nice, but for the rest I was quite satisfied with him. He's developing much more, he's much less of a stallion, now he feels that all the work is getting easier for him. At first he really didn't know what to do. Now he's settled down and he knows all the exercises, and it's much easier. It makes it much for him and me too. It's less work."
Gal is sponsored by Glock, a firearms company, but he isn't allowed to wear any logos from the company, including his trademark gun-shaped stock pin thanks to International Olympic Committee rules. "I wasn't sure if it was allowed. I think, don't take any risks, so we didn't get in trouble and covered up all the logos, even little ones on the boots."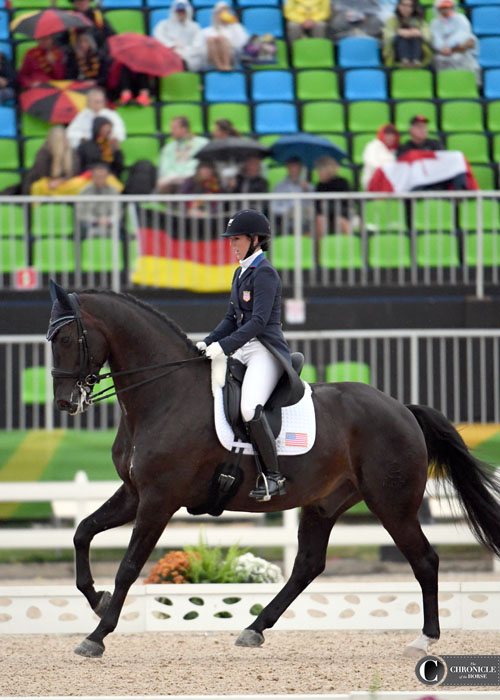 Kasey Perry-Glass and Dublet (Fifth place, 75.22%)
Throughout the day, gunshots could be heard around the Deodoro sight, and another bullet was found on site. Perry-Glass said the noise bothered her gelding.
"I was really proud of Dublet," said Perry-Glass. "He hung in there really well for me, especially with all the guns going off. He's a very sound, sensitive horse. To be able to keep him focused and together was a challenge for both of us, but he was there, and he was ready to go. I was just trying to stay focused, remember my corners and remember half-halts, and you hear the guns, and it's a little bit shocking, but we're both pretty good about staying focused. Same in warm up and in the rings. You're more concentrated, so it throws you off a bit. Other than that, it's not really that big of a deal."
Perry-Glass was happy with Dublet's piaffe and passage tour, as well as his two-tempis.
"Both Debbie [McDonald] and Robert [Dover] said go out there and have fun and enjoy it. We've been working all year for this, and the last four years for this. When you're here you have to have fun and work really hard for your team."
Mollie Bailey and Lindsay Berreth are on the ground in Rio de Janeiro for the Chronicle and will be reporting with all the news, fantastic photos and behind-the-scenes details, all posted on www.coth.com. Your go-to page for all things Olympic is http://www.chronofhorse.com/2016-Olympics
We'll have live blogs of competition sessions, Twitter updates, blogs, photo galleries, stories about each day's competition and so much more. Don't miss a thing—we'll have everything you need to know. Also make sure to follow along on the Chronicle's social media outlets: Facebook, Twitter, Instagram and Snapchat (@chronofhorse).