On May 15, the U.S. Equestrian Federation announced that David O'Connor was stepping down from his position as technical advisor to the Land Rover U.S. Eventing Team.
"It was a very difficult decision for me to step away from this group of riders, owners, support personnel and sponsors," said O'Connor in the press release. "But the structural changes made with the newly created technical advisor position don't allow me to do what I felt has always been my mainstay. That is, helping to drive the necessary changes for eventing that are in the best interests of the athlete, horse, and owner."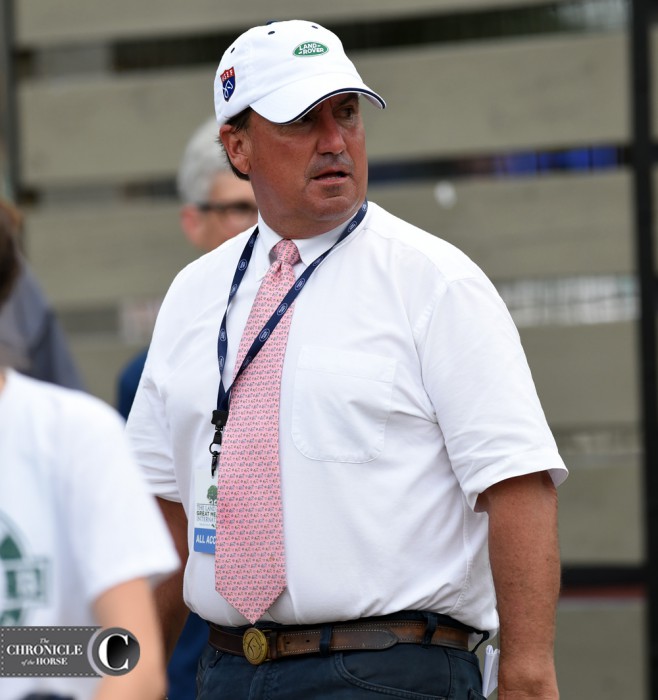 In December of last year, the USEF announced a change in the title and description of O'Connor's position, from coach—a position O'Connor took over from Mark Phillips in 2012—to technical advisor. At the time, O'Connor said he'd stay on in that new role, which placed less emphasis on training individual riders and more on overall management of the USEF programs, through the 2018 FEI World Equestrian Games in Tryon, N.C.
"I think with the direction eventing is going that there's an opportunity for the riders to take a bit more responsibility on their own, and it felt like the time for me to go pursue some other interests within the sport," O'Connor said when asked to elaborate on his reasons for leaving.
O'Connor, 55, The Plains, Va., has worked with the Fédération Equestre Internationale since 2000 on various safety initiatives and said he's excited to continue his work as the chair of the FEI Eventing Risk Management Steering Group.
"You're always trying to get the best ideas from around the world from engineers and riders and trainers. That work will continue throughout this year," he said.
O'Connor said the implementation of the EquiRatings Quality Index at all levels of eventing within the FEI is one of the biggest projects he's focusing on now, as well as continuing work with frangible fence technologies.
"Germany's working on a couple of things; we have some things going on here [in the United States], some projects with engineers in Australia," he said. "We're trying to shepherd a few of those ideas through. They're still at the concept stage, so going from a concept stage into being tested by engineers for reliability and use. It takes a while for these things to go through, but just trying to make sure these things keep going."
O'Connor will also continue doing private coaching.
"I had let a lot of that stuff go," he said. "I let the barn go, and that type of teaching, so that will ramp up a little bit, but it will be privately."
Under O'Connor, the USEF eventing high performance training list underwent some changes and is currently divided into a developing and world class list.
O'Connor coached the U.S. riders at the 2014 Alltech FEI World Equestrian Games (France) and the 2016 Olympic Games in Brazil, and the U.S. team failed to finish at either championship. He was coach at the 2015 Pan American Games (Ontario), where the U.S. team won gold.
He's proud of the pipeline programs he helped set up during his tenure, including the Emerging Athletes Eventing 18 and 25 programs, which he hopes will develop future stars.
"I believe that an investment into the future has to happen, and hopefully that will continue," he said. "I think that's where that type of success is going to come from. We put those programs in place, from the Emerging Athletes to the riders who've just come onto the team in the last year or two, so I'm happy about those programs, and I hope they stay because I think that's needed and was a weakness when I came in."
The USEF is in the process of finding a replacement for O'Connor.
"If the right riders and the right horses get to WEG, and there's an absence of bad luck and horses staying in the game, I still think the U.S. is going to do very well there," O'Connor said. "I had said that last year, and I still believe it. I think if this should happen, now is the time it should happen because there's still lots of time before the WEG. I'm happy with my time, but now it's on to another time."
Save