Darren Chiacchia's longtime assistant has gone far beyond the call of duty and been rewarded with achievements of her own.
The day Cristin Stoop only does the work of two people, she's having a lazy day.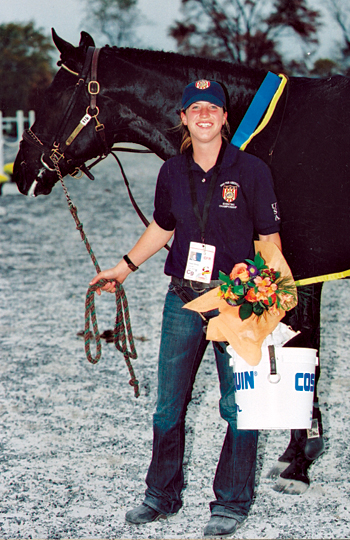 While that claim sounds questionable, it has the ring of truth to it–having come directly from her employer of six years, Olympic eventer Darren Chiacchia.
"She's busier than most pros in the industry out there," Chiacchia said. "She's a work horse. Sometimes it's the boring work, the 45-minute trot sets, while I'm off teaching or something. I've had a pretty darn good career, and I jokingly refer to her sometimes as my secret weapon. I'm so proud of her."
For Stoop, horse care is a passion. The 28-year-old from Delhi, N.Y., grew up riding, and graduated from Pony Club with her B rating, but took the traditional post-high school path by enrolling in the environmental science program at the State University of New York at Delhi. Having worked intermittently for Jessica and Missy Ransehousen over the years, though, Stoop felt drawn back to the horse world after graduation.
"I always liked sciences and thought it could be interesting, but I didn't know where I wanted to go with my college degree," she said.
Through the Ransehousens, Stoop met Springville, N.Y.-based Chiacchia, who offered her an entry-level position. Six years after signing on, she's now an integral part of the business. Stoop not only grooms and cares for the Independence Farm herd, which fluctuates from 60 to 20 depending on the season, but also oversees the daily barn schedule, assists clients and runs Chiacchia's thriving young horse business.
Stoop's expertise and work ethic was unexpectedly tested this spring when Chiacchia suffered a catastrophic fall at the Red Hills Horse Trials (Fla.) in mid-March that left him with multiple rib fractures, a partially collapsed lung and a severe head injury. As he lay unconscious in an intensive care unit in Tallahassee, Chiacchia's friends and staff rallied to keep the business, which is based in Ocala, Fla., during the winter season, organized and functioning regularly.
"It was kind of a tough time for everyone," she said. "You never really think when you get up in the morning that this could happen. You always know it's possible that someone could get injured, but still.
"[Darren's] friend [Ocala-based international driver] Chester Weber kind of stepped in and took over the
business," Stoop continued. "I knew I had to keep showing the sales horses to people and keep the upper-level horses going as best they could. We all thought, 'When Darren gets back in action, we want these horses to be ready.' "
Back in the saddle a mere three months after the accident, Chiacchia now has an even greater appreciation for his assistant.
"Cristin has been here long enough that she's way beyond just another employee," he said. "My mom treats her like a member of the family. And through this terrible incident that I went through, she proved not just her loyalty and commitment to me, but that she is truly a friend to me. It's more than just a boss and an employee."
Now that Chiacchia is well along the road to recovery and the team has moved back to New York for the summer, Stoop said she's able to get back to training the young horses–a job she relishes.
She won the Florida Training Level Three-Day Event in April with a 5-year-old, Trakehner gelding named Isengart, one of the countless sales projects she's helped break herself.
"I get a tremendous amount of satisfaction getting on one who barely steers and then eventually taking it to its first event," Stoop said. "My favorite thing is riding and bringing along the young horses."
That said, Stoop admitted she'll always feel a sense of pride in grooming. "There's nothing better than bringing your horse to a team competition and turning it out so it looks great."
About Cristin

Age: 28

Home: Winters in Ocala Fla., and summers in Springville, N.Y.; originally from Delhi, N.Y.

Education: A degree in environmental science from SUNY Delhi.

History: Has worked for Darren Chiacchia for the past six years and for Missy Ransehousen for 1 1⁄2 years.

Favorite Hobby: Capoeira, a Brazilian martial art.

The Most Difficult Part Of Her Job:

"Just trying to keep everything organized. Darren's such a motivated person and he always has a lot of balls in the air. We always have a lot of horses, so I'm learning to delegate what needs to be delegated."
"She's just fantastic," Chiacchia remarked. "Her position with me has for sure matured. Now she's much less my personal groom and more running the development of the young horse program. But she's still responsible for the main care of these horses, and when horses go to Europe, I still prefer her to fly with them."
Stoop has a particularly strong bond with Windfall II, the Trakehner stallion that Chiacchia rode to win the individual gold medal at the Pan American Games (Md.) in 2003.
"He and I have kind of a special relationship because I've been taking care of him for so long," Stoop said. "He has this cheeky kind of personality, and he's not always to be trusted, but in a good way. He has a lot of heart."
Stoop has accompanied many of Chiacchia's horses, Windfall among them, to competitions on three continents, including the 2004 Olympic Games in Athens, Greece, and the 2007 Pan American Games in Rio de Janeiro, Brazil.
"I always knew that I loved horses, and I wanted to go to the Olympics and go to Rolex [Kentucky CCI****] and do all of that, and I've been lucky enough to now, even though I wasn't riding," Stoop said.
While she may not be competing at the four-star level, Stoop does get plenty of riding time. She starts at 7 a.m., helps with the feeding and other chores, then rides from five to 10 horses per day. At events, she typically competes four to six young horses at the lower levels.
"She does a great job with the babies and has had very impressive results all the way through the preliminary level," Chiacchia said. "Ten years down the road, I sure hope she hasn't gone anywhere. She's really got an excellent lineup of young horses right now. By no means are all the horses sent here for me. We have clients that send us horses for her to ride."
Stoop doesn't have a horse of her own and tries to keep herself from getting attached to the talented youngsters she sees come through the program. She also said she doesn't have Olympic aspirations for herself.
"I'd like to be the best rider I can be at the level I'm comfortable at," she said simply. "The bottom line is that I try to just go into each horse and make each horse into an animal that an amateur or young rider can get on and have a good time."
In her rare free time, Stoop likes to relax with Capoeira, a form of Brazilian martial arts she picked up on a whim five years ago in Florida. She got hooked on it after taking a class at her Ocala gym with a friend.
"It's based in dance, not so much fighting," Stoop explained. "So it's a lot of strength training and balance and coordination, and I actually find that that helps my riding. It's a great stress reliever at the end of the day and something different and away from the horses."
But Stoop is never far removed from her equestrian lifestyle.
"I'm very dedicated to my job," she said. "I'm the first one in the barn in the morning and the last one who leaves at night. I've always been a hard worker. It's all about attitude, isn't it?"

Kat Netzler