Red & White & Yellow by Ellen A. Gavin
Ellen A. Gavin knew at a young age that art would be her passion; she began painting and drawing when she was 4 years old. As a child and adolescent she drew only horses, dreaming about owning a pony. She earned a bachelor's degree in fine arts from Temple University (Pa.) and is a full member of the American Academy of Equine Art.
After a long and successful commercial art career in New York, Gavin is dedicating herself to fine art.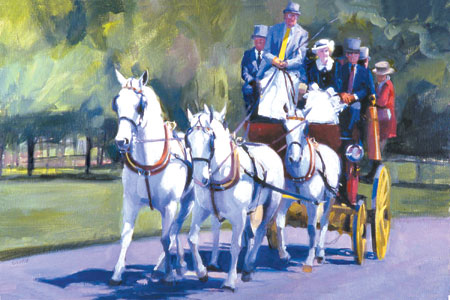 "My style is painterly…displaying realism, without fussy detail," she said. "I like to explore a fleeting moment within the mood of the day."
Gavin, Millville, N.J., a past competitor in the hunter and equitation rings, now rides occasionally when not painting.
This week's cover, Red & White & Yellow, is an 11″ x 14″ oil in the collection of Lorraine Sterling, Paoli, Pa.