Show The Way by Sharon Lynn Campbell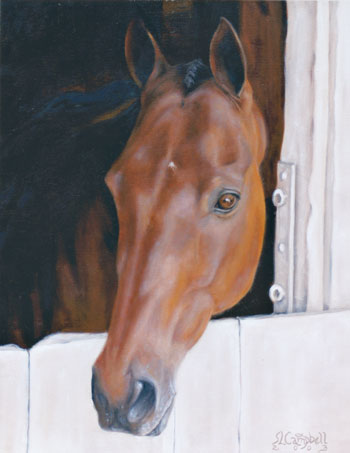 Artist Sharon Lynn Campbell, Rochelle, Va., is known for her beautiful lifelike oil portrait. She captures expression and emotion in her paintings and is able to bring out the personality of the people, horses and pets.
Her work can be seen throughout the country in private collections, galleries, hunt clubs, schools, businesses, tack shops and on magazine covers, horse show posters, limited edition prints, stationery and cards.
"As a child I spent all my days at our family farm riding and going to shows," she said. "Now as an equestrian artist, I realize the value I got from growing up in the equestrian world. The horse is so complex, but since I was around them their conformation and expressions are second nature to me. I love what I do and the biggest reward is the joy my paintings bring to my clients. Each and every painting means so much to me, and I put my all into each one."
This week's cover, Show The Way, is a 20″ x 16″ oil painting of Olivia Golden's now-deceased show hunter.