Saturday morning, June 16, during Blenheim June Classic 2 in San Juan Capistrano, California, kicked off with 32 high performance hunters galloping on the grass in the $10,000 USHJA International Hunter Derby. The class culminated with a win for Alexis Taylor Silvernale and Anne Mullally's 7-year-old gelding Counselor.
Four judges made up the two panels: Christina Schlusemeyer and Mary Cohen were Panel 1, while Liz Adler and Rachel Kennedy sat on Panel 2. The course, designed by Jasen Shelley of Wellington, Florida, included two high options, bending and direct lines and a two-stride combination.
For those who advanced to the handy round, another two high options and a hand gallop played a role in the scoring. Taking both higher options and tight inside turns, Taylor-Silvernale used the track to her advantage, earning handy bonus scores from both panels to take the victory.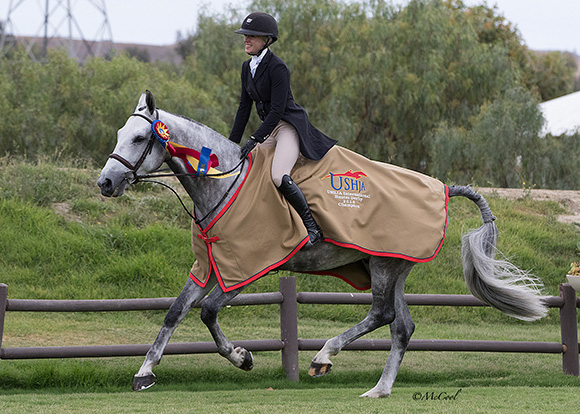 "I knew that Jenny Karazissis, who is a great rider, was leading after the second round and that John Bragg would still have to go after me, so I really went for it at the hand gallop jump and got lucky!" said Taylor-Silvernale.
"We recently imported Counselor from Nick Haness, where he had been doing the 1.40-meter jumpers in Europe. I thought he'd be a great derby prospect, and he's obviously proving that to be true," Silvernale said of her derby-winning mount. "The course was great out here [in the Pacific Field]. I love riding on the grass fields. It makes for a great class."
Along with ribbons and a USHJA cooler and halter, the pair was awarded a pair of Roeckl Sports  riding gloves and an EquiFit  hunter girth.
Sponsored awards also went out to many of the riders and contributors to recognize their outstanding performances. Anne Mullally received the Balmoral Winning Owner Award, and Alexis Taylor-Silvernale was the Blue Ribbon Blankets  Winning Trainer.
Once again Augusta Iwasaki earned The Plaid Horse Highest Scoring Junior Rider Award, with an eighth place finish aboard Small Occasion. Cherie Callandar took home the One K Helmets Highest Scoring Amateur Rider Award on her mount Pacific Heights.