All the talk this weekend centered around the confirmed case of Equine Herpes Virus (EHV-1) at the HITS Ocala showgrounds in Florida. As the weekend wrapped up, the original case is in stable condition at the University of Florida College of Veterinary Medicine, no new suspicious fevers have arisen in Ocala, a horse that had shipped from Ocala to Wellington, Fla., tested negative for the disease, and horse travel in and out of Florida is not restricted.
On the competition front, teenage phenom Tori Colvin scored her second consecutive victory in the $50,000 Peter Wetherill WCHR Palm Beach Hunter Spectacular (see results) over a field of top-notch professional riders and veteran horses during Week 7 of the FTI Winter Equestrian Festival (see results). Read all about the class and see beautiful photos in the Chronicle's Mollie Bailey's coverage.
Want to watch the whole class? Check out the On Demand video at USEF Network.
Also at the FTI WEF, an Irish trio staked their claim on the $50,000 Hermes Jumper Derby (see results),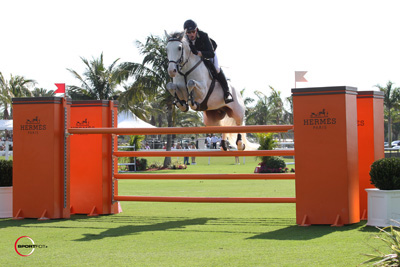 Andrew Bourns and Gatsby led the Irish
assault on the $50,000 Hermes
Jumper Derby.
Photo by SportFot
held on the grass derby field of the Stadium facility. Andrew Bourns led the charge on Gatsby, a horse he's only been showing for four weeks. See Mollie Bailey's coverage of the class.
"It was a big ask and I think it was a big step up for him and he really answered the call," Bourns said. "I was a little worried about the length of the track and the heat. I thought it might take its toll, but he actually held up very well. Coming to the last fence he was pulling me just as hard as he was to the first fence. I was very happy with that. Our relationship is very new, the combination is very new, so we are still trying to figure each other out. There were a few moments on the course where it got a little bit hairy, but he stayed careful and he just kept trying right away to the end."
Countrymen Darragh Kenny on Any Given Sunday and Shane Sweetnam on Little Emir rounded out the top three.
In Ocala, showing went on uninterrupted for the HITS VI Ocala Masters (see results) despite the EHV-1 scare, and Jared Peterson scored a remarkable second consecutive Sunday afternoon win by claiming the $50,000 Strongid C 2X Grand Prix aboard his Titus 2:11. Peterson, just 20, won the $50,000 class in Ocala the week before with Titus 2:11, as well. The son of grand prix rider Derek Peterson, Jared spent his junior years riding sales horses and difficult catch rides, but Titus 2:11 is the first horse he's really had of his own.
Watch Jared and Titus 2:11's winning efforts…
Tracy Fenney and MTM Timon continued their onslaught on the Ocala grand prix classes by earning the top check in the $25,000 SmartPak Grand Prix.
Out in California, two new names jumped to the top of the final World Cup qualifying class at HITS Desert Circuit IV (see results). Amateur rider Tiffany Sullivan and Egyptian rider Nayel Nassar were the only two riders to pilot their horses through Round 1 of the $54,500 Purina Mills Grand Prix CSI-W. Sullivan and Nassar agreed to forgo the jump-off, leaving Sullivan in first on her Tristan, and Nassar in second with his Lordan. Nassar also picked up third place with just 1 time fault in Round 1 abaord Raging Bull Vangelis S.
Nassar, a student at Stanford University, actually ended up on top of the North American West Coast League World Cup standings, earning himself a ticket to his first Rolex FEI World Cup Finals in Gothenburg, Sweden, in April.
Some heavy hitting eventers braved torrential rain to compete at the Pine Top Spring Advanced Horse Trials in Thomson, Ga. (see results) Will Faudree not only topped a division of advanced on Andromaque, but also claimed victory in both divisions of open intermediate on Riesling de Bussy and Pawlow. Jan Byyny and Syd Kent earned a convincing victory in another division of advanced, while Becky Holder and the elegant Can't Fire Me topped the third division of advanced.
Out in California, at the Mid-Winter Dressage Fair CDI in Burbank, Guenter Siedel showed off his new ride, Coral Reef Wylea. They won the Grand Prix and the Grand Prix Special. Karen Pavicic topped a Grand Prix freestyle field of two with Don Daiquiri. (see full CDI results) Steffen Peters dominated the Prix St. Georges and Intermediaire I on Vaya Con Dios. (see full national show results)
Other shows from the weekend were the Sahuaro Classic (see results), the Gulf Coast Magnolia Classic III (see results), and the Great Southwest Winter Series IV (see results).