Winning certainly isn't anything new for Tori Colvin. But winning in France certainly is.
On her first trip overseas, Colvin made quite a splash at the Longines Global Champions Tour in Chantilly, France. In the CSI** competition that ran concurrently with the five-star GCT schedule, Colvin topped two 1.35-meter speed classes aboard a catch ride, Cesanna. She was also third in a 1.45-meter class on Don Juan, her usual ride owned by Karen Long Dwight.
"It was amazing; I never would have thought I would be able to go and show in Chantilly!" exclaimed Colvin.
The opportunity to compete in Chantilly on July 24-27 was one of the prizes on offer to the winner of this year's Artisan Farms Young Rider Grand Prix Series, presented by The Dutta Corp. in association with Guido Klatte, held during the FTI Consulting Winter Equestrian Festival in Wellington, Fla.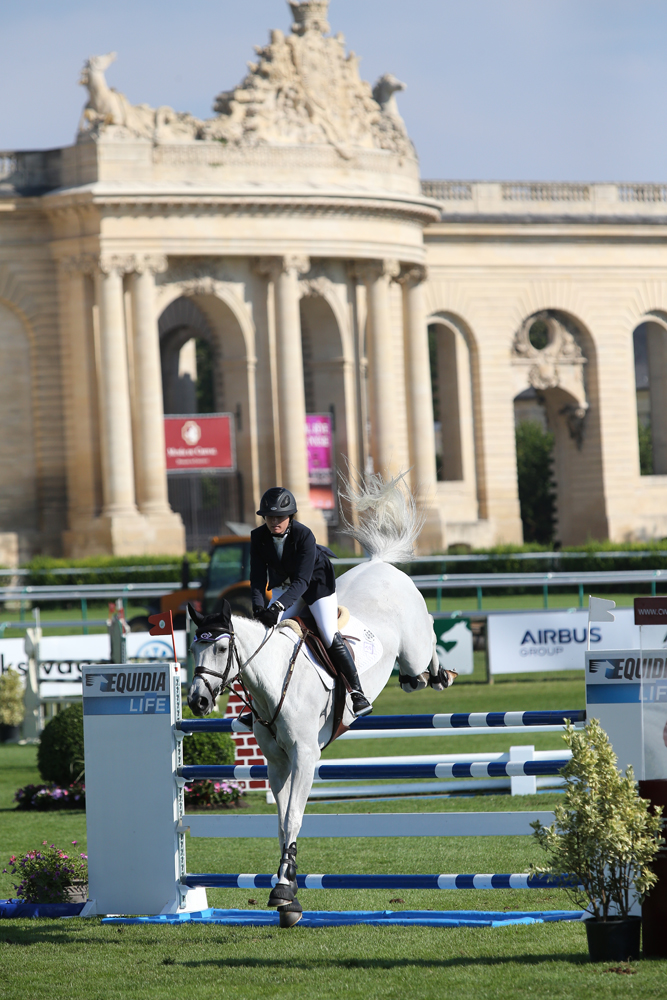 Tori Colvin took advantage of riding Cesanna, a
mare loaned to her by Artisan Farms, to win
two CSI** classes at the Longines Global Champions
Tour in Chantilly, France.
Photo by SportFot
Over the four competitions held throughout the 12-week FTI WEF, Colvin emerged victorious in the Young Rider series, which is open to riders of any nationality between the ages of 16 and 25, making 16-year-old Colvin one of the youngest competitors.
As part of her prize, Colvin was awarded entry to the CSI2* division of the Global Champions Tour at Chantilly and two tickets to the Chantilly VIP lounge, courtesy of event director Gérard Manzinali. Transportation for her winning mount, Don Juan, was generously provided by The Dutta Corp. in association with Guido Klatte. In addition, Artisan Farms' lead rider, 2008 Olympic gold medalist Eric Lamaze, lent Colvin a second horse, Cesanna, to compete.
Colvin proved on international soil why she was a deserving recipient of the prize, winning back-to-back 1.35-meter classes on Friday and Saturday with Cesanna, an 11-year-old grey Oldenburg mare (Cento x Centauer Z). Riding Don Juan, Colvin took a strong third place finish among a 96-horse starting field in Friday's 1.40-meter competition.
"They were very nice to let me use Cesanna. I went on Tuesday to ride her, and then I went to the show and showed her. She was really fun, straightforward and easy. She is definitely a good speed horse, considering that both of the classes I won were speed classes. I just turned and went and she left!" Colvin said.
For an American rider who has never before competed in Europe, there were some adjustments to be made.
"I had to get used to it, first of all because I do not speak French," related Colvin. "They don't post the orders of go until the morning, and they don't tell you the jump-off course until the end of the first round. And everyone was so calm! It is completely different than showing in the United States. Next year, it will be easier if I get to go again."
"The Artisan Farms Young Rider Grand Prix Series got you acclimated to come to a new venue," said Colvin, who was accompanied by her parents, her trainer, Ken Berkley, and Don Juan's owner, Karen Long Dwight. "There were a few Americans here, like Kalvin Dobbs and Adrienne Sternlicht, but also a lot of French people that I have never shown against. The show itself was amazing, and it was on grass. I really gained from the experience, because everything is so different. It was so much fun!"
Carlene and Andy Ziegler of Artisan Farms created and developed the Artisan Farms Young Rider series to provide a bridge between the junior and amateur divisions to the grand prix level, allowing up and coming riders to gain experience at the upper levels of show jumping sport while still competing against their peers.
"Tori's success in Chantilly was so gratifying to us," said Carlene Ziegler, who was in Chantilly to witness Colvin's two victories. "It is a validation of what our Young Riders Series is all about. She works so hard, and to see Tori make so much of the opportunity that was presented to her was fantastic. We are sure this won't be her last international competition!"
In four short years, the Artisan Farms Young Rider Grand Prix Series has produced an elite list of champions including Reed Kessler of the United States (2011), Nayel Nassar of Egypt (2012), Chloe D. Reid of the United States (2013), and Colvin. All four riders are currently enjoying incredible success as their international careers advance.