Grass Lake, Mich.—June 5
The USEF Para-Equestrian Dressage National Championships sponsored by Deloitte—which were also a selection event for the Rio Paralympic Games—wrapped up with Grade Ib athlete Sydney Collier and Western Rose being crowned national champions in the high performance division.
Grade III athlete Pamela Hardin and Quaterjack earned top honors in the national division. The freestyle tests accounted for the final 20 percent of the overall championship scores with the first 80 percent coming equally from Friday's team test and Saturday's individual test.
High Performance Division
Heading into the final day of competition, the top of the high performance leaderboard was extremely close with the top five all sitting within 2 percentage points of each other.
The freestyles proved very influential, with the athletes turning in high-quality performances under inclement weather conditions in front of the ground jury of Kathy Amos-Jacob (France), Carlos Lopes (Portugal), and Kristi Wysocki (USA).
Collier, of Ann Arbor, Mich., and Wesley Dunham's 13-year-old Oldenburg mare, Western Rose, began their quest for national championship honors with a solid team test score of 70.86 percent. In Saturday's individual test, the pair marked the highest score of the day across all grades, a 73.67 percent.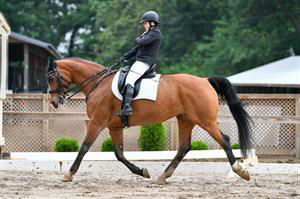 Sydney Collier on Western Rose on their way to the win in the Grade Ib National Championship. Photo by Erich Linder
Capping off a successful weekend with the freestyle test, featuring instrumental versions of Phillip Phillip's "Home" and One Republic's "Secrets," the pair scored a 73.16 percent and secured the Grade Ib National Championship and overall high performance division titles.
"It was an incredible [freestyle] test. I stayed with my music and both of the halts were square, which I am so proud of. Our medium walks felt good, even though I didn't push her as much with the muddy footing. Overall, my accuracy was spot-on," Collier said. "This was a great way to start the summer and an exciting start to a journey. It is such an honor competing with so many talented athletes and their horses. I want to say a big thank you to all of my sponsors; I could not be here without them."
Earning the highest freestyle score of the day with a 75.83 percent, Angela Peavy of Avon, Conn., and Rebecca Reno and Heather Blitz's Lancelot Warrior, a 14-year-old Hanoverian gelding, earned the high performance division reserve national champion title and were the Grade III national champions. The pair went from strength to strength this weekend, improving their scores each day. They earned a team test score of 69.69 percent and an individual test score of 72.96 percent.
"I was really pleased with our performance," said Peavy. "This was our third time showing this freestyle. The strongest part of this test is the canter tour—we have really expressive changes. I was really pleased with the weekend overall. It was a long shipping trip for [Lancelot] from Wellington, Fla., and he was still on his a game. We are really becoming a more united pair the more we show together."
Rounding out the top three overall in the high performance division was Kate Shoemaker of Peoria, Ariz., and Solitaer 40, Craig Kate and Denna Shoemaker's 9-year-old Hanoverian stallion. As the Grade III reserve champions, they scored 72.19 percent in the team test, 70.04 percent in the individual test, and 71.91 percent in the freestyle.
National Division
Maintaining their overnight lead, Hardin of Evans, Ga., and her own, Kara and Kasey Hardin, and Rachel Bryant's 11-year-old Brandenburg gelding, Quaterjack, performed another brilliant test to end their weekend.
In Day 1's Grade III team test, the pair worked through initial nerves to score a 67.67 percent. They improved greatly on Day 2, scoring a 70.20 percent in the individual test, moving them into the lead overall. The pair performed an energetic and expressive freestyle to music from the movie Kung-Fu Panda and the video game Dragon Warrior to earn a score of 72.41 percent.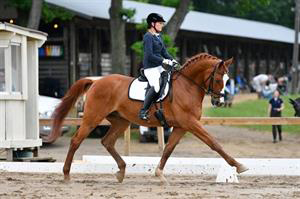 Pamela Hardin on Quaterjack. Photo by Erich Linder
"I couldn't have asked for more of that horse. He rises to the occasion every time. Everything can go wrong at a show and he takes it all in stride. Nothing phases him," said Hardin. "The test went well; I love the extended trot [in the freestyle] down the long side—we are really able go for it. Each day I progressed and got a little better and a little better." Hardin also earned the Grade III national champion title.
Laurietta Oakleaf of Malvern, Pa., and her own and Laura McGinnis' 12-year-old Friesian stallion, Niekele fan Busenitz, or "Nikki," finished the weekend as the Grade Ib national champions and reserve national champions, overall, in the national division. The pair led the division on day one with a team test score of 68.20 percent. They posted an individual test score of 66.72 percent and earned a score of 68.66 percent in the freestyle.
"Overall it went well, considering that we got the music recently and were only able to practice it once earlier this week," said Oakleaf of her freestyle performance. "Nikki and I had a couple places that we need to work on, but we also had very good moments. Some of our geometry, and most of our marks, were right on today."
Earning the third-place position overall in the division was Grade IV national champion, Mary Jordan of Wells, Maine, and Vinceremos Therapeutic Riding Center's Rubicon 75, an 11-year-old Oldenburg gelding. The pair scored a 63.61 percent in the team test, a 66.90 percent in the individual test, and a 67.58 percent in the freestyle.
U.S. Paralympic Dressage Team selection rankings will be based on 50 percent of a combination's overall performance in the selection event and 50 percent on the combined overall score from its best two CPEDI3* events taking place Jan. 1, 2015 through May 16, 2016. The selection procedures also include discretionary criteria.
Of the 11 athletes competing this weekend, nine will look to secure a position on the four-member U.S. Paralympic Dressage Team, which will be announced at a later date. All nominations to the 2016 U.S. Paralympic Dressage Team are subject to approval by the United States Olympic Committee and the USEF.
Para-dressage competition at the Paralympic Games takes place Sept. 11-16 in Rio de Janeiro, Brazil.