The professional rider racks up big scores with her small mounts.
Lauren Chumley may be an Ohio expatriate, but the pony-riding skills she gained there in her youth were
justly rewarded when she returned for the National Dressage Pony Cup, June 28-29. The 24-year-old earned the high-point open rider title at the competition at Paxton Farm in Batavia, Ohio.
Chumley, who now calls Flemington, N.J., home, worked at a pony breeding farm in Lebanon, Ohio, since high school, until taking a position with dressage trainer Silke Rembacz last fall. She now focuses mostly on horses, but one special pony remains on her roster.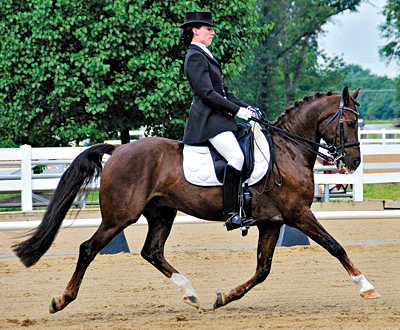 Nyewyn, a liver chestnut Welsh Pony–Morgan cross, finished the weekend at Paxton as fourth level grand champion, with an average score of 64.63 percent. With Chumley in the tack, he earned scores of 62.95 percent and 66.34 percent in fourth level, tests 2 and 3, respectively.
At 15, Nyewyn (Menai Crwys–Wyndamere Desiree) also earned the award for oldest pony at the Pony Cup. Chumley has had the ride on him for less than a year, but Nyewyn's age hasn't held the pair back. She has him schooling Prix St. Georges movements.
"I went to Florida [for the winter circuit] in December and took the pony with me," Chumley said. "He's a really cool little pony. He's got a great personality and movement that's just to die for in a pony."
Size, or lack thereof, isn't the only quality that establishes the 14.1-hand gelding as an atypical upper-level dressage mount. While the majority of FEI-level prospects are bred specifically for their discipline and enter training in their formative years, Nyewyn's owner, Jill Sackman found her pony as an unbroken 7-year-old on the farm where he was bred and raised in Michigan. She purchased Nyewyn with hopes of him becoming a driving pony, but according to Chumley, the gelding quickly put an end to those plans.

"It turns out that he violently opposes driving," Chumley said jokingly. "Jill found out very quickly that he wasn't going to be a driving pony, so she started taking [dressage] lessons with him and eventually showed him through second level herself."
Pony Cup Tidbits
• Blair Bowers, Midland, Ga., won the FEI Grand Championship title with Ico, a 12-year-old Dutch Riding Pony owned by Janie Pride. They performed Intermediaire II and Grand Prix tests, earning scores of 56.09 and 56.25, respectively.
• The highest composite score of the National Dressage Pony Cup went to Sue Kolstad and the Haflinger pony Adrenaline Rush SBF. They won the open training level grand championship with their average of 72.92 percent, and also clinched the adult first level grand cham-pionship with 69.89 percent. Kolstad rode for owner Donna Kuck of Cedar Lane Stables in Eaton, Ohio.
• Kuck also found success with two other Haflinger mounts, Merrick RVRW and Navaho Classic. Professional Jennifer Grant rode both ponies, winning the second level grand championship with Merrick (70.31%) and taking the third level reserve championship with Navaho Classic (66.81%).
Young Rider Elysha Bacca then campaigned Nyewyn successfully at third level until Chumley got the ride last fall. She debuted him at fourth level in Florida in March.
Sackman recently relocated to Missouri from Ohio, so Nyewyn joined Chumley during the transition. He now has a home at Freedom Farm in New Jersey, where Chumley rides for trainer Rembacz.
"Nyewyn is the only pony in the barn," said Chumley. "It's mostly FEI horses. I ride at least eight horses a day, and tons of 17-hand horses, but [ponies] just have so much personality. I've never met one and thought, 'Oh, he's boring.' "
Chumley moved to New Jersey last summer, but when she caught wind of the new National Dressage Pony Cup happening back in Ohio, she was immediately on board.
"Right then and there, I thought, 'There's a pony show–I have to go!' " she said. "There were some farms in Ohio that were instrumental in getting it together. They did a lot of legwork to get it going."
Chumley, who previously worked at a Norwegian Fjord farm in Ohio, is 5'5″.
"I guess I could be considered small, but I never set out to become just a pony rider," she said. "But it looks like I might be turning into that!"
Though she has no horses of her own, Chumley does share ownership of a 10-year-old, Connemara mare named Rung Rims Grainne. The 14.2-hand pony is primarily an eventer and tied for seventh place in the beginner novice division at last year's American Eventing Championships (Ill.)–the division that Chumley coincidentally won with another pony, a Norwegian Fjord named SNF Maarta.
On a whim, Chumley decided to bring Grainne, who is co-owned by Pat Reichle, along to the National Dressage Pony Cup, and it paid off with the reserve championship title in the training level division with a score of 69.89 percent.
"Originally, I was just going to take Nyewyn, but it's an 11-hour drive from New Jersey, and I have a two-horse trailer, so I figured I might as well take both ponies," Chumley said. "This was her first USDF show!"
Grainne (Chiltern Colm–Tower Hill's Bridget) is scheduled to move up to novice level in eventing this summer, but after her excellent showing at the Dressage Pony Cup, Chumley said she's considering showing her on the flat a bit more. She placed second in training level, test 2, with a 71.78 percent and scored a 68.00 percent to place sixth in training level, test 4.
Kat Netzler