Since moving to England three years ago, Tiana Coudray has accomplished one of her dreams by representing the United States at the 2012 London Olympic Games aboard her longtime partner Ringwood Magister.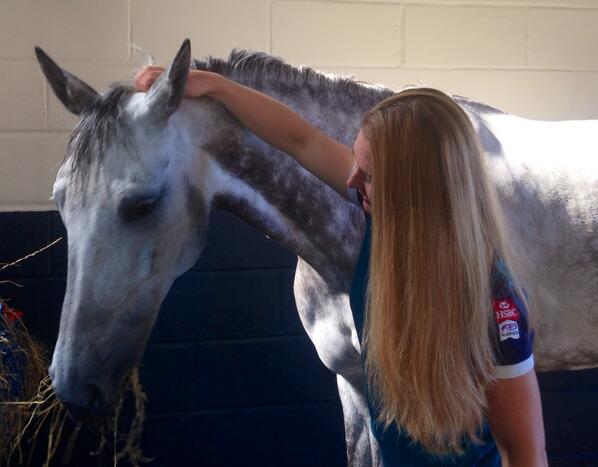 This spring, she jumped around the Mitsubishi Motors Badminton Horse Trials CCI**** for the second time with "Finn." While she did incur two stops, half the field failed to complete the tough track in the difficult wet weather.
A minor injury will keep Finn out of the running for this year's Alltech FEI World Equestrian Games (France), so Coudray has focused her energy on her up-and-coming horses and making a major move out on her own after three years based with Nick Gauntlett.
We caught up with the 25-year-old after a day of teaching lessons at her new home base near England's racing hub, Lambourn, to talk about her new yard, her string of horses, and the disappointment of missing out on the World Games.
Chronicle: Let's talk about Ringwood Magister. What's been your plan with him, and how serious is his injury?
Coudray: I had a fantastic season last year and made the decision to not run him in an autumn three-day because he'd just gone so well. He'd proven everything he needed to prove.
He had the autumn to train and work from home, which was fantastic because he came out this spring really ready to go to WEG. Every event he went to was great, and we got to Badminton in really good form, and then Badminton turned into whatever it was! Not a four-star. It turned into something more than that.
Even at that, he really was spectacular in how he handled it all. He came through that incredibly well—his fitness was unreal, and he never tired in those incredibly tiring conditions. He was probably the only horse that was still making up time all the way to the finish.
He came out Sunday morning feeling amazing, show jumped incredibly well and came home feeling incredibly well, so I was pretty excited that I had a horse that was really ready to go to WEG and belong there.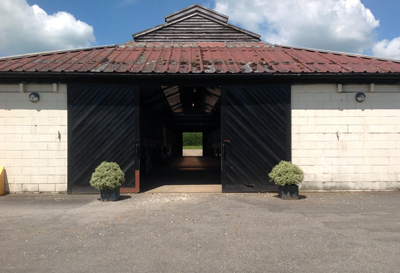 Tiana Coudray has gone out on her own in England
and is now running her own yard.
It's typical with horses that timing is never ideal! He's in amazing form and feels fantastic. If we'd never put an ultrasound on him, we'd never know that anything was there, but as part of the team vettings for the selection for WEGs, they do a very thorough work-up on the horses.
In that process we found an area in one front leg that was just a bit weakened or maybe the precursor to an injury, so unfortunately it was too much of a risk that if we were to move forward with him, it could turn into a big injury.
He's in full work and feeling amazing and feeling like he should be going to WEG, but we're just going to hold off on eventing for a couple months and give that a chance to get strong before we push on with him.
How are you feeling having to forego your big goal for the fall?
I'd like to think that I'm fairly realistic with horses, but it's one day at a time. You're thankful when you get to go to something—I was so thankful when I got to the [2012 London] Olympics and the horse stayed sound. Every time you gallop them, you're nervous to see what you have the next day, and you're always aware that you can have the tiniest little injury at any point, so obviously I'm hugely disappointed that that's what caught us out this time around, but I think in the back of my mind, I'm always prepared for that reality.
So now we made the decision that we need to save the horse for the future and give him the best chance of having a long career ahead of him. Although he's 13 now, hopefully he's got many more years ahead of him, so we just regroup and focus on that.
Tell me about your new yard.
We moved on the 1st of June. I've been based in England for about three years now and for probably a good nine months, I've been starting to look for my next step.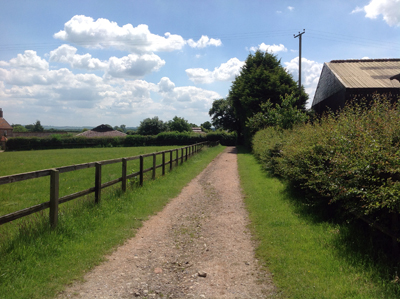 Tiana Coudray is now based out of Soley Farm Stud in England.
We moved to a really lovely yard, which used to be owned by Sandy Phillips when she was Sandy Pflueger. It's since been sold and divided into a couple pieces, but we're based out of the stables that were hers many years ago.
It's called Soley Farm Stud between Hungerford and Lambourn, [which is in Berkshire]. Lambourn is probably one of the two biggest towns for racing and steeplechasing in England. It's really cool that we have all the gallops, swimming pools, everything that you have with all those really expensive race horses! It's really handy.
I've got 10 horses at the moment and have the ability to have more or less stables, so we're trying to build things up one horse at a time and try to get a viable business going.
Was it scary setting off on your own in a foreign country?
I think that's why I sort of stayed where I was for so long! Because it was at least comfortable. It was home, and it was what I knew.
It was very daunting, and it took me a long time to get my affairs in order and get the courage up to do that. At the same time, I needed to move forward and take the next step of my life.
Since I've done that, it's been really exciting and really good.
What were some of the most important things you learned from Nick?
I was [at Nick's] nearly three years. I think that I got a really hands on, inside view of how the British system works, which is much more centered around owners and a lot less about teaching.
Riders over here would not make their livings out of teaching lessons; they would ride and compete pretty much full time. What comes along with that is managing 20 owners and going to an event and having seven different owners all wanting your attention.
I got to see a very inside view of all of that. It was a really good opportunity to get going into eventing over here.
Tell me about the horses in your barn now.
I'm teaching as much as I can. I've got five of my own, and one might be selling soon.
I've got one young one who's owned, Lady Valtas, who is a long term horse, but hopefully a very exciting one. She's a race horse that's a bit tricky but very sharp. She's got a fantastic owner who bred her and is the same one who had her racing. Now he's enjoying watching her go out and do well at the eventing.
I've got a couple girls based with me who have their horses and a couple horses coming in for a bit of schooling that come and go.
[Sambuca] is an amazing horse who we managed to buy in February. She had gone two-star and was ready to step up to advanced, and I ran her three times. I had her entered for a CIC***, and the third time I ran her, she struck into her tendon and injured it very badly. She is having to heal that, which is going to take a long time, but it's looking on track, and we're just going to have to give it the time it needs to heal fully. Hopefully we'll come back and fulfill all the promise that she has.
I've got another horse [Kinnordy Rivaldo formerly ridden to the CIC*** level with Chris Burton] that we managed to buy two years ago. Not too long after we got him, he started showing the symptoms of a very rare bone disease, so he's had a year off, and his prognosis is not great—in fact, it's pretty bad. But he's come sound and is back in work. He's entered up for his first event [Upton House, where they completed an open novice division].
It's just day by day with him. Nobody's expecting that he'll be able to come back to eventing, but at the same time, he's so keen to be working. I owe it to him to give him a chance and do everything in my power to make it work, and if we can't make it work, then we've given everything we tried.
If ever a horse was going to defy the odds, that tough little bugger will. We're giving it our best shot. He is the most athletic horse I've ever known. He's just an absolute machine. He's also the most strong-willed, stubborn horse I've ever met. Although Finn is tricky and quirky, once "Ken" sets his mind, he's set his mind.
Do you feel that you're pretty well adjusted to the U.K. lifestyle now?
I think that I very quickly felt quite comfortable here or I wouldn't have stayed! I very quickly made the decision that if I was going to make the most of my career and fulfill the most of my abilities that I needed to be based here and competing in this field against these people, and that I needed to hold myself to this standard that you get over here.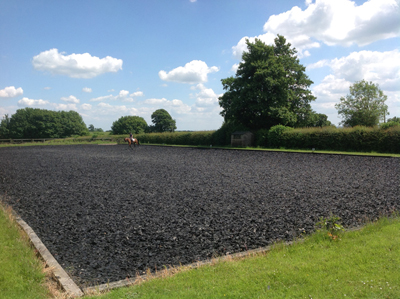 In England riders spend more time competing
and less time teaching lessons and training horses.
It's not that events are that much different, but it's the standard that you have to hold yourself to over here to be competitive. You have to be that much better, you have to not make that tiny mistake or have a time fault in the show jumping or whatever it might be.
That's not to say that I can consistently go out and do that, but my being here, you at least stay very realistic about your place in comparison to everyone else.
When you do make that little mistake, it slaps you in the face of how much better you still need to get. It's not easy and it's not fun most of the time! It would be much more fun to go back to the small pond and be a bit more competitive sometimes.
It's also that much harder to justify to sponsors and owners back home why being 20th in a three-star here is actually a really, really good thing when that same result would probably have you in the top two or three at home. When people just read numbers and results, they probably can't understand that, but looking long term and big picture, to be the best rider I can be, this is where I need to be, and I need to keep climbing that mountain and keep struggling along.
What are your goals for the rest of the year?
We'll see with Finn. At this point there's no pressure to get him to any specific event, but at the same time, he's in such good form and he's feeling so well, and it's a shame to miss out competing him because he's really in the prime of his life right now.
Ken is day by day, so that really leaves the young horses, and hopefully I'll start to make a bit of a name for myself with the teaching and with getting some owners in.
Has your outlook on the sport or your career changed since you moved to England?
I don't think my outlook on the sport has changed, but I think I probably have a broader view of how the whole thing works.
The thing that became very clear to me when I moved over here is that at home, we are professional trainers. We train riders and we train horses. We spend all day training.
Here, they're professional competitors. They go out almost every day to a competition and they compete five or six horses, then they go home and repack the lorry and go the next day competing.
The amount of time they are practicing competing is the same amount of time we're at home practicing everything that we train and practice at home. I'm not sure that it's always better. Sometimes the young riders over here are a little rough around the edges because they're not as trained and practiced at home, but the real professionals are so cool under pressure because they go to Badminton, and yeah it's Badminton, but the weekend before they went out and rode three or four advanced horses around a big track.
How have you changed as a rider?
I'd like to think I'm a lot more experienced. I've jumped around a lot of big tracks. I've had to jump in some really deep ground and different going. You get very good at riding horses through a lot more challenging conditions, where at home, you just don't compete in really deep mud or heavy going.
You get more accustomed to riding dressage in a lumpy, bump field. Same thing with the show jumping.
But you can't help but improve when you're surrounded by such fantastic riders, watching them and trying to emulate them.
Do you get a chance to catch up with the other American riders based in England?
I'm fairly close with Clark and Jess [Montgomery]. They're just so much fun. We had a Fourth of July party the other night, and we do sort of all get together and exchange stories and have a bit of Mexican food or whatever!
Hands down, [Mexican food] and being able to go shopping on a Sunday are the things I miss the most.