It's difficult enough to win a grand prix under normal circumstances. Add in the pressure of going for a Grand Slam, and everything gets a lot harder.
Belgium's Niels Bruynseels is the latest rider to feel that sort of pressure. He topped a 13-horse jump-off to take home the victory in the Rolex Grand Prix at the Dutch Masters-Indoor Brabant with Gancia De Muze.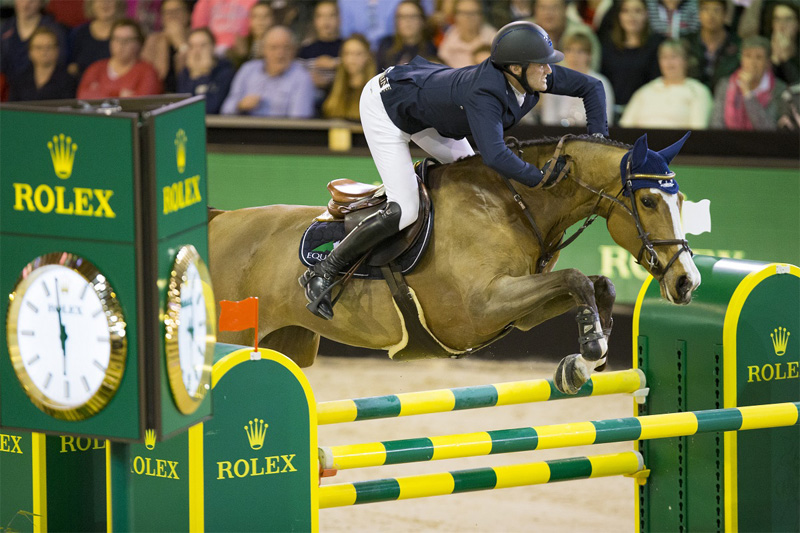 "My horse was a superstar today; I cannot thank her enough," said Bruynseels. "She always tries her best for me, and I couldn't be happier with her performance this afternoon. I think I had an advantage going last in the jump-off; I was able to see all the other riders go before me and where the course was difficult. I had a plan in my head. I knew I would need a fast ride, and 'Gancia' exceeded all expectations. She is a special horse for sure."
Dutch rider Jur Vrieling was the first one to stay clear in the jump-off with VDL Glasgow WH Merelsnest in 39.89 seconds—he eventually finished in fifth place. Marcus Ehning took over the lead with a clear round in 37.80 seconds. One of the crowd's favorites, Harrie Smolders, was just 0.09 seconds too slow with Emerald to beat Ehning. He finished in third place. Then only one rider was left to keep Ehning from victory—Bruynseels. And that was exactly what he did. He was 0.7 seconds faster than Ehning and took the first prize.
"This has to be one of my biggest victories," said Bruynseels. "I don't even have the words to say how much it means to me. This show has always been great, but the support of Rolex has made it even better. It is an honor for me to come here and compete against the best riders in the world. The atmosphere in the arena was incredible; it was a very special moment for me."
With one leg of the Rolex Grand Slam of Show Jumping under his belt, Bruynseels has set his eyes on the next of the four Majors, the Rolex Grand Prix of Aachen in Germany.
"Aachen is certainly the next stop for me," said Bruyneseels. "The Rolex Grand Slam of Show Jumping is the biggest prize in our sport, and I hope I can come to Germany in July and repeat what I have achieved here."