This veterinarian recalls her experience accompanying a young rider and her horse to the Southeast Asian Games.
Taking a horse halfway around the world is not an easy accomplishment. Couple that with transporting a
16-year-old rider (complete with regular classwork duties), a trainer, a farrier and veterinarian, and the outcome could be chaos.
But for Nina Ligon, an eventer from Manakin-Sabot, Va., and her mount Pacific Storm (a.k.a. Winnie), the result was two gold medals at the 24th Southeast Asian Games—individual and team golds for Thailand.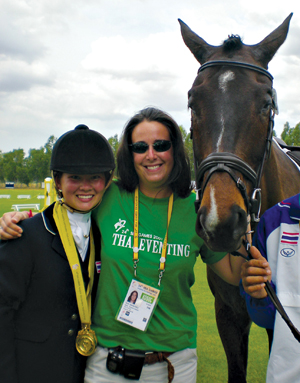 Nina is the youngest female to win an individual equestrian medal for Thailand, as well as the first female to win both individual and team gold medals for Thailand in any equestrian sport.
For almost a month, I had the privilege and responsibility of ensuring Winnie's safe passage to the Orient, as the owners (Nina and her mother Pan) were insistent that a veterinarian with performance horse experience be available for the duration of the trip.
Winnie, a seasoned competitor, handled the journey to Thailand with the ease of any frequent flyer. This was no small feat, as the horse traveled by trailer from Virginia to New York's JFK airport the day after Thanksgiving, to then board a KLM flight to Amsterdam.
Winnie overnighted in the Amsterdam KLM airport animal hotel (which is busy 24 hours a day) and then flew the remainder of the trip to Bangkok. Thanks to aggressive monitoring and fluid therapy, Winnie literally bounced off the plane in Bangkok, where I wearily taxied around the rest of the airport, trying to find my ride to Pattaya, where the competition was to be held.
A police escort ensured the safe passage for Winnie to The Thai Polo Club, the eventing venue, which I quickly realized was very necessary, as I think traffic signs and regulations are merely suggestions in Thailand. Upon arrival, Winnie, after careful inspection of his stabling, which resembled a Tiki hut resort, lay flat out and took a much-deserved rest.
Nina's trainer, Jon La Force, also based out of Virginia, arrived a few days later, and Nina and Winnie's training resumed under his watchful eye. The Thai team's chef d'equipe, Australian Olympian Heath Ryan, also participated in Nina's coaching, but since Jon was familiar with the nuances of his charges, he was the primary coach for Team Ligon.
I was quickly impressed with Nina's riding ability and Winnie's obvious talent for the various phases of eventing.
Ready To Go
Touching wood, the horse looked healthy, sound, and fit going into competition. Since I came from the United States bearing all of my veterinary supplies that I normally have available at a major three-day competition, I also consulted on the health and soundness of the Thai horses in all three disciplines represented at the SEA games (eventing, show jumping and dressage).
The Thai veterinarians were gracious, friendly, and eager to learn how we do things in the States, and I was reminded how lucky I am to train and work in America. As I sorted through the equipment available to the Thai vets, I offered to share any of my equipment. For example, certainly a canine fluid line (all that is available in the country) would be of no use to a horse that desperately needed fast, fluid hydration, and I came equipped with multiple equine fluid administration sets that could deliver rehydration quickly.
Winnie's horseshoer, Scott Sellers, a regular fixture at major eventing competitions, arrived prior to the beginning of the competition as well, and in addition to shoeing Winnie, graciously helped other Thai team horses with some shoeing issues prior to the first horse inspection.
The eventing competition, held from Dec. 12-15, took place at Thai Polo. The rest of the team was native to Thailand, and, as is usual Thai custom, eager to make us feel welcome. Though the Thai language proved to be a bit of a barrier for me, I was thankfully equipped with a personal translator: Nina's mother Pan was instrumental in organizing and coordinating various technical aspects of the trip, as well as our various activities on a day-to-day basis.
Nina admitted "one of the biggest obstacles, other than the two ditches on the cross-country course, is the language barrier between myself and the rest of the Thai team." However, since we spent nearly a month immersed in the country, Nina was speaking fluently by the end of the trip, so I had two interpreters.
Nina and Winnie put in a solid dressage performance to seat them in first place. Nina showed poise beyond her 16 years as she exited the dressage arena with a huge smile on her face as the news crews swamped her. Nina is the first female rider to compete in the sport of eventing for Thailand (indeed, she was the only female rider present for any country) and quickly was pinned as the future of Thai eventing.
The cross-country course posed a bit of a challenge to some of the riders, but everyone finished safely. Thailand remained comfortably in first place going into show jumping (Nina maintained her first place standing).
The final horse inspection resulted in a withdrawal for the individual rider for Thailand, but the entire Thai Team was accepted. My charge looked sound and happy, albeit a bit tired, and passed with flying colors. Only one rail in show jumping secured Winnie and Nina's place in history as the individual gold medalists and contributors to Thailand team gold.
Celebration ensued, and I made Nina promise that I could get one photo with her and Winnie and her two gold medals, which proved to be more difficult than I thought as all the spectators mobbed Nina and Winnie for photo opportunities, and news cameras pressed for interviews. An enormous smile was plastered to her face as she posed with young children and entire families, while Winnie stood relaxed with ears half mast as he was patted and kissed by admiring fans. Truly, horse and rider were professionals in the spotlight.
The awards ceremonies followed, with a big "Nina, we love you! Congratulations Team Thailand" plastered on the scoreboard. I was speechless and teary eyed as I watched Nina accept her medals and lead the victory gallop. What an accomplishment!
A Meaningful Trip
In addition to the gold medals, learning about Thai culture and becoming close with Nina's family was a special part of the trip. Nina agreed that "being able to spend time with my family and having total cultural immersion" was one of her favorite parts of the trip.
Spending time with the Thai people, not just in Bangkok (where most of her family is based), was important, and I was once again impressed that Nina could recognize the importance of her background and appreciate where she came from and how she got to where she is today.
And the part of the trip that stood out the most? "Riding and having fun," she responded.
After few days respite, where Nina continued PR commitments and also tried to keep up her studies, I began to prepare for the long trip home with Winnie. Due to airline conflicts, we had to fly back on Korean Airlines, which would take us from Thailand to Seoul, then up to Anchorage, Alaska, to refuel, then finally to JFK. More than 24 hours flight time, not including layover, etc., had all of us a bit worried regarding Winnie's passage.
Once again, I aggressively treated Winnie with oral and intravenous fluids prior to travel and prepared my emergency kit to be available for any problems that could arise during the long flight. If it was possible, though, Winnie was even more relaxed for the trip back, ravenously eating his grain and hay for the duration of the trip, and he arrived back to JFK in perfect health.
The pilots on the various legs of the journey, enamored by the thought of an equine gold medalist on their flights, made every effort to ensure smooth take offs and landings for Winnie, as well sharing in the duties of "checking up" on him for the trip. And seven days later (after quarantine), Pacific Storm returned to
his farm in Virginia for a much-deserved vacation.
I feel truly blessed to be in a profession where my job responsibilities can include such a remarkable experience. Working under Dr. Brendan Furlong (U.S. team veterinarian for more than 15 years) has given me not only the medical expertise that is demanded for top performance horses, but the experience at the highest levels of international competition under his wing prepared me for the rigors involved with winning medals.
When I asked Nina whom she credited for her success in Thailand, she responded, "I owe a great deal of thanks to my mother Pan and my entire family, my trainer Jon, farrier Scott and his fiancé Jessica for all their help during the competition, and to you for keeping Winnie sound and safe during his journey."
I look forward to following the career of this capable young rider over the next few years. Nina's short-term goals include moving Winnie up to intermediate and competing her young horse, Chai Thai, in a one-star this spring.
What can we expect to see from Nina in the long term? "To compete in [North American] Young Riders [Championships] at the two-star level and the Asian Games in 2010 in Hong Kong," Nina quickly answered, reminding me this is a girl who loves to compete and is someone to watch for in the future.
Sarah Gold

---
Sarah Gold, DVM, is an associate veterinarian at B.W. Furlong and Associates, a performance horse practice based in Oldwick, N.J.