Four-time U.S. Olympic medalist Beezie Madden claimed victory in the $50,000 Old Salem Farm Grand Prix, presented by The Kincade Group, riding Breitling LS at the Old Salem Farm Spring Horse Show I.
Madden, who hails from Cazenovia, N.Y., bested a field of 48 horses for the win over a course designed by Ken Krome. Riding Breitling LS, an 11-year old Dutch Warmblood stallion (Quintero x Accord II) owned by Abigail Wexner, Madden was third to return in a 10-horse jump-off and crossed the timers clear in 37.34 seconds, which eventually stood for the win.
Andrew Ramsay piloted Cocq A Doodle to a double-clear effort and finished in 38.55 seconds to earn second place for The Doodle Group. Charlie Jacobs was third aboard Cassinja S, owned by CMJ Sporthorses, LLC, just fractions of a second behind Ramsay in 38.77 seconds.
"Any time you win it is special because this is quite a humbling sport; you can win one day and be on the ground the next," said Madden, who was a member of the 2016 silver medal-winning team at the Rio de Janeiro Olympic Games. "Last year, I concentrated a lot on the Olympics and didn't try to win many grand prix events, but this horse has picked up two wins already this year and it feels great."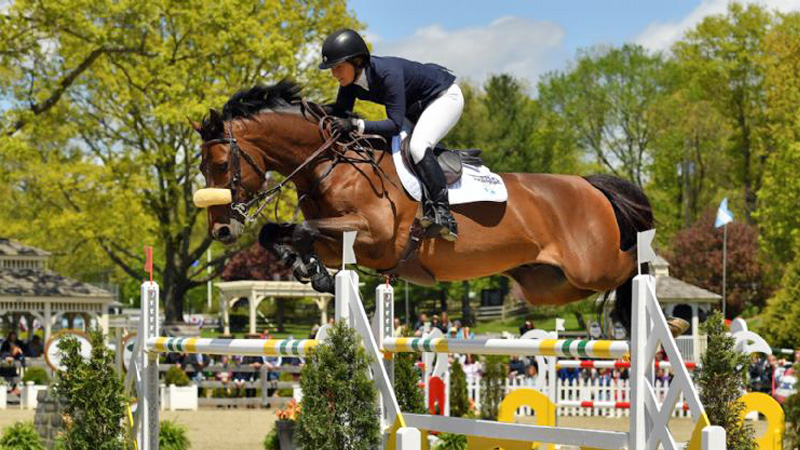 Breitling LS joined Madden's string as a 7-year-old and is now one of her top horses. Madden is on the U.S. Nations Cup teams at Aachen (Germany) and Dublin (Ireland) later this year, with Breitling LS as one of her planned mounts.
Of Krome's tracks, Madden noted, "I thought they were really nice. It is difficult to build a two-star when you have these top riders here, but he had 10 clear, which was excellent. We are usually coming off a break this time of year with a lot of these horses, and it is nice to come here where there is a two-star this week and a three-star next week. You can gradually build them up."
For Ramsay, Sunday's second-place finish aboard Cocq A Doodle is a step in the right direction towards the 10-year-old Dutch Warmblood mare (Tolan R x Niagara) becoming a top grand prix mount. Ramsay has had Cocq A Doodle for about a year and is competing at Old Salem Farm for the first time this year.
"She is a great horse—really fast and competitive," said Ramsay. "She gave it her all, and in the end it wasn't quite quick enough today, but we will keep on trying. The track posed some good questions with some options, so you weren't locked into the numbers and it allowed us to adjust for our different horses.
"I am from California, so I have never been in this part of the country at this time of the year," continued Ramsay. "I love jumping here."