Nov. 23—Doha, Qatar
There aren't many birthday presents that can top the €443,000 that Britain's Scott Brash earned by claiming not only the win in the Longines Grand prix of Doha, but also the series title of the Longines Global Champions Tour 2013 .
Ice-cool Brash and his world-beating bay gelding Hello Sanctos delivered a triple clear under intense pressure and after a celebratory lap of honour the young rider admitted it was the "one of the best days of my life," Brash said.
"I didn't think for one minute I would be sat here. It couldn't be a better day for me," Brash continued. "[Hello Sanctos] is a horse of a lifetime. I won't ever sit on one again that will give me as much success. There are too many people to thank. There are so many that make it all possible for me and the horse to compete and do what we have done today."
With one rail down in the first round when Cedric touched a hind toe to the top rail of a liverpool vertical, The United States' Laura Kraut finished out of the money in the class and slid from first to third in the series rankings. "It was a sickening feeling. I was very disappointed. My horse jumped great and I just had a unlucky fence down right at the end. I thought that I was home free and he just hit it behind. That's show jumping," Kraut said.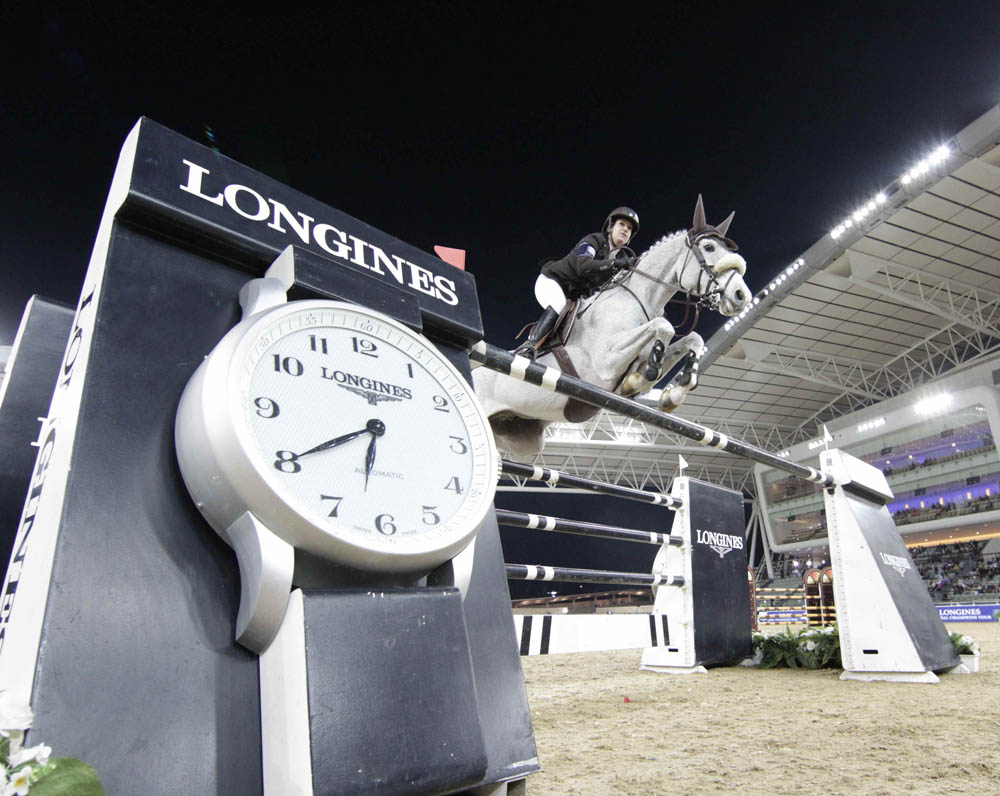 Laura Kraut came into the Grand Prix of Doha in the lead of the
Longines Global Champions Tour, but one rail in the first round
aboard Cedric dropped her to third in the series standings.
Photo by Stefano Grasso/Longines GCT
"But after my horse's disaster in Lausanne, this was his first appearance at this level, so I am very pleased that he jumped well and was confident. Third isn't so bad either," Kraut continued. The only other U.S. rider in the class, Reed Kessler on Wolf S, had 22 faults in the first round with a refusal, rails and time faults.
Brash's dramatic series victory and Grand Prix win in the same night netted him a massive €443,000 in prize money—and all on his 28th birthday with his delighted owners in Qatar for the extraordinary night. Brash made history as the youngest ever rider to win the prestigious championship.
The final leg of the championship series was a true cliff-hanger with Germany's Christian Ahlmann missing out on the championship victory due to just 1 time penalty pushing him into second place overall.
Brash had already been announced as overall champion even before the grand prix was over. But he had to put celebrations on hold and keep his nerve to perform in a nail-biting jump-off against the hugely experienced Germans Ludger Beerbaum and Marcus Ehning. Beerbaum, riding the grey mare Chiara, piled on the pressure delivering his third clear of the evening in 43.83 seconds. Ehning finished with 4 faults in the jump-off. Under enormous pressure, Brash polished off a superb clear in 43.17 seconds.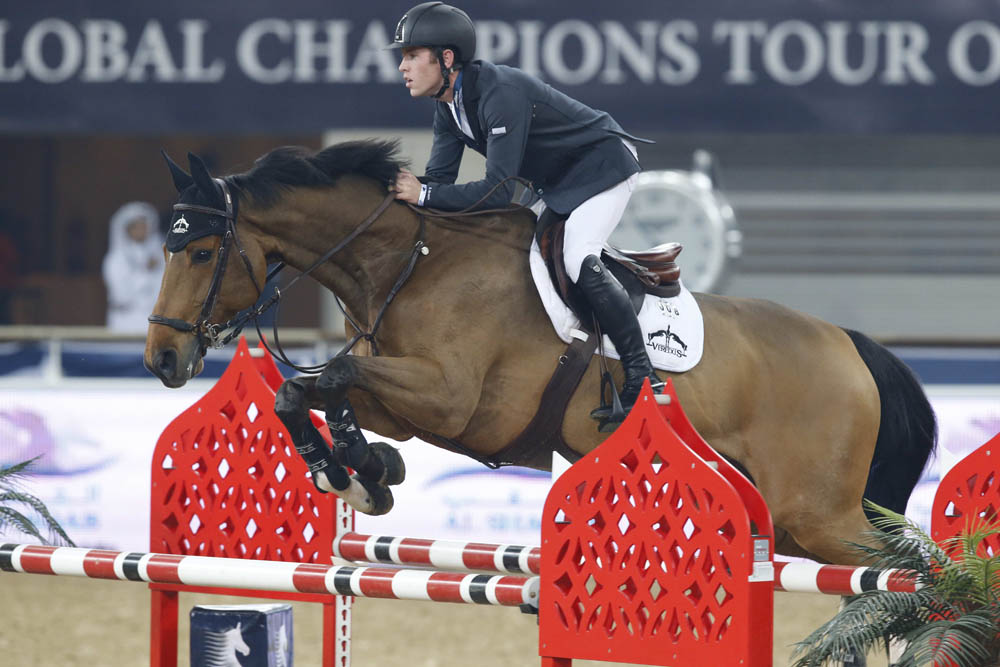 Scott Brash had to jump off against some of his idols in the Grand Prix
of Doha, but emerged victorious aboard Hello Sanctos.
Photo by Stefano Grasso/Longines GCT
The thrilling show jumping action took place on one of the world's most magnificent equestrian stages at Al Shaqab, part of the Qatar Foundation. Qatar was the focus of the equestrian world for three days and in the grand prix Sheikh Ali Bin Khalid Al Thani delighted home spectators by qualifying for the second round. Members of the Royal Family of Qatar, international diplomats and visitors from across the world joined spectators at the vast state-of-the art venue dedicated to horses.
With 12 spectacular events around the world this year, the series final delivered another night of high caliber sport. The best riders in the world were put to the test and there were plenty of surprises in the first round with championship hopefuls Luciana Diniz and Edwina Tops-Alexander falling out of contention.
After an electrifiying season—where different riders won each grand prix —the standard of the sport reached new heights. With Olympic, World and European champions locked in battle at each event the stakes were higher than ever to win the championship.
Setting The Stage
Italy's Uliano Vezzani set a big, heavy first round course, with a decent time-allowed but some very challenging aspects. The course was almost set to maximum height with a very impressive Longines triple combination halfway through the course.
It was Brazil's Marlon Modolo Zanotelli who, as second rider in, earned the first clear round of the evening aboard a very scopey 10-year-old gelding, partly owned by fellow Brazilian team mate Doda Miranda.
A total of 10 riders would follow Zanotelli with their own clear rounds, including Denis Lynch and All Star 5, Jane Richard Philips and Pablo de Virton, Gerco Schroder and London, Beerbaum and Chiara as well as Christian Ahlmann aboard Aragon Z.
Luciana Diniz and Lennox as well as Edwina Tops-Alexander and Ego van Orti earned a shock 16 faults each. Two-time champion Edwina Tops-Alexander, was aiming high but was clearly disappointed with her first round score.
The second round was set equally difficult but slightly more tight for time. Riders had longer distances between the fences and it required an increased pace, but an equal level of scope. This would prove challenging to certain combinations such as Gerco Schroder and London, Jane Richard Philips and Pablo de Virton and Maikel van der Vleuten and VDL Groep Verdi, who all saw a single fence fall. Ahlmann—in contention for the championship—was considerably frustrated with a single time fault. He jumped an incredible second round with Aragon Z, loaned to him for the grand prix by his girlfriend Judy Ann Melchior since his leading horses, Codex One and Taloubet Z, were both unable to compete in Doha.
After 18 combinations, only three riders made it through to the jump-off—Marcus Ehning, Beerbaum and Brash. But before the jump-off could begin, it was announced that Brash had won the 2013 Longines Global Champions Tour season title.
Brash was clearly overjoyed as fellow riders congratulated him and cheered with genuine happiness as the young Peebles-native slowly came to the realization of what he had achieved. However, it was clear Scott had every intention of competing in the grand prix jump-off and not allowing himself to lose his focus.
Under Pressure
Maintaining his composure, Brash had to wait for Beerbaum and Ehning's attempts at the jump-off. After Beerbaum's solid clean and fast round, he looked up suspciously at the jumbo screen in the arene, clearly asking himself, "would that be fast enough?"
A rail at the first fence dashed Ehning's hopes.
British chef d'equipe Rob Hoekstra said that if 2012 Olympic gold medalist Brash was left until the end, with the maximum amount of pressure on his shoulders, he would win the Grand Prix of Doha. Sure enough, from the second Brash and Hello Sanctos picked up their canter, it was clear that this combination could do no wrong despite the pressure cooker situation.
As Brash and Hello Sanctos landed off the last fence clear, everyone craned their necks to look at his time. Shaving fractions of a second off Beerbaum's time, Brash had won both the series championship and Grand Prix of Doha. Removing his helmet, Scott waved to the cheering crowds, with the widest and happiest grin one could imagine.
Bash admitted that moving up the ladder from eighth to the top was an advantage. "I think that, to be fair, there was more pressure on people at the top of the table. When you're coming from behind, you can just give it your all—if it then worked out on the day that we won the league then so be it. Thankfully it came right," he said.
"After the second round, when they told me I had won the championship, I wanted to be very happy and celebrate, but I knew I still had a job to do. To be in the jump-off with two of my biggest idols spurred me on to concentrate and try to beat them. It worked out and all credit to my horse he was fantastic today."
See full results of the Grand Prix of Doha.
See the full finals standings of the Longines Global Champions Tour series.