U.S. riders made their mark all over the world this weekend in Nations Cups both in dressage and show jumping. Both the show jumping and dressage teams carrying the Stars and Stripes at Hickstead (England) picked up important second-place finishes in their respective Nations Cups, while a young U.S. show jumping team topped the Furusiyya Nations Cup in Bratislava.
Two clean rounds from anchor rider Beezie Madden on Cortes 'C' clinched a tie for second for the U.S. show jumpers at Hickstead. See full results of the class. Richard Spooner turned in rounds of 16 and 8 on Cristallo, Reed Kessler had a clean round and 8 faults on Cylana, while McLain Ward rode Rothchild to rounds of 4 and 0 faults. Germany won the day with an impressive performance. This was a points-earning class for the Germans, though they're still behind in qualifying for the Furusiyya Nations Cup Final after declining to jump in St. Gallen. The United States is already qualified for the Final.
Madden was also the top-placed U.S. rider in the Longines King George V Gold Cup, riding Coral Reef Via Volo to ninth with 4 faults in the first round. Ben Maher of Great Britain won the class on Tripple X. See full class results.
Also at Hickstead, U.S. dressage riders traveling on U.S. Equestrian Federation grants joined forces to take second in the Nations Cup, which was decided by Grand Prix freestyle scores. The British team, led by 2012 Olympic team gold medalists Carl Hester on Uthopia, earned blue, but the U.S. team was less than 1 point behind.
Kathleen Raine led the U.S. charge on Breanna, scoring 75.65 percent, with Guenter Seidel just behind on Coral Reef Wylea (75.62%). Shelly Francis on Doktor and Arlene "Tuny" Page on Alina also contributed. See full class results.
U.S. dressage riders made their intent to challenge the home Brits for the top scores when they placed three riders in the top 10 of the Grand Prix. Guenter Seidel rode Coral Reef Wylea into third (73.04%), Shelly Francis and Doktor were seventh (71.19%) and Kathleen Raine on Breanna was ninth (70.40%). Arlene Page and Alina ended up in 14th (69.72%). See full class results.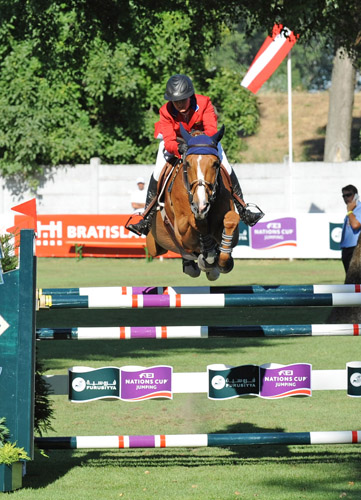 Megan Nusz turned in two clean
rounds on Dynamo to help the
U.S. team win the Furusiyya FEI Nations
Cup atthe CSI Bratislava.
Photo by

Milina Imrichova-Strihovska/FEI
In Bratislava, a young U.S. team under the guidance of chef-d'equipe Kent Farrington picked up the win in the Furusiyya Nations Cup. Catherine Pasmore and Megan Nusz both jumped two clear rounds, while Quentin Judge had a clean first round and just 4 faults in the second round, so Kirsten Coe didn't have to jump Round 2 for the U.S. team to secure the win. See full results of the class.
On home turf, up in Millbrook, N.Y., Laine Ashker topped an advanced division chock full of talent. She and Anthony Patch were in third after dressage, but moved up to the top spot by virtue of a fast, clean cross-country trip and faultless show jumping round. See full Millbrook Horse Trials results. Another notable name in that division was Mr. Medicott with Phillip Dutton; they were 13th with a slower cross-country round and one rail in show jumping. See some photos from Millbrook.
Other events over the weekend were: River Glen Summer Horse Trials (Tenn.) (see results); Catalpa Corner Charity Horse Trials (Iowa) (see results); Silverwood Farm (Wis.) (see results); Grandview Summer Horse Trials (Ontario) (see results).
In Nevada, Jenny Karazissis guided Undeniable to the blue in both the $25,000 FranKtown Meadows USHJA International Hunter Derby and the National Hunter Derby; Hope Glynn was second, third and fourth in the International Derby. (see results) Liza Boyd scored a one-two finish in the USHJA International Hunter Derby at Blowing Rock Charity II (N.C.). She rode Brunello to the blue and Fieona to second. (see results)
In Vermont, Catherine Tyree won her first grand prix at Manchester & The Mountains, riding Sandor de la Pomme to the top check in the $30,000 Manchester & The Mountains Grand Prix. See full Manchester & The Mountains results. Husband-and-wife duo Duncan McFarlane and Helen McNaught took top billing in the $30,000 Shaklee Grand Prix. McNaught won on Lariccello, while McFarlane took the red ribbon on Mr. Whoopy. (see results)
Other shows over the weekend included: Two Rivers Summer Festival Premier (Iowa) (see results); Head Of The Bay Classic II (Mass.) (see results).
Dressage shows included: Bara Trac II (Iowa) (see Sat. results; Sun. results); Dressage at Stockade I & II (N.Y.) (see results).