The FTI Winter Equestrian Festival wrapped up in Wellington, Fla., with a big finale, the $500,000 FTI Consulting Grand Prix. Husband-and-wife duo Alvaro de Miranda and Athina Onassis de Miranda took center stage in the class, claiming first and third to conclude their first visit to the Florida circuit. British rider Ben Maher managed to ride Cella into second despite broken vertebrae in his lower back. Read all about it in Mollie Bailey's coverage.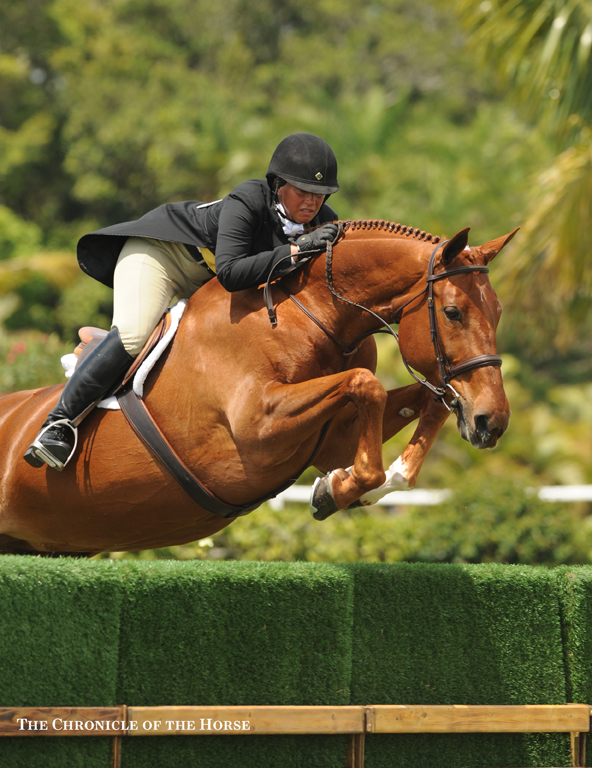 Miss Lucy jumped with her knees to
her chin to win the $50,000
USHJA International Hunter Derby
with Jen Alfano.
Mollie Bailey Photo
The hunters also had a grand finale competition, the $50,000 USHJA International Hunter Derby. Big fences and big gallops were the name of the game, and Jennifer Alfano emerged with the blue on the chestnut mare Miss Lucy. For gorgeous photos of the action and all the news, see Mollie Bailey's coverage. Rounding out the other big classes for the FTI WEF Week 12 (see results), McLain Ward topped the $50,000 Ruby et Violette WEF Challenge Cup Round 12 with Super Trooper van Ness (see results) and Jessica Springsteen claimed blue in the $33,000 SunCast 1.50-meter Classic on Vindicat W.
On the other side of Florida, showing got underway in Tampa, where the $200,000 Gene Mische American Invitational is scheduled for April 6. In the Tampa Bay Classic (see results) Darragh Kerins topped the $35,000 Grand Prix of Tampa on E-Muse YEK. Aaron Vale had won the $25,000 Welcome Stake on Palm Sunday.
West Coast eventing was in full swing at the Galway Downs International Horse Trials (see results). Canadian rider Hawley Bennett-Awad and Gin 'N Juice galloped to their third CIC*** win this year with a speedy cross-country round. The results have helped Bennett-Awad prove that the pair's fall on cross-country at the London Olympic Games was a distant memory.
"This spring I feel like everything is really clicking. Whatever happened in London isn't really affecting either one of us. She's just on top of her game. I've never had her jump this good before," she said. "Last year was a bit of a downer," she continued. "And I want to prove that my horses and I are really there."
Watch a helmet-cam video of Bennett-Awad and "Ginny's" cross-country round….
Competitors and spectators were excited for the first advanced division in Area V to run at the Texas Rose March Horse Trials in Tyler, Texas (see results), but an intense rainstorm just before the division was to jump meant that five of the seven entered horses withdrew. The remaining two jumped around slowly and carefully, leaving Julie Norman to win the division on Consensus.
At the Morven Park Spring Horse Trials (Va.) (See results), Ryan Wood won one division of open intermediate with Frankie and placed second in the other with Fernhill Classic; Katie Hasse topped open intermediate, division A on Tigger VIII. The eventers still down in Florida competed at the Rocking Horse Spring Horse Trials (see results) And The Full Gallop Farm Horse Trials (see results) went on in Aiken, S.C.
On the dressage scene, out in California, at the Festival of the Horse CDI (see results), Jan Ebeling got Rafalca back in action and won the Grand Prix and the Grand Prix freestyle. David Blake topped the Grand Prix Special on Ikaros (see CDI results).
In other horse shows, Christian Heineking topped both the $30,000 and $25,000 grand prix classes at the Pin Oak Charity II riding NKH Selena. Holly Shepherd took blue in the $10,000 USHJA International Hunter Derby riding the hunter derby/grand prix specialist Triompf. (see results) Other shows taking place included: Atlanta Spring Classic II (Ga.) (see results), Blenheim Spring Classic (Calif.) (see results) and Lake St. Louis Hunter/Jumper VI (Mo.) (see results)