Bertram Allen, the young Irish superstar, was about to be crowned the winner of the Olympia Grand Prix with Quiet Easy on the evening of Dec. 21, but was disqualified from the result just before the awards ceremony. A steward found a small amount of blood on Quiet Easy's side and invoked the FEI blood rule, which is FEI Jumping Rules Article 242.3.1: "Mandatory Disqualification – Horses bleeding on the flank(s), in the mouth or nose or marks indicating excessive use of spurs or of the whip anywhere on the horse."
The London International Horse Show Olympia released a statement that read: "Bertram Allen (IRL) was disqualified by the Ground Jury under Article 242.3.1 of the FEI Jumping Rules when the FEI Steward tasked with the mandatory post-competition boot and bandage control reported to the Ground Jury that Allen's horse, Quiet Easy, had presented with blood on the offside (right) flank.
"An appeal was lodged by Ms. Mhairi Alexander who had been appointed by the rider and Mrs. E. Phillips, the owner, to speak on their behalf. The Appeal Committee heard from the Ground Jury, the FEI Steward and the appointed representative of the rider.
"The Appeal Committee upheld the decision of the Ground Jury that Bertram Allen was correctly disqualified from the competition."
With Allen's disqualification, the win in the Olympia Grand Prix went to Michael Whitaker, who rode Viking. In a show of sportsmanship, Whitaker passed the rosette for the win on to Allen.
Allen told Horse & Hound, "I am utterly devastated, just speechless. I have a fantastic relationship with all of my horses, and their welfare is paramount," he said.
"My foot must have slipped against Quiet Easy's side as I was riding against the clock. He's a sensitive horse and it was just a tiny nick."
The Irish Field tweeted a photo of Quiet Easy's side after the incident: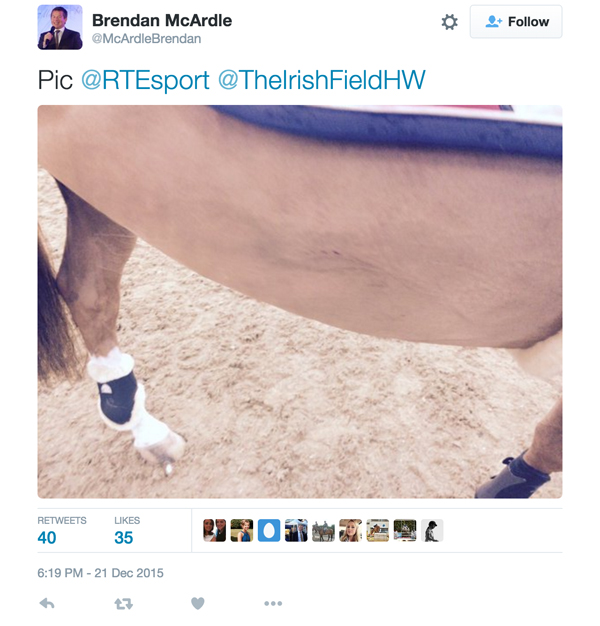 And Allen's groom, Marlen Schannwell, posted this photo of Quiet Easy's side on Facebook:
Good to see Quiet Easy is still alive after loosing 0,0000001ml of blood and 0,01mm of his skin tonight If that is Fair Sport how will you be able to compete with a chestnut or thin skinned horse ?

Posted by Marlen Schannwell on Monday, December 21, 2015
And fellow top riders expressed their support for Allen and doubts about the FEI blood rule: