College brought the California rider East, where she topped the demanding equitation final in New Jersey.
Californian Sophie Benjamin made her first appearance a winning one at the USEF Platinum Performance Talent Search Finals-East, taking the title on Oct. 4-5 in Gladstone, N.J.
Benjamin, of Rancho Santa Fe, Calif., was sixth in the 2007 West Coast version of the finals, but since she's in her freshman year at Princeton University (N.J.), she decided to participate on the East Coast this year. This year's West Coast section was won by Hannah Selleck, Benjamin's teammate on the gold-medal team at the North American Junior and Young Riders Championships (Colo.).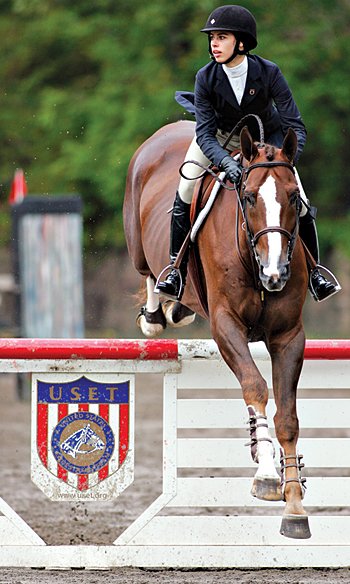 Although her respect for Selleck's prowess led Benjamin, 18, to say modestly that she didn't think she could have beaten her if she'd ridden in the Talent Search Finals-West, the East Coast victor faced quite a formidable challenge from a field of 94, one of the biggest entries ever for the rigorous class.
Run over the course of two days in four separate phases, the Talent Search requires the ability to catch-ride, negotiate complicated gymnastics, stay within a time allowed and jump fences that can run 3″ higher than the standard 3'6″ obstacles of the other autumn finals. Performances in the flat, gymnastics and jumping phases establish the top four riders, who then switch horses and ride again.
Benjamin has had a lot of experience catch-riding. Rather than spending money on horses for her, the winner's parents decided to build a barn at their house, which their daughter ran.
"They thought it was important for me to learn management and the work ethic," said Benjamin, who wants to be a professional. "I think that not owning a horse and riding different horses helped me in the final four a lot, because I didn't get nervous."
Benjamin, who is based with Beacon Hill in New Jersey, trains in California with Susan Artes and also worked with Karen Healey. Healey found Sir Neel, a Dutch-bred by Darco out of a Guidam mare and thus related to two of the 2004 and 2008 gold medal Olympic mounts, Sapphire and Authentic.
A former jumper, Sir Neel was owned by amateur rider Liz Dickinson "who bent over backwards" to get the horse to Benjamin, she said. Dickinson sold him to Victoria Hobbs, whom the winner regards as practically a second mother.
Benjamin, who leases the horse from Hobbs, said, "as soon as I came out of my jumping round, I said, 'If this horse
doesn't win the best horse award, I'll eat my hat.' He never lets me down. It's so nice to go in the ring and know if I mess up, it's on me."
Watching her rivals ride him made her proud. "He's such a professional," she said.
Sir Neel and Benjamin were "a match made in heaven," said Healey, who admired her protégé's efforts. "She's been a worker her whole life."
Moving Up
Maria Schaub, 19, won the flat phase, earning a score of 91 points on a horse new to her, the Selle Français stallion Kaiser de la Couer. Schaub works as assistant trainer to her coach, Frank Madden, but the class has no rules against professionals competing.
USEF Finals—East Tidbits
• Only two trainers were involved in the final four—Stacia Madden of Beacon Hill coached Sophie Benjamin and Jacqueline Lubrano, while Matthew Metell and Victoria Birdsall work with Andre Dignelli of Heritage.
Beacon Hill, with its associates Max Amaya, Heather Senia, Krista Freundlich and Custis Ferguson, dominated the finals with five riders in the top 10. In addition to Benjamin and Lubrano, Carolyn Curcio was fifth, Christy DiStefano seventh and Jessica Springsteen, who was third last year, came in eighth on Deneuve, the best horse of 2007.
Heritage, where Andre Dignelli's team includes Patricia Griffith and Kirsten Coe, had Reed Kessler in ninth. Missy Clark and her husband, John Brennan, trained the 10th-placed rider, Michael Hughes.
• The youngest in the competition at age 12, Hughes, the son of horseman Eamonn Hughes, already is a veteran of the class, having ridden in the 2007 edition. He is believed to have been the youngest ever to participate in the Talent Search.
"It was a lot harder this year," Hughes said, while noting he welcomed the challenge. "Each year, you get more experience, and things come together the more you do it."
Benjamin stood sixth after the flat phase with 88 points in a race that was tight from the beginning.
The gymnastics phase really separated the contenders, however, and Benjamin rose to the top. Sir Neel—who won the Grappa Trophy as the best horse of the finals—was unfazed by the considerable challenges laid out by Anne Kursinski with the help of her fellow judge, Ralph Caristo.
After trotting a rolltop, competitors had to negotiate a deep crossrail and go on to deal with an oxer four strides from a bounce, right in front of the judges. They then headed for a liverpool. After making a left turn from there, they hand-galloped to an oxer. Horses who were revved up from their run had to come back for another deep crossrail, this one to be taken at a trot as the first element of a triple.
For many, the most troublesome part of the course came next, and it didn't even involve a jump. They were required to counter-canter around a bend to the right before a vertical. A number had trouble getting the counter-canter or holding it. Schaub was among the latter; she got her horse to hold the counter-canter, but it was rough, a
function of not knowing the mount well, and she sank to 21st.
Benjamin was best in the gymnastics, which had a 1.5 coefficient. Overall, going into Sunday morning's jumping phase, Benjamin held the lead on 226.75, followed by Victoria Birdsall (226), Jacqueline Lubrano (225), Carolyn Curcio (224.75) and Jessica Springsteen (224.25).
Not Playing It Safe
The Sunday morning course was inspired by the second round of the Nations Cup at the 2008 Olympic Games
in Hong Kong, where Kursinski, a two-time Olympic silver medalist, was the U.S. team's reserve rider. The fences were lower, of course, but the lines were similar, and a water jump—which caused problems at the Olympic Games—also meant trouble for some of the Talent Search competitors.
A small splash there, for instance, ended Springsteen's shot at the final four. Lubrano, a 17-year-old from Glenmoore, Pa., who does independent study with the University of Nebraska's high school program, won the last phase (186). The phase counted double, putting her first in the final four standings with a total of 411.
Benjamin's score of 182 (matched by Schaub, who rose from 21st to sixth) made her second overall on 408.75, while Birdsall's 180 was enough to give her a total of 406 for a shot at the title. Matthew Metell got a 184, boosting him from eighth place following the gymnastics into the fourth slot with a total of 403.5.
After the rigors of the gymnastics and the Sunday morning course, the route for the final four looked rather uncomplicated.
It was, as is customary, far shorter than the others, with only eight jumping efforts. But since the test, modeled on the World Show Jumping Championships, involves each rider competing on their own mount and those of the other three finalists, it can't be too demanding. As Kursinski noted, by that time in the weekend, the horses are tired.
The route was sufficient to pick a winner, though the average spectator had a difficult time knowing who won before the class was pinned, as scores were not announced during the ride-off, where everyone started off on equal
footing.
No finalist had the type of glaring problems that sometimes enables this class to sort itself out. While each competitor suffered a bobble or two along the way, none made major mistakes, and the judges were able to reward the style of riding that impressed them the most.
Benjamin cross-cantered a few strides on Metell's Rhythm & Blues and had time faults on Birdsall's Cheyenne, but she took some risks and her overall picture impressed the judges.
Benjamin earned 350 points, 6 ahead of Metell. He and Lubrano were closer, just 1 point apart, while Birdsall was fourth another 10 points back, on 333.
Kursinski said they liked Benjamin's "loose, forward riding to the jumps. She really went to the jumps, not playing it conservative or safe."
In contrast, Metell rode the finals more like a traditional equitation class, quite differently than his morning round, where a bold approach had propelled his rise.
Always her worst critic, Benjamin said, "I was not super happy with my round on my horse, so after that, it was
a little bit pressure off, and I was just concentrating on riding each horse as best I could."
Despite the fact that he had won the previous weekend's Monarch International North American Equitation Championship at the Capital Challenge (Md.), Metell was happy with where he finished.
"It was really only my goal to get into the top four and have fun from there, so I was glad we were able to do that," said the North Falmouth, Mass., resident, who attends Sacred Heart University in Fairfield, Conn.
The riders agreed that the most difficult of the final four horses was Lubrano's mount, Lennox, a ride she inherited from her older sister, 2007 ASPCA Maclay reserve champion, Elizabeth Lubrano.
"He was kind of hot and a little bit stiff, not quite what I was used to," Metell said.