Fresh tiny braids line Skyhawk's crest, perfectly spaced to show off his gleaming bay neck. A lead rope restricts his adventures in an attempt to prevent rubbing, but despite the precaution, Skyhawk has found a way to scatter little bits of hay throughout his mane and across his face. He turns his head, and his giant ears swivel forward, unaware of his bedhead, as if to say, "Hey guys!" A beautiful show talent crossed with dork.
But this lovable goofball transforms into something special when the judges pick up their pencils. He takes owner Laura Wasserman around in the amateur-owner, 36 and over, division safely and with style—the pair won the HITS Coachella Week VIII $1,000 Shaklee Amateur-Owner Hunter Classic.
He switches gears for Wasserman's daughter, Stella Wasserman, and dons the hat of an equitation horse. Then he partners with professional John French to contest the international derbies, with seven blues so far and counting.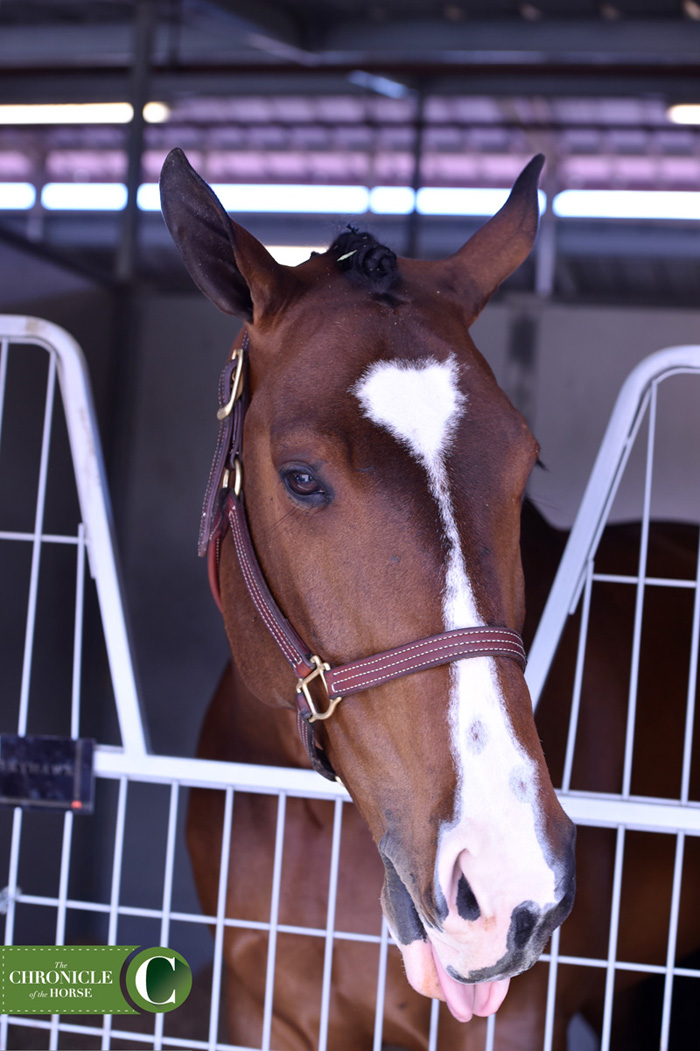 "He's just an easy guy," said Laura of the 9-year-old warmblood gelding (Quick Lauro Z—Aevita). "He knows his job, and he's just good at it."
Fresh off his $25,000 USHJA International Derby win at HITS Coachella Week VIII, we take you behind the stall door with Skyhawk.
• It's a bird, it's a plane, it's Skyhawk! Laura bought him in 2016 from Alexis Taylor Silvernale's Aleron Training Stables in Bellevue, Washington. Silvernale's husband Joe served as a naval flight officer, and Skyhawk's moniker comes from the Douglas A-4 Skyhawk, which is a light attack aircraft.
• His nickname is Buff, and Laura also calls him Buffer. Keeping with the airplane analogies, "BUFF" is an acronym for the unprintable nickname for B-52 bombers, and it also acknowledges Buff's large frame.
"That's what he came with," said Laura with a laugh. "I had Buzz; [Overseas] was my original horse of a lifetime, and then I had Boss, and then we have Buff. So that's why I kept it because it seemed sort of lucky."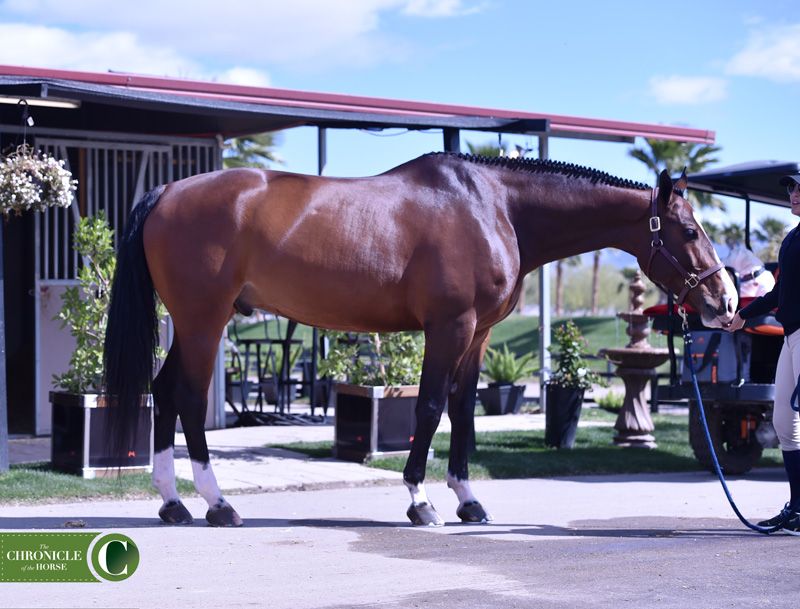 • Standing at 17.0 1/8 hands, Buff towers over petite Laura.
"He was so big," said Laura of her first impression of the gentle giant. "I was a little intimidated, but when I rode him he was dreamy."
And while every part of him screams "big," one particular feature stands out—the adorable E-A-R-S.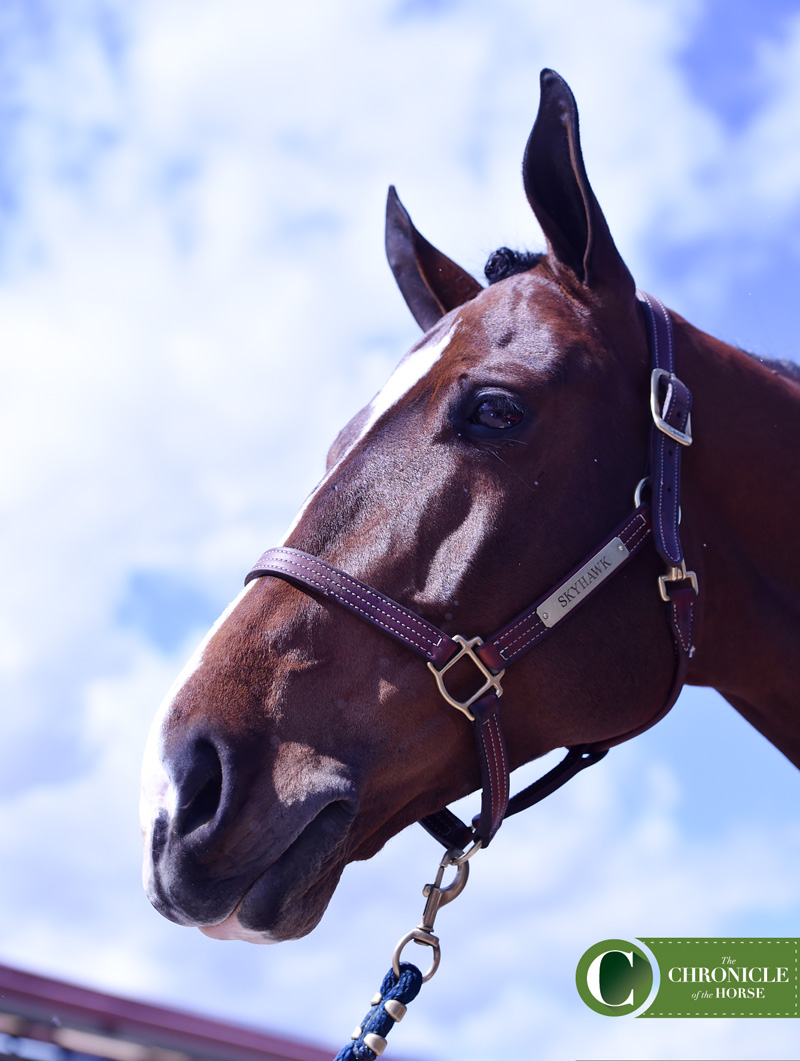 "Those big ears are really good to sight in on the jumps—a viewfinder," said Laura.
• Who says you have to outgrow thumb sucking when you're a child? Buff ignores such rules. He enjoys taking Laura's fingers and simply holding them in his lips.
"One day I was feeding him, and he started doing it," said Laura. "And I was really scared he was going to bite them off. But he doesn't."
He also rolls up his lips and closes his eyes as Laura gently touches his gums.
"It's weird; he just likes it," said Laura. "He's just really very sweet."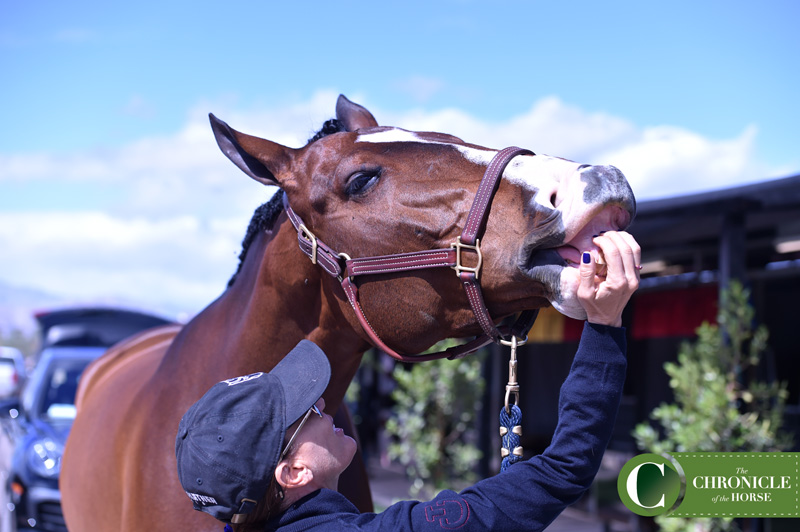 • With so many hats, Buff knows his jobs and responsibilities and adjusts accordingly.
"He just takes care of me," said Laura. "He knows I'm an amateur, and he plops around. He never does anything bad. He's always kind. You can just see him going around. He's kind and sweet. He just has that look in his eye. He'll go and do something with Stella, and then he'll go do the big derby with John, all in the same day. He doesn't care.
"He knows, 'Don't jump too high for Mom,' " Laura continued. "He reminds me of somebody comforting. Someone who always has your back."
• Speaking of French, Buff loves him. "He's my little person," said Laura speaking for Buff. "He can jump as hard and high as he wants for John, which he does. When the jumps get up really high, he just explodes."
• With a big white blaze decorating his face, Buff has one special spot. As the white trails down to his nose, a little dark circle is conveniently positioned to encourage some love.
"He has his little kissing spot," said Laura.