Strolling through the aisles at any big horse show, you're sure to see various pint-sized barn mascots—mostly dogs, with an occasional goat or mini-pig. But we couldn't help but notice a particularly darling one making the rounds in southern California.
When you first meet her, it's pretty much impossible not to let out a high-pitched squeal… she's just that adorable.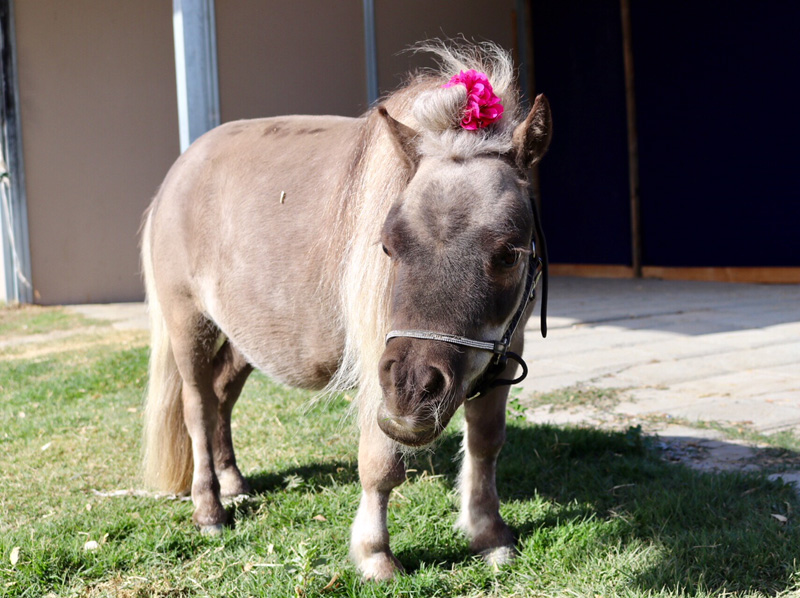 With a perfectly dished face, flowing blonde mane and tail, and a pink bow in her forelock, Shmooshy is the cutest thing on four tiny hooves.
But what exactly IS she? We didn't know either, so we just had to catch up with Shmooshy and her owner, actress and amateur jumper rider Kaley Cuoco, to get the scoop and go behind the littlest stall door at HITS Coachella:
•  Shmooshy is a dwarf miniature horse. Dwarfism is caused by a genetic mutation and is not uncommon in miniature horses, but dwarf minis are considered special needs animals. "It's very important for people to realize that these are not normal pets," said Cuoco.
•  Because Shmooshy is a rescue, much of her history is unknown, even her age. But Cuoco estimates Shmooshy to be 8 or 9 years old.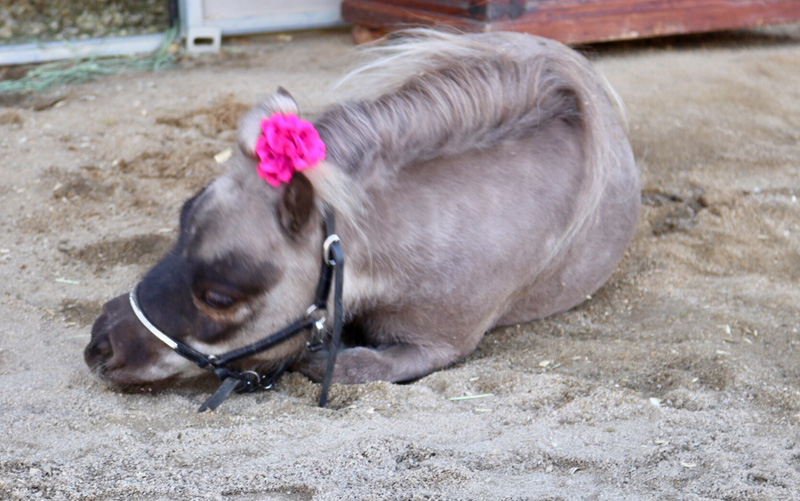 •  Cuoco was at a horse show in Kentucky when a friend drove her and fiancé Karl Cook to visit The Peeps Foundation, a rescue specializing in dwarf miniature horses. "I learned how many of these animals need our help," said Cuoco. "Many are stuck in bad situations, like with exotic animal collectors, circuses, or just sitting in a backyard without proper care."
•  Cuoco had no intention of adopting a mini, but all that changed when she saw Shmooshy. "The minute I met her, I knew I had to have her. I adored her immediately," said Cuoco.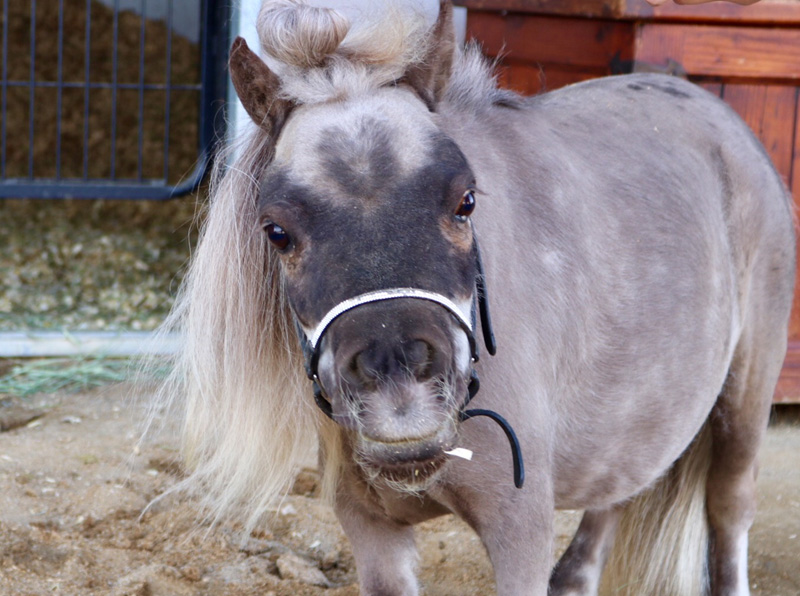 •  Shmooshy's care is as expensive as Cuoco's regular-sized show horses and even more time-consuming. "It has taken us almost an entire year of vet work, diet changes, body work, environment changes and better shoeing to get her where she is today," said Cuoco. "She requires tons of professional attention and constant work on her body!"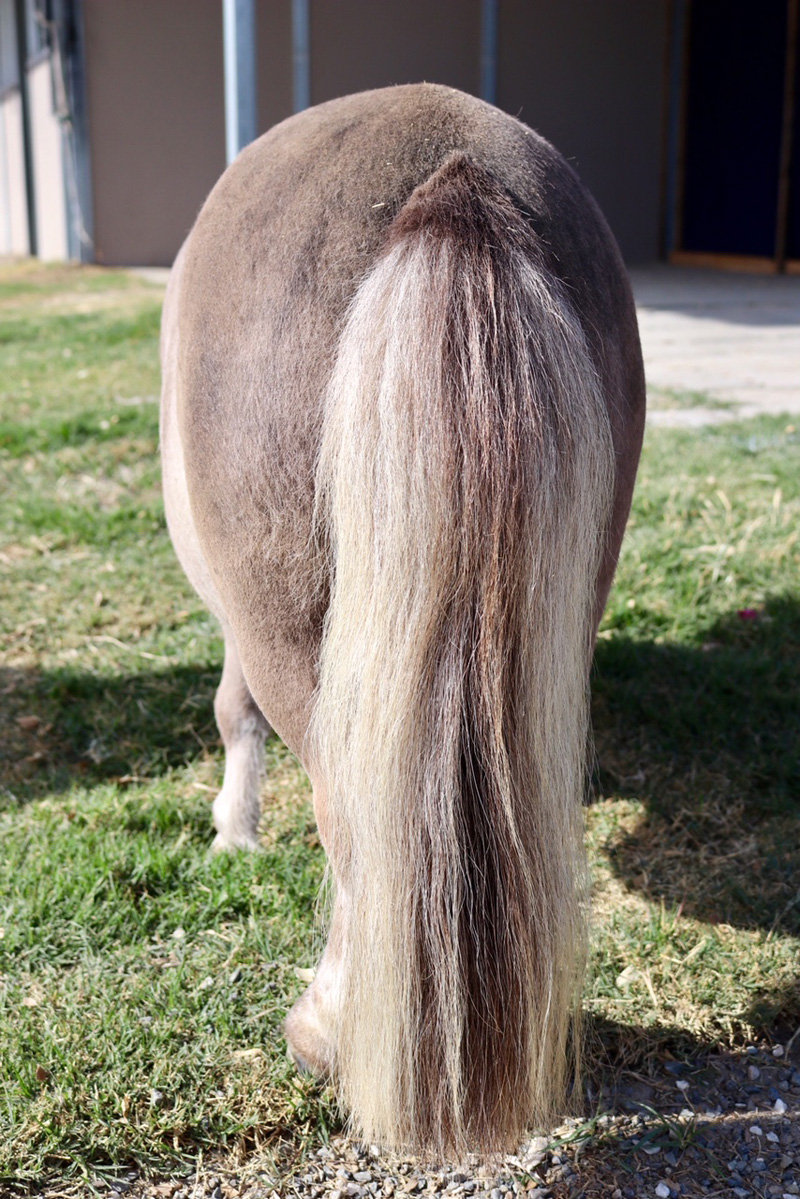 •  Shmooshy's oversized personality makes everyone fall in love with her. "Shmooshy is hilarious," said Cuoco. "She whinnies and paws at anyone that walks by, and if she doesn't get what she wants, she starts circling and kicking her hind legs out!"
•  Shmooshy has her own Instagram. With more than 87,000 followers!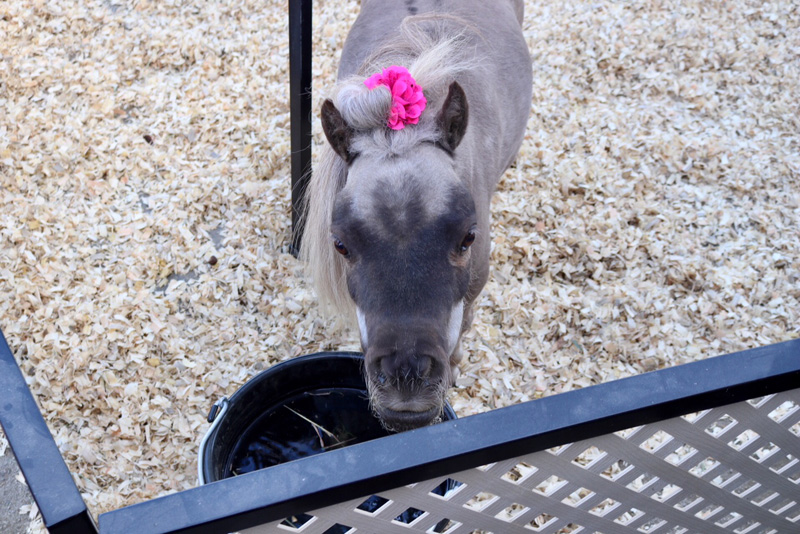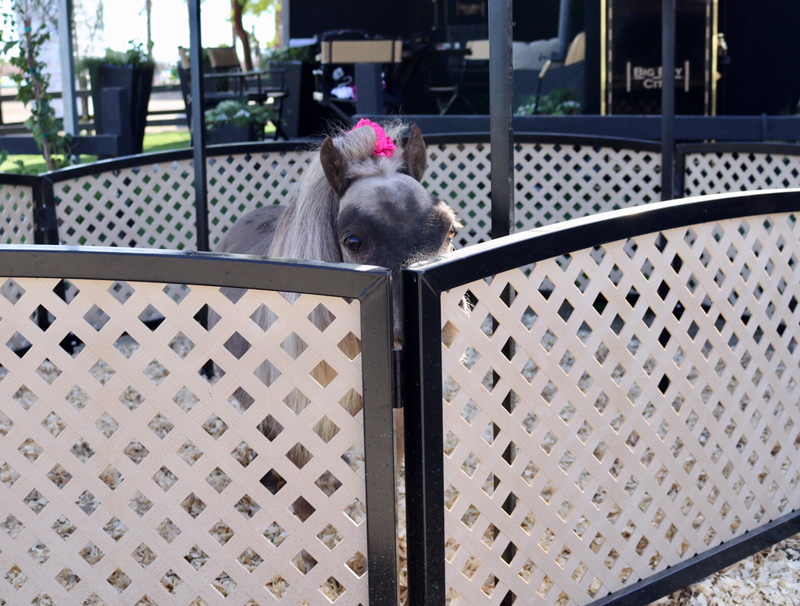 •  Like many rescued animals, Shmooshy took a little while to come out of her shell. "When she first came to us, she was very aloof and very quiet. She mostly kept to herself," said Cuoco. "But her personality has completely blossomed, and she has now turned into a diva!"
•  Befitting her diva personality, Shmooshy is often seen sporting a Swarovski crystal halter, hot pink lead rope, glitter hoof polish and various fancy hairstyles.
•  Shmooshy generally does what she wants, when she wants. We witnessed this firsthand when she decided she was finished with the COTH photo shoot and sashayed away. "She tells us exactly when she wants to get out and graze," said Cuoco. "Then she walks herself right back to her stall when she's done!"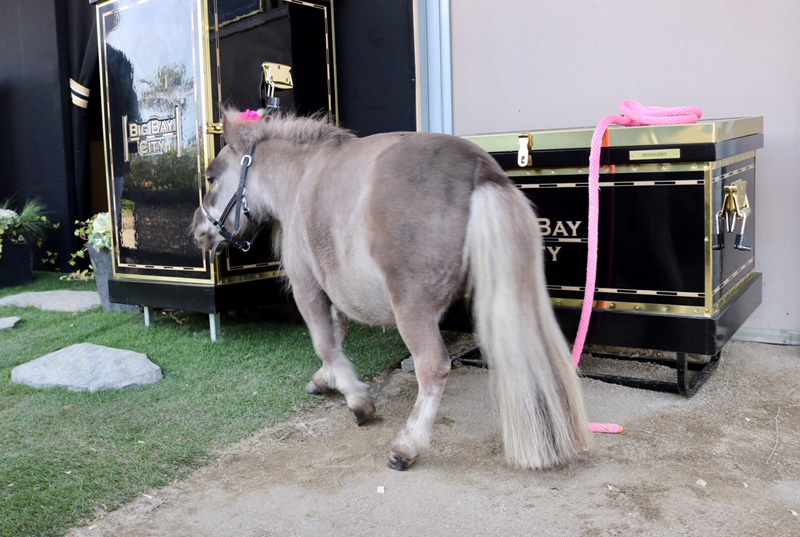 •  Everyone on Cuoco's farm is obsessed with Shmooshy, including the other horses. "The other horses love her," said Cuoco. "And I think she enjoys keeping them company. Sometimes the horses will lie down next to her turn-out and stick their noses underneath, trying to kiss her."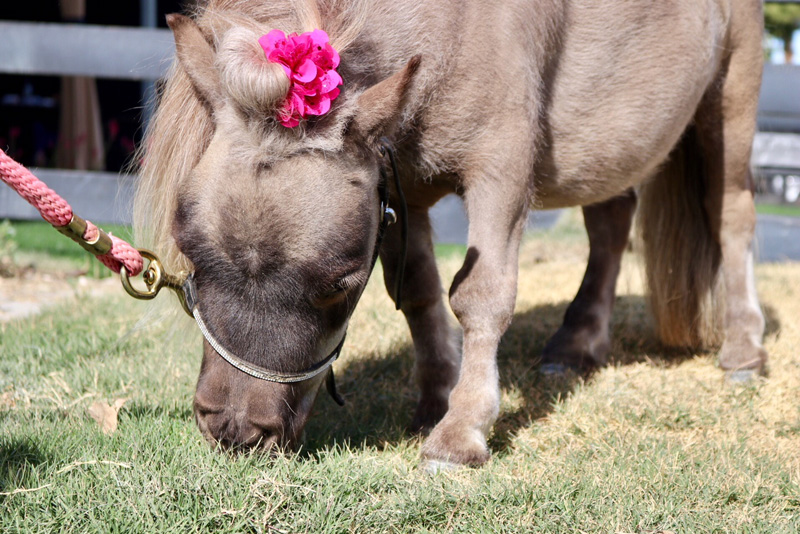 •  Shmooshy insists on regular spa treatments. In addition to the bodywork she receives from her veterinarian, she also gets ice baths to help her feet and lower legs when she gets sore. She can fit all four feet in one bucket!
•  After spa time, it's treat time, and for that Shmooshy is not picky. "I don't think she would say no to anything," said Cuoco. Some of her favorite treats include carrots, apples, graham crackers and strangely enough—pickles!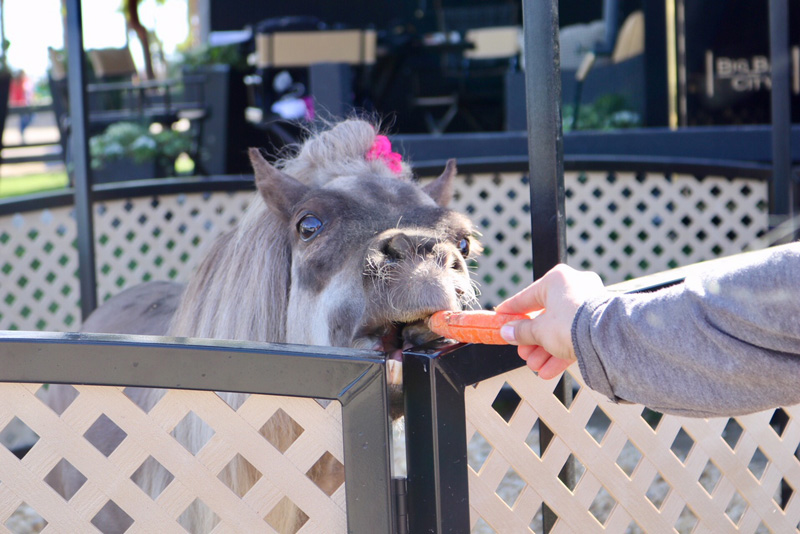 •  Now that she's living the good life, Shmooshy enjoys giving back and helping other animals in need. She has partnered with EQU Lifestyle Boutique to sell T-shirts with 100 percent of the purchase price benefitting Paw Works animal rescue. You can get yours at HITS Coachella or anywhere the EQU Lifestyle mobile trailer is stationed!