Meredith Michaels-Beerbaum gave her long time barn manager Anu Harrila plenty of warning in the spring of 2014 when Fibonacci 17 was brought onto the string.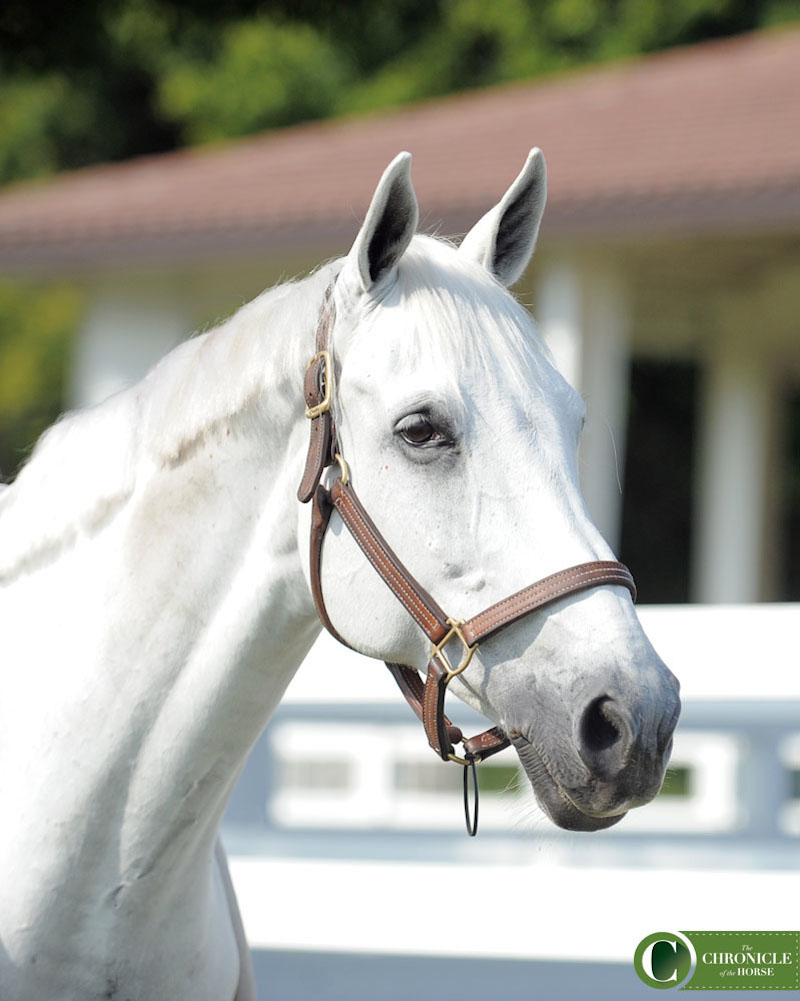 "Meredith told me, 'we're getting this new horse, and he's white,' " Harrila said. "And I said, 'Yeah, OK, you mean gray,' and she said, 'No, no, no, he's white. He's very white.' "
Michaels-Beerbaum was correct—Fibonacci's coat is as white as they come, and he doesn't like to keep it that way. "I said, 'OK, well just so you know, the shampoo bill is going to go way up!' " Harrila laughed.
"Nacho" earned his shampoo expenditures during his three-year stay on Michaels-Beerbaum's string. The gray was developed by Swedish rider Lisen Fredricson and previously campaigned by Sweden's Stephanie Holmen before Michaels-Beerbaum took over the ride in 2014. Michaels-Beerbaum and Nacho won grand prix classes all over the world, including at the Winter Equestrian Festival (Fla.). They also were an integral part of German Nations Cup teams.
They were members of Germany's silver medal winning team at the 2015 European Show Jumping Championships in Aachen (Germany) and had another runner-up finish for Germany at the Furusiyya FEI Nations Cup Final in Barcelona. They were on the winning German team at the Furusiyya FEI Nations Cup at Hickstead (England) before heading to Rio De Janiero to represent Germany in the Olympic Games, where the German team took the bronze.
In April of this year Michaels-Beerbaum announced that Nacho had been purchased by U.S. rider Lillie Keenan. We went behind the stall door with Nacho just before he left Michaels-Beerbaum's farm in Wellington, Fla:
• The name Fibonacci comes from the mathematical theory of the Fibonacci Sequence, where every number after the first two is the sum of the two preceding numbers. the integer sequence was named after the 13th Century Italian mathematician Leonardo of Pisa, who was known as Fibonacci.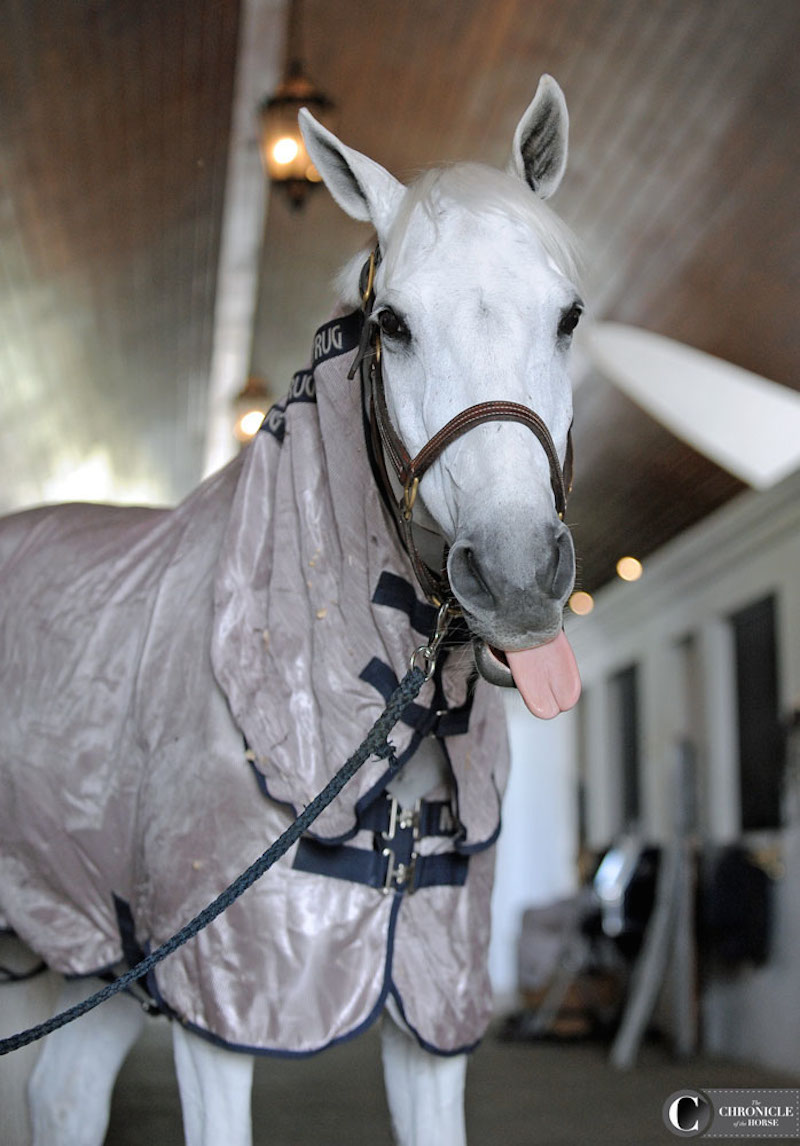 • So then, where did the barn name Nacho come from?
Fibonacci's original barn name was Fendi, but Michaels-Beerbaum thought it sounded like a mare's name. When they were trying to think of a new nickname, Michaels-Beerbaum's now 7-year-old daughter, Brianne, came up with Nacho.
• Nacho enjoys adding brown splotches to his very, very white coat.
"We just fake it when we go to the show ring; he likes to be a pinto in the mornings," Harrila said. "We always muck out his stall at night check but he still manages."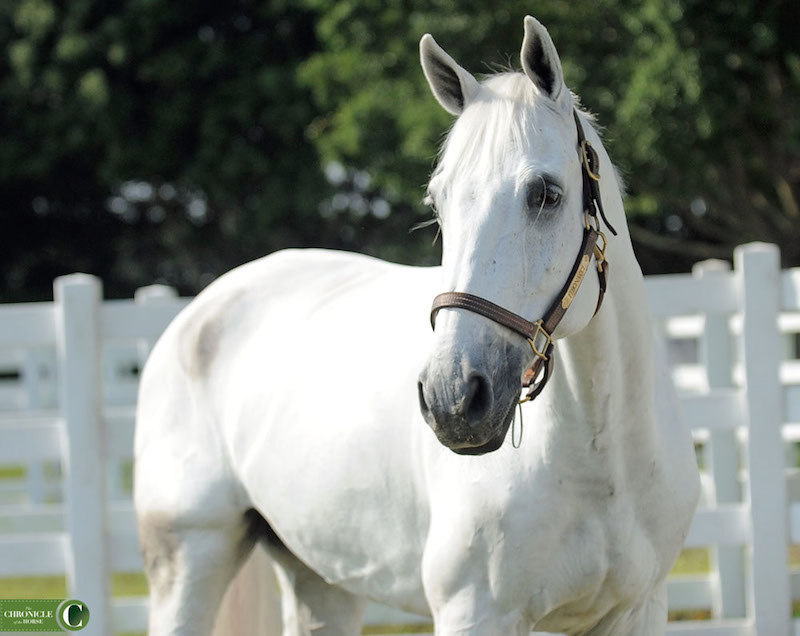 • It was an unseasonably warm and muggy day in south Florida when we came to Nacho's barn, but hot is exactly how Nacho likes his weather.
"He was born in Sweden, and one of the first things I was told by his old owner was that he hates cold weather," Harrila said. "So he just has lots of clothes, but he likes going out when it's hot."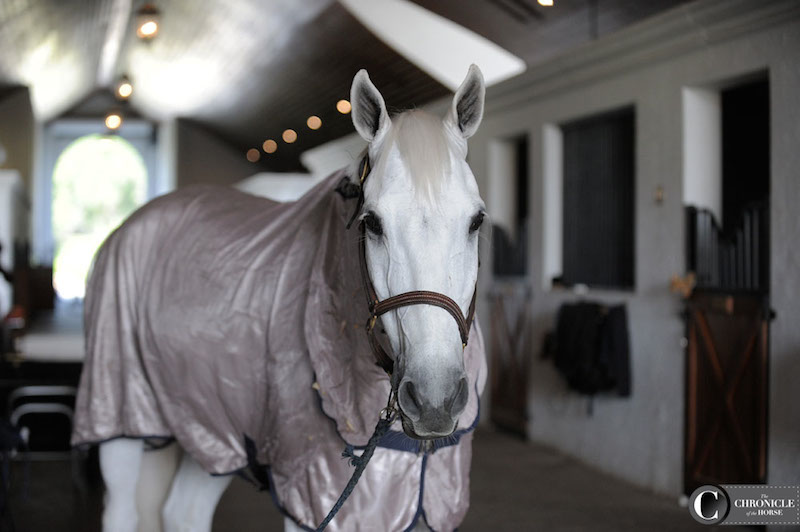 • Nacho needs a lot of activity in his day to keep him occupied and content. He starts most days by wearing a magnetic blanket (just the magnets, he doesn't like the vibration setting) and going outside in a small grass paddock in a fly sheet and mask.
He rolls right away when he's turned out, though Harrila said he doesn't usually roll all the way over, preferring to get up and lay down again to sufficiently cover both sides of his body in brown dirty spots. At shows, hand-walks and hacks take the place of turn-out time, and he always goes out on the lunge line in the morning to stretch himself out.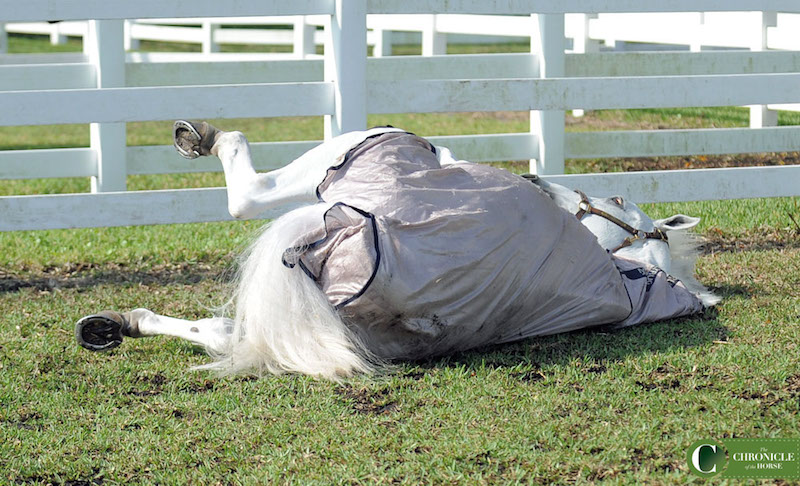 • Horsing around is one thing Nacho has no patience for.
"He's quite serious—he doesn't really have a sense of humor," Harrila said with a laugh. "He's really sweet very serious, very workmanlike. Sometimes we're like come on, cheer up buddy!"
That down-to-business attitude is on full display whenever Nacho is working in the ring.
"The only place he will buck if he bucks is in the paddock, but that's like twice a year," Harrila said. "He never bucks with a rider or on the lunge, which would be good if he did to get that out, because he's high strung when he goes to the ring, but he's just too workmanlike."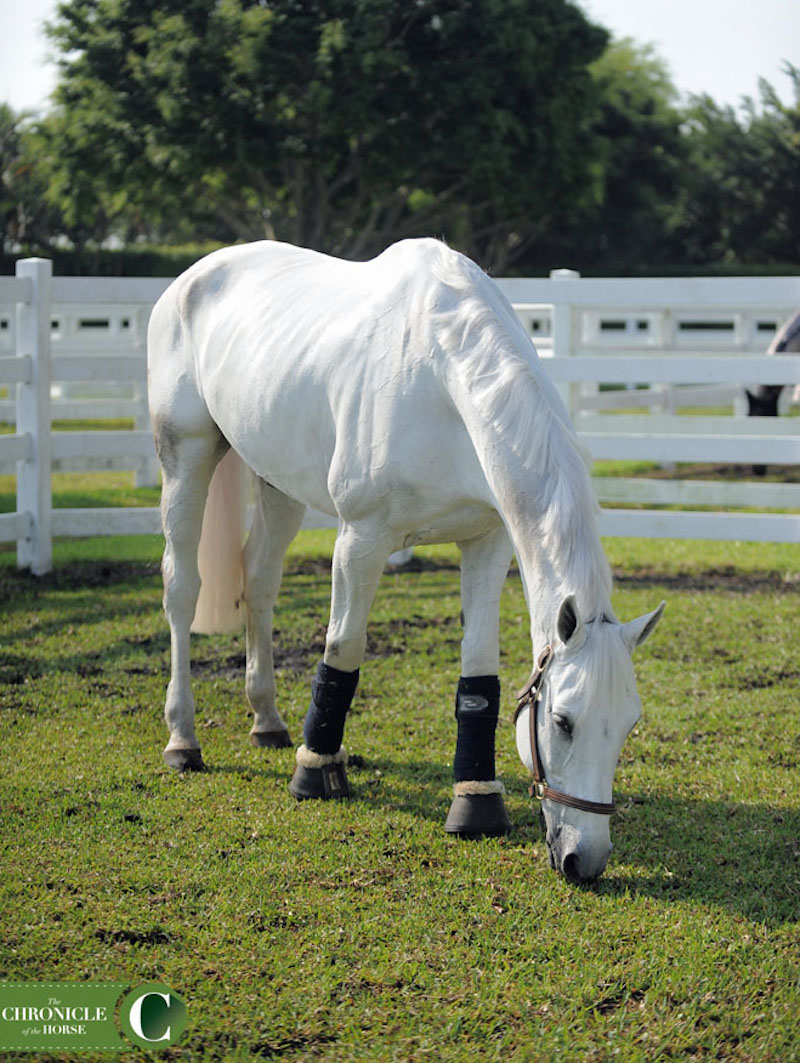 • Nacho really lights up in a horse show setting.
"He's a little bit like two horses—he's calm and very nice and lovely to groom, and then when he goes to the ring he's afraid of other horses and he sees everything and goes, 'What's that, what's that?' " Harrila said. "When people move, when things move, he's very alert."
• All of the horses in Michaels-Beerbaum's yard have different stuffed toys on their stalls, and Nacho gets the unicorn.
"He looks like a unicorn, especially when he makes a really big effort at a jump," Harrila said.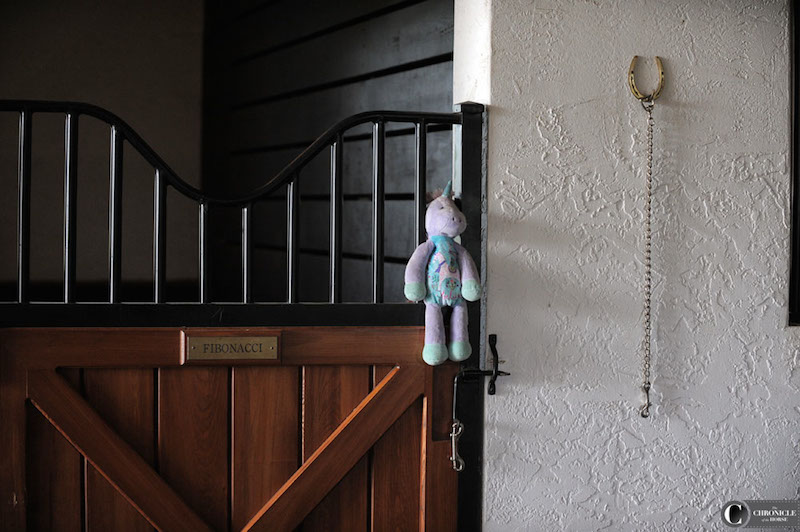 • Junk food only comes into play with Nacho's name—he's a very easy keeper that Harrila has to be careful not to let get a big belly. Of course, everyone gets treats when they do a good job, and Nacho is no exception—Harrila says he'll eat most anything, but always gets sugar when someone is doing up his girth or getting on him.
We're sure you're wondering, and the answer is no, he has not tried nachos.
"I'm a little terrified to try because I don't know exactly what's in that cheese!" Harrila laughed. "It could have who knows what chemicals in it."
• Going outside in his paddock is one of Nacho's favorite things to do, but he doesn't ever want to be alone. He needs a horsey neighbor for company, but if none are available a very attentive human will do.
"When we first came over here [to Florida] I didn't really have a friend to put outside with him, and he will be fine on his own but only if you are standing and watching him inside the paddock," Harrila said. "Standing outside the paddock by the fence doesn't work, you have to be inside the paddock, and you can't leave him, you have to stay with him."