Liz Halliday-Sharp has partnered with Fernhill By Night for four years, and together they've tackled some of the biggest three-star tracks in the United States and England.
In 2015 they won the Brightling Park CIC** (England) and went on to complete the Blenheim Palace CCI*** (England). This year they were second in the Cloud 11-Gavilan North LLC Carolina International CIC** (N.C.) and the Barbury Castle CIC** (England) before earning a top 20 finish at the Burgham CIC*** (England).
Halliday-Sharp is based in England for half the year and brings her horses to Ocala, Fla., for the winter.
"I think he would come and live on the sofa if we'd let him," said Halliday-Sharp. "He is honestly the nicest person. He is the loveliest, sweetest horse. I think it makes up for the fact that we've had to work hard to get his confidence and get all the pieces in place at a higher level. But because he's such a lovely person he's such a pleasure."
We caught up with Halliday-Sharp to learn more about "Blackie," a 13-year-old Irish Sport Horse (Radolin—Argentina XII, Argentinus) owned by Deborah Halliday.
He loves his food. "He's very chatty. He tries to tell everyone that no one's fed him for years. If you ever walk past he'll just chat away telling you things. 'I think you might have forgotten to feed me,'" said Halliday-Sharp.
He's very sweet, but needs some reassurance. "He's like a puppy dog—like a big Labrador really. He's the sweetest, nicest person. He would never put his ears back," said Halliday-Sharp. "He's a bit of a precious person—he's not as hearty. He had kind of a checkered past before I had him, which was unfortunate.

"He had a rider who crashed him and missed him, so it was just putting that back together. Especially with a careful horse, and he's a big horse, which makes it hard. He's super talented—he's a great jumper and a great mover, and he does a good test."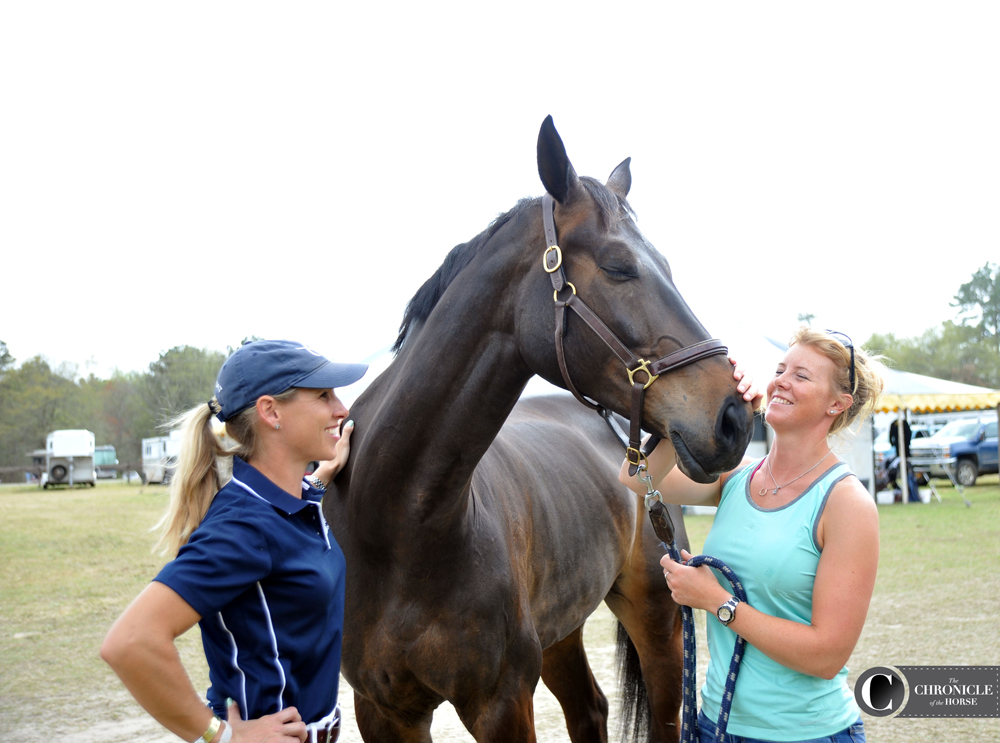 Liz Halliday Sharp (left) with Fernhill By Night and former groom Suzi Cooper. Photo by Lindsay Berreth
He's lazy. "He's desperately lazy! I've never had any one like it," said Halliday-Sharp with a laugh. "I think on the right day he's a good four-star horse—he's got the ability, it's just keeping him quick enough with it all. He wouldn't be that die-hard, fight 'till the end horse. It doesn't mean he's a bad horse, it's just different personalities."
Blackie gets a high-energy racehorse mix feed to give him some extra energy.
Horse inspections bring out his wild side. "The only time he's wild is the trot-up, then he's feral, which is quite funny. You have to hang on tight or you'll lose him," said Halliday-Sharp.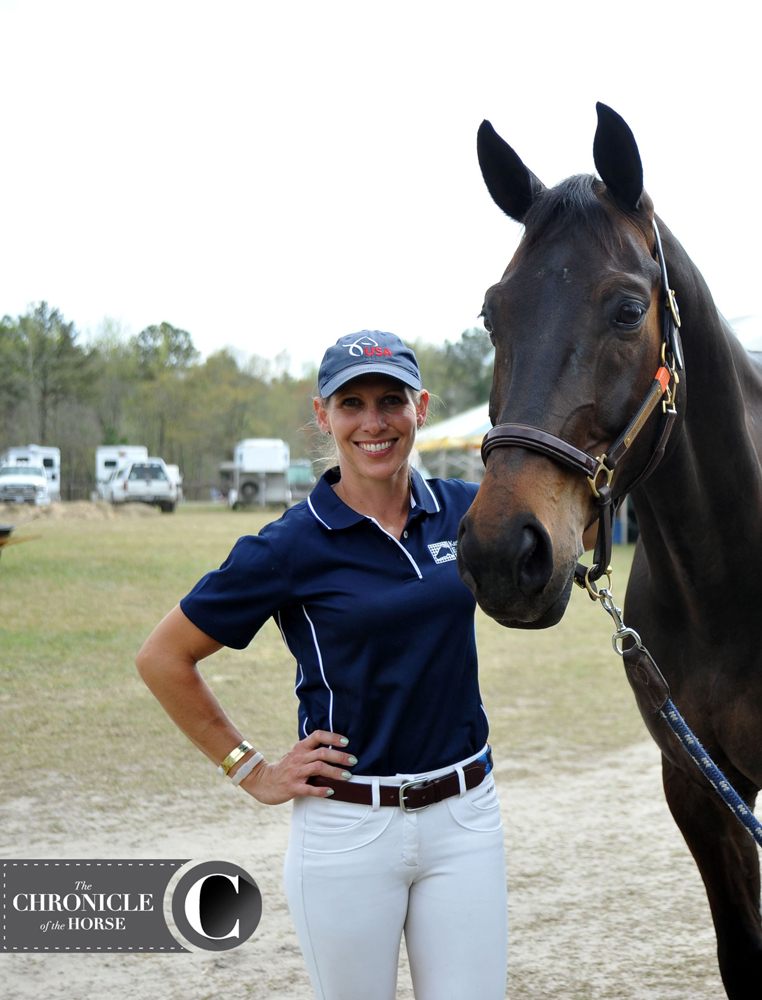 Liz Halliday-Sharp with Fernhill By Night. Photo by Lindsay Berreth
He likes his routine. "He very much likes his routine. He gets really upset if you change things. He hates to be ridden last. First is ideal, or at least early," said Halliday-Sharp. "I think he needs to feel like he's special."

Blackie goes on the walker in the morning after breakfast, then usually gets ridden and gets some turnout time. If he's getting ready for a big event he'll go on the walker again later in the day.

All forms of treats are accepted. But his favorite is a banana.
He prefers one friend. Blackie's best friend was HHS Cooley since they competed at the same level together and traveled a lot, but when the gelding was euthanized due to a leg fracture at the Burgham Horse Trials this summer he was left without his buddy.

"When I was still in the hospital, I said as soon as they got home I wanted [two-star horse] Carpe Diem to go into Cooley's box so it wasn't left empty, because frankly I couldn't have coped with it either," said Halliday-Sharp. "They've become very close now, and spent the whole next event screaming at each other! They're quiet good friends."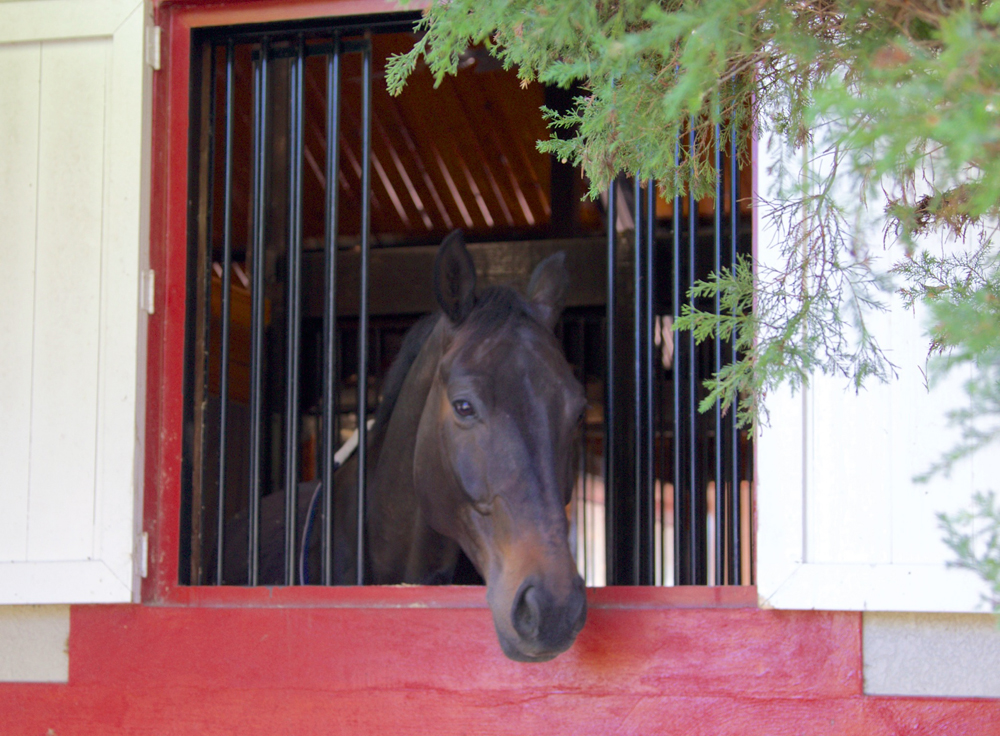 Fernhill By Night likes to have a best friend. Photo courtesy of Liz Halliday-Sharp
His groom is his other best buddy. Halliday-Sharp's groom Gemma Jelinska had originally worked with Blackie before she left to pursue another job.

She came back earlier this year and loves to care for Blackie. "I think a big reason she came back is because she loves him and loved Cooley," said Haliday-Sharp. "She started working for me a couple of weeks after I got Blackie, so she's known him his whole time with me and growing to the three- and four-star horse that he is.

"They're very close. Gemma really loves her horses. I think having Blackie still has helped with what she went through losing Cooley. She was with him when they put him down, and it was really hard on her. Having Blackie there has given her something to fight for even though she likes the others. He was sort of her buddy," she continued.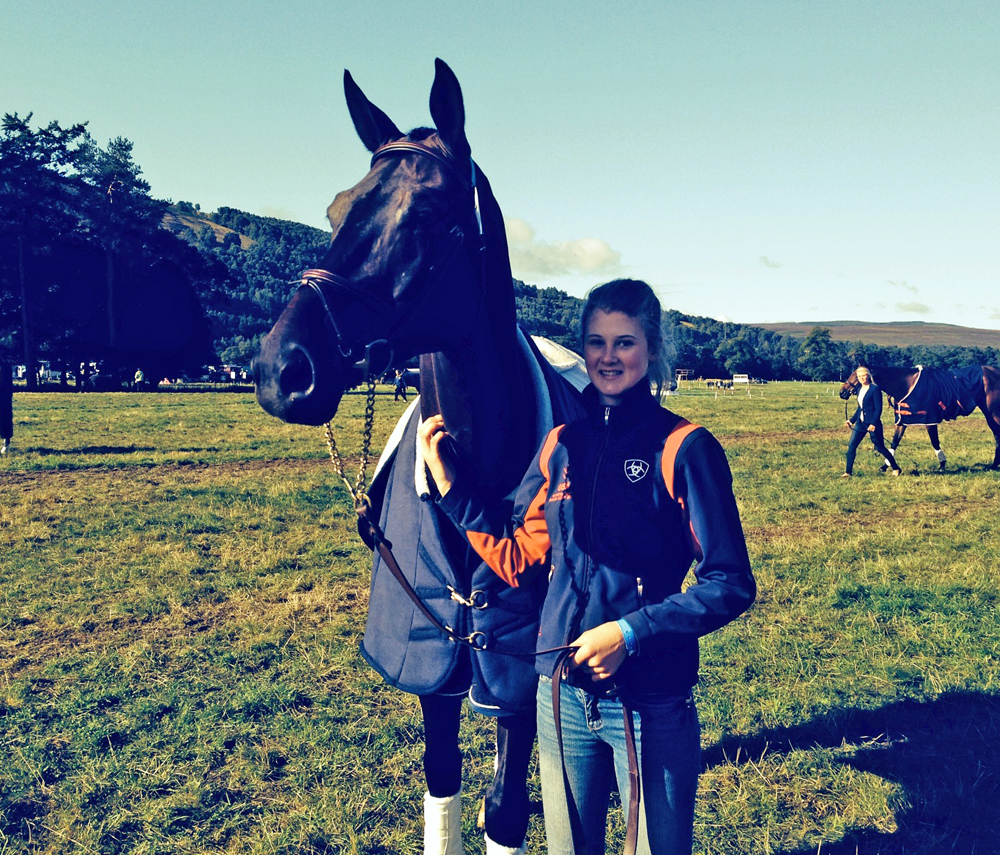 Fernhill By Night and his devoted groom Gemma Jelinska. Photo courtesy of Liz Halliday-Sharp
He enjoys both sides of the pond. "He definitely struggles more in the heat because he's quite a lazy person, so I have to ride him early in Florida," said Halliday-Sharp. "He loves a good mud roll, so I'm sure he misses being a hippopotamus when he goes to Florida! I think he's happy either side of the pond."
The only think he hates are baths and standing still. "He's a bit stroppy about getting a bath. There's a normal shouting match with him and Gemma because he's trying to paw the ground, and she's like, 'Blackie, stop it!' I think he does it to wind her up. He's quite funny like that," Halliday-Sharp said.

"He's quite cheeky. Most of my horses would stand still at his age and experience if I have to run into the tack room. Blackie will always wander off and throw something on the floor or get his face into something or chuck someone's rug on the ground. He's a joker like that."