Miss any action from the Adequan/FEI North American Junior and Young Riders Championships? Don't worry, Lindsay Berreth and Bernadette Palmeri were in Lexington, Ky., to bring you all the news and tons of photos.
Check out their team dressage coverage, their individual dressage coverage, their eventing coverage and their show jumping coverage.
While the next generation was competing at home, Beezie Madden was in Chantilly, France, jumping in the Global Champions Tour. Read all about her big win there.
Up in Michigan, Happy Z returned to the site of her first grand prix win eight years ago to claim the blue in the $30,000 Grand Prix of the Great Lakes, which was the chestnut mare's 55th career grand prix victory.
"At this point, I appreciate every good class, where before you take things for granted," said Happy Z's owner and rider Wilhelm Genn. "Now, she doesn't have to win, just jump well, and you really appreciate it."
Last year, Molly Ashe Cawley had to settle for second in the $20,000 USHJA International Hunter Derby at Horse Shows By The Bay, but on July 20, she redeemed herself by riding Kennzo to the win in the class. "Last year I sort of felt like I let him down. [The class] was handed to me, and I didn't pick up the gift," Cawley reflected. "I didn't ride well in the handy; I never got going, and I was too slow. It wasn't a good ride on my part, and I could have won it and I didn't."
This year, she was second to derby specialist Kelley Farmer on Mythical going into the handy round, and she put the pressure on Farmer. An inside turn risk backfired for Farmer, resulting a refusal that dropped them out of the lead and gave the class to Cawley. See full results of Horse Shows By The Bay III.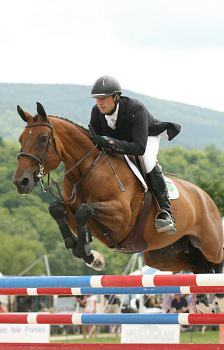 Devon Ryan rode Zosja to the top of the
$30,000 Otter Creek Grand Prix at the
Manchester Classic.
Photo by David Mullinix Photography
In Oregon, Andrea Strain rode Djakarta to the top of the $25,000 Oxford Hotel Group Grand Prix. Megan Jordan placed second in the grand prix aboard Top Shelf, but guided City Boy to the blue in the $10,000 USHJA International Hunter Derby. See full results of the Oregon High Desert Classic I. Devin Ryan claimed the top spot in the $30,000 Otter Creek Grand Prix aboard Zosja in Vermont. See full results of the Manchester Classic. Federico Sztyrle topped the $25,000 CVPHA Grand Prix at the Chagrin Valley Hunter Jumper Classic in Moreland Hills, Ohio. See full results of CVHJA.
A former East Coast stalwart, Hardin Towell showed up in California to claim the top check in the $25,000 Showpark Summer Festival Grand Prix aboard Flip. See full Showpark Summer Fesival results.
The six-week Summer In The Rockies series wrapped up in Parker, Colo., with Kristin Vanderveen scoring the win in the $50,000 Parker Adventist Hospital Grand Prix on Eternal. "I was going to lay it down and let them chase me," Vanderveen said. "He's got a really big stride,so my plan was to start with that really big canter, be tidy but stay on my rhythm. You know, John Pearce can turn tighter than I can and there are other riders that can sneak in tighter than I can, but our strength is that he can jump off of a big gallop. That was my strategy." See full Summer In The Rockies results. McLain Ward rode Love to the blue ribbon in the $50,000 Horze Grand Prix at HITS-On-The-Hudson IV (N.Y.), where Todd Minikus won the $25,000 SmartPak Grand Prix on Quality Girl. See full HITS-On-The-Hudson IV results.
In Arizona, riders competed in the long format at the Coconino Classic Three-Day Event and Horse Trials. Heather Capps-Drager on Noblesse Oblige topped the training level three-day, while Janet Gordon rode Irish Beginnings to the top of the novice three-day. See full results.
Other events over the weekend included: Fitch's Corner (N.Y.) (see results), and Olney Farm (Md.) (see results).