Monte-Carlo, Monaco—June 28
A jubilant Bassem Hassan Mohammed of Qatar won the first major class of his young career on June 28 in the Longines Global Champions Tour of Monaco Grand Prix before a packed house. The fabulous setting of Port Hercule—with the show ring set up right next to the water—sparkled in the moonlight as the glamorous crowds enjoyed the night's fantastic sporting entertainment from the VIP area, as well as from nearby yachts, restaurants and bars.
"I am very proud of Bassem," said Jan Tops, who trains the Qatari show jumpers. "I work with him on a daily basis and I know how much he wants it and how much he tries every day, and I think it's an incredible success for Qatar and it motives his teammates to see his hard work pay off. I am very proud of him not only for today, but over the last few weeks, as he is riding very consistently and you can see that in the [Global Chmpions Tour ranking, where Mohammed stands third]. It's good to see the competitions are becoming much more open at the top, with new nations becoming involved and being successful, that's what Bassem showed today."
Mohammed, 27, dropped his reins and raised his arms in the air in triumph upon finishing his daring round in what has become his signature celebration since he launched into this season with a fourth place in the Longines Global Champions Tour of Antwerp Grand Prix in April. His fellow teammates hugged and congratulated Mohammed as he left the arena with tears in his eyes following his winning round where this young rider bettered the world's best. The Qataris are hitting top form and Mohammed has become a rising star of the show jumping world.
"I'm so happy to win my first LGCT Grand Prix," said Mohammed. "Thank you to my team and my coach and my family and Jan Tops for all their support! Victoria has jumped fantastic for the last three weeks."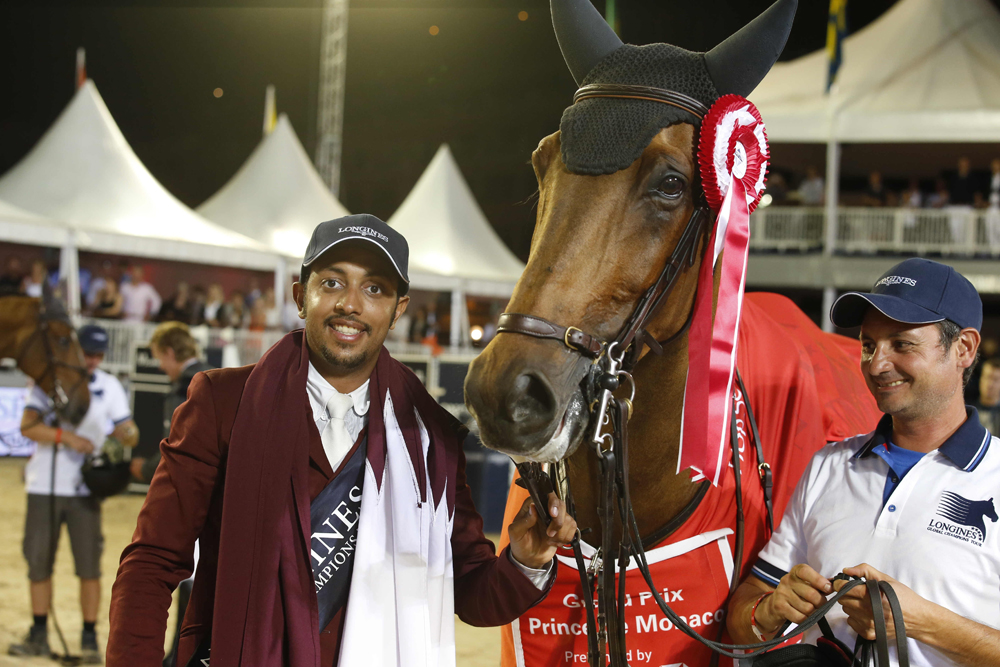 Bassem Hassan Mohammed celebrated his first Longines Global Champions Tour victory.
Photo by Stefano Grasso/LGCT
Mohammed and Victoria were fourth in the Longines GCT Grand Prix of Cannes (France) on June 14. Victoria, a 12-year-old Dutch Warmblood mare, jumped for Mexico in the 2012 London Olympic Games with former owner Federico Fernandez, and the Qatar Armed Forces bought her after that.
Ali Yousef Al Rumaihi was the first to ride her for Qatar, and their partnership lasted from September 2012 to February 2013, when Mohammed began riding her. Mohammed competed her at Global Champions Tour events like Madrid (Spain), Hamburg (Germany), Weisbaden (Germany), London and Cannes in the summer of 2013, but then Abdul Rahman Mohammed M A Al Marri took over the reins for December 2013 through May of this year. Then Mohammed got her back for the 2014 GCT shows.
Second in Monaco went to the ever-consistent Rolf-Goran Bengtsson of Sweden and Casall ASK, and third to Cameron Hanley of Ireland and his very aptly named young superstar-in-the-making, Living The Dream.
"I obviously had the wrong strategy for winning today!" said Bengtsson. "I had to go first and I underestimated how fast Bassem would be. I rode a bit too careful to avoid having faults. All the best to Bassem, he was too good today and it was a super success."
U.S. riders finished in the middle of the pack in Monaco, with Jessica Springsteen taking 14th with Lisona with two rounds of 4 faults each. Kent Farrington was right behind her in 15th on Blue Angel after they jumped clean in Round 1 but then had 8 faults in Round 2. Laura Kraut rode Andretti S to 17th with rounds of 4 and 8 faults, while Lucy Davis took 32nd with 8 faults in Round 1 aboard V Pleasure.
You can see full results of the Longines GCT Grand Prix of Monaco here.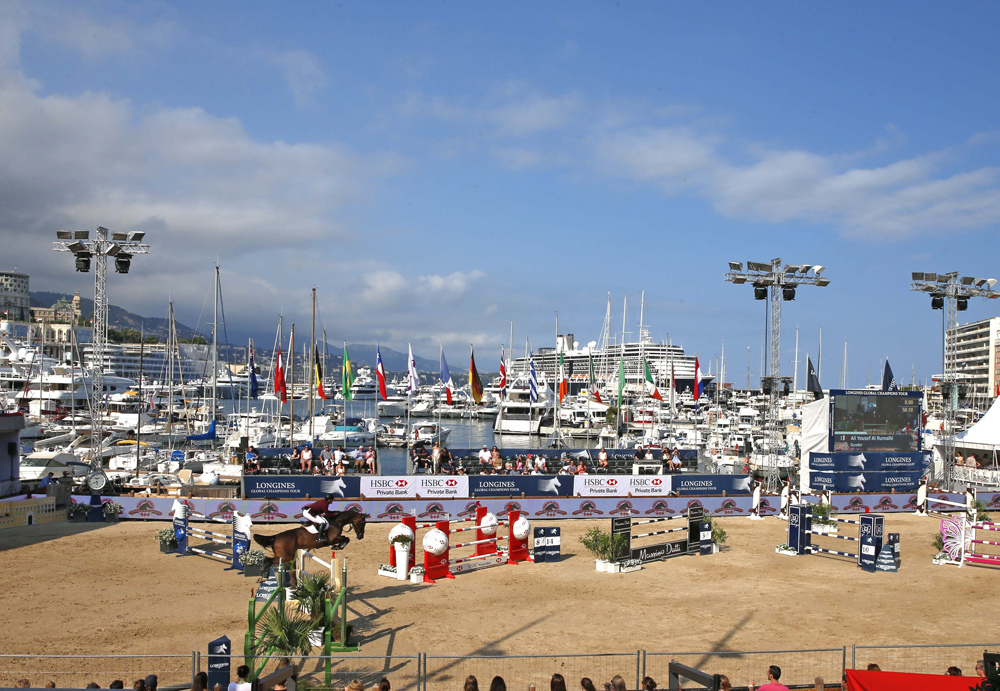 The port-side setting of the Longines Global Champions Tour of Monaca provided a dramatic backdrop.
Photo by Stefano Grasso/LGCT
The result left GCT standings leader Edwina Tops-Alexander of Australia, who lowered a rail in the first round with Old Chap Tame, just 20 points ahead of Bengtsson in second, while the Qatari rider Mohammed moves up to third just 1 point behind Bengtsson.
The first round of the Longines Global Champions Tour Grand Prix was a feast of horsemanship as the world's elite show jumpers took to the stunning port-side arena for the sixth leg of the 2014 Championship. With a €300,000 prize fund on offer, the big guns were out in force vying for a place in the second round and the lion's share of the big Championship points.
Course designer Luc Musette's first test was tough, big and technical, and with the excited crowds pressed right up against the edges of the smallest arena on the Tour, the atmosphere was electric ahead of the first horse and rider combination entering the arena. Just 10 clears went through to the second round along with the eight fastest 4-faulters.
The second round was a heart-stopping affair with the last upright falling more than once in otherwise clean rounds. The time allowed was tight and it was an excruciating single time fault that kept Hanley out of the jump-off with his exceptionally talented young horse. Bengtsson was the first rider to jump a double clear with his experienced stallion Casall ASK. The former European Champion and Olympic medalist looked sure to win when the final jump-off came down to himself and the newcomer Mohammed. But unintimidated, Mohammed rode the round of his life to clinch this historic victory to become the very first Qatari to win an LGCT Grand Prix.
As the Tour heads to Paris on July 4-6, the halfway point of the championship race, the top of the leaderboard has become a nail-biting battle for supremacy.