Calgary, Alberta, Canada—June 7-8
It's been five years since Jaime Azcarraga has shown at the Spruce Meadows venue in Calgary, Alberta, but he's back in a big way, winning the $35,000 RBC Capital Markets Cup 1.50-meter class and the headliner class—the $400,000 RBC Grand Prix—during the National Tournament.
"It was the best week of my life, unbelievable," said Azcarraga, who rides for Mexico.
His big win came aboard Anton, a horse he's ridden for two years. After prepping at the CSIO in Xalapa, Mexico, before coming to Spruce Meadows, he felt that Anton was ready, but noted that coming to a five-star at Spruce Meadows was different, especially considering this was Anton's first international show.
"Since I jumped the first day, I felt like [he] liked the course here. The footing was unbelievable, and the conditions were perfect," he said. "It was a bit shocking when I walked the course, the height. In the morning I was saying to Guilherme [Jorge, the course designer], 'Oh my God, I hope he can jump this.' He has the heart of a champion, and he likes to fight."
Azcarraga's win came over Jonathan McCrea with Special Lux and fellow Mexican Enrique Gonzalez riding Quilebo du Tillard. Thirty-seven combinations attempted the first round course set by Guilherme Jorge of Brazil, and just five were able to find the clear path to the jump-off.
The first-round field was split into two phases, with some riders jumping in the morning and some in the afternoon. Riding in the first phase of 13 horses in the morning, Azcarraga and Anton, his 10-year-old Warmblood gelding (Marlone x Orville), were the first to go in the jump-off in the afternoon. The big bay horse set an unbeatable time of 46.48 seconds with no faults for victory.
"It was a long day," Azcarraga said with a smile. "To start at 9 o'clock, you have to maintain your concentration for a long period of time. It was good because he got a long rest, more than four hours. He was fresh and ready. I just waited here, watched the Parcours de Chasse and tried to maintain calm. It always hard to be the first one, but I tried to set the pace. I had some fast riders behind me, so I knew I had to leave it all as the first round."
Following Azcarraga was fellow Mexican rider Enrique Gonzalez on Quilebo du Tillard, who were also clear and quick in 48.90 seconds, which would slot them in third place at the end of the class.
Kirsten Coe and Baronez, owned by Ilan Ferder, Lovsta Stuteri, and Tal Milstein, were close to the winning time in 46.73 seconds, but a rail at the last oxer left them in fifth place.
Now riding for the United States, McCrea and Candy Tribble's Special Lux cleared all the jumps on course with ease, but were just off the pace in 46.55 seconds for second place.
In the first round, McCrea and Special Lux had a bobble on course. McCrea explained, "When I went in, I didn't show him the wall. I didn't expect him to spook, and he held off it a little bit. And then I was like, 'Oh boy, I'm in trouble here.' The triple bar wasn't so pretty. For the grace of God the rail stayed there. Then I had to go Irish, back to my roots. I had to change my plan to the liverpool in-and-out. Originally I planned nine [strides], but I was going up and not across, so I figured we'd better go forward. After that, he was normal."
Last in the jump-off was Kent Farrington, the winner of this class for the past two years, on Voyeur, owned by Amalaya Investments. Farrington was fast enough in 44.50 seconds, but they had 4 faults at the triple bar on course for fourth place.
McCrea and Special Lux, a 10-year-old Irish Sport Horse gelding (Lux x Collie Mor Hill), haven't even been together for a year, but the talented horse has moved up from the 1.40-meter classes last year after winning the 5-Year-Old and 6-Year-Old championships in Ireland and placing third as a 7-year-old in Aachen. When asked to describe Special Lux, McCrea said, "He's Irish! He's been a winner his whole life. His jumping style is definitely a little different. He's so careful; he doesn't want to hit a rail. He's still green at this level."
Gonzalez has worked with Quilebo du Tillard, his 10-year-old Selle Francais gelding by For Pleasure, since he was coming 7 years old and had to work on rideability. "For the first couple years, he was quite difficult," he revealed. "He was strong and he has, like we say in the horse world, a 'French mouth.' He was a little bit tough. Last year I did the 1.50-meter classes here and he loved the ring, he loved the place. He jumped really good last year, so I was pretty comfortable this week. I trusted him. I just jumped him in one class before the grand prix, and he was really, really good."
The Spruce Meadows National Tournament, presented by ROLEX, came to an exciting conclusion with the $210,000 CNOOC Nexen Cup 1.50-meter Derby on June 8. Quentin Judge and HH Dark de la Hart, owned by Double H Farm, sped to victory in the class over Angel Karolyi and Indiana 127 and Richard Spooner riding Cristallo.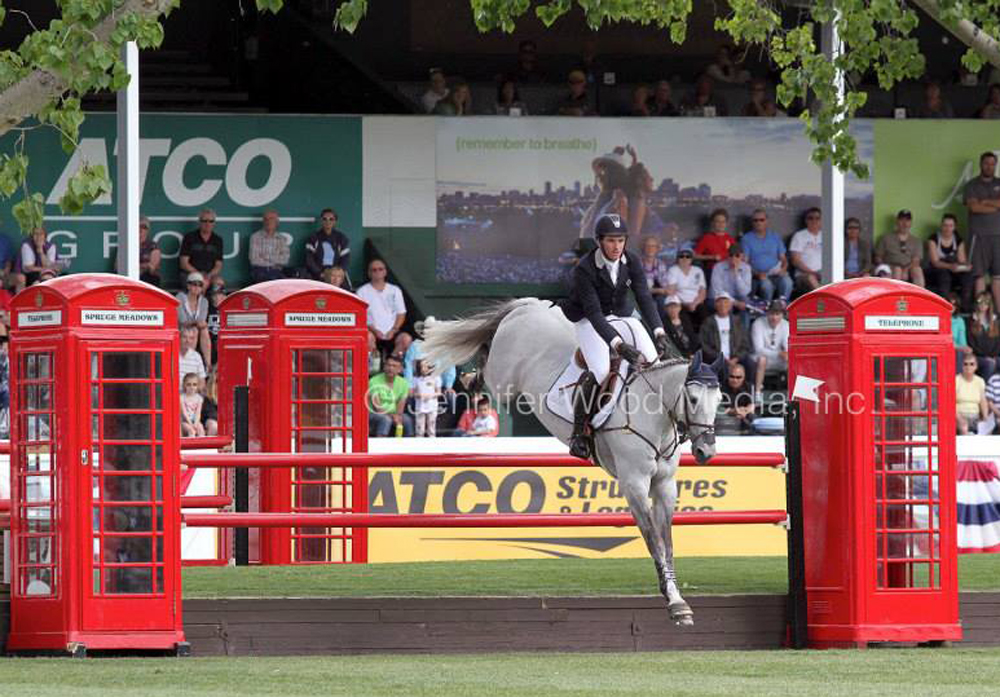 Quentin Judge and HH Dark de la Hart jumped to
Judge's biggest victory yet in the $210,000 CNOOC
Nexen Cup 1.50-meter Derby.
Photo by Jennifer Wood Media
There were 15 entries in the $210,000 CNOOC Nexen Cup Derby. The course, which was designed by Leopoldo Palacios seven years ago, is the same each year and there have only been three clear rounds in the history of the class. The test of endurance and stamina asks questions at a variety of jumps, including double liverpools, the table bank, the derby bank, and the Devil's Dyke. There are 19 numbered obstacles and 25 jumping efforts on course.
Riding out of the number one spot in the order, Karolyi and Indiana 127, owned by Hollow Creek Farm, set a respectable mark to beat with 8 faults in 155.82 seconds.
Karolyi recounted, "Today, I thought he jumped a beautiful first round. I underestimated the Devil's Dyke. I rode in a little soft, thinking I would have a big gallop towards the end. I just didn't make it to C and had that down. Then I lost my concentration and basically rode terrible at the last one and had the last jump down. I was glad that I had another chance to ride it, and I did better."
Many rails fell as competitor after competitor failed to match Karolyi's finish, until Judge and HH Dark de la Hart entered the ring.
The pair finished 3 seconds faster, and with 8 faults, they both waited to see what the rest of the class would produce. Neither imagined that a jump-off would be in their future, but when the last two in the ring, Spooner and Cristallo and Shane Sweetnam on Fineman, both had 8 jumping faults and 1 time fault, Karolyi and Judge knew they would have to return to the ring.
Going first in the jump-off, Karolyi was neat in 49.70 seconds and most importantly, kept all the jumps up. Judge followed, and he rode with speed through the first part of the course in order to have time to prepare for the "Canada flag planks" jump, which he had down in the first round. With that left standing, all it took was seven strides galloping to the final oxer, which they cleared. With a time of 45.73 seconds, Judge captured his first win in the International Ring at Spruce Meadows.
Judge recalled, "I'm lucky enough I got some really good advice from McLain Ward and his team before I went in. He said it's not crazy fast, and I didn't need to take too many risks. But I knew I had to take time to the Canada planks I had down in the first round. It's a hard jump anyway, and I really had it down in the first round. I thought if I could go as fast as I can up until that point, I could take some time. I heard the announcer say I was 2 seconds up. I almost did six [strides] coming home because I wanted to get through it!"
Judge has been working on "Dark's" fitness and felt he was more than ready for this derby. "He bucked about 20 times coming out of the ring [after] the jump-off, so I think I did [have lots of horse left]. He's really fit right now," he said. "I had a really good feeling about it for the last couple of weeks. I've never done a derby on him, but he's playful and he's brave, and he really seems like he enjoys what he does. We're lucky enough at home on our farm to have a slide bank, double liverpools, all those things. I tried to school him out there a couple of weeks ago, and he was pulling me down to everything. I thought if I was looking for a good derby horse, this might be the one."
HH Dark de la Hart, an 11-year-old Belgian Sport Horse by Kasmir van Schuttershof x Nonstop, has been "unbelievable" for Judge. The pair won the $35,000 Husky Energy Cup 1.50-meter in the Meadows on the Green at last year's Continental Tournament, and they have been on two winning Nations Cup teams for the United States. This was Judge's first International Ring win at Spruce Meadows.
"For sure, it's my biggest victory. That horse is really special to me," Judge said.
Final Results: $400,000 RBC Grand Prix, presented by ROLEX
1 ANTON: Warmblood / G / 10 Marlone x Orville
JAIME AZCARRAGA (MEX), Jaime Azcarraga: 0/0/46.48
2 SPECIAL LUX: Irish Sport Horse / G / 10 Lux x Coille Mor Hill
JONATHAN MCCREA (USA), Candy Tribble: 0/0/46.55
3 QUILEBO DU TILLARD: Selle Francais / G / 10 For Pleasure x Quat Sous
ENRIQUE GONZALEZ (MEX), Enrique Gonzalez: 0/0/48.90
4 VOYEUR: Dutch Warmblood / G / 12 Tolaro Vant Riethof x Goodwill
KENT FARRINGTON (USA), Amalaya Investments: 0/4/44.50
5 BARONEZ: Belgian Warmblood / M / 13 Heartbreaker x Unknown
KIRSTEN COE (USA), Ilan Ferder, Lovsta Stuteri & Tal Milstein: 0/4/46.73
6 JONKHEER Z: Zangersheide / S / 12 Jetset D x Skippy II
KARL COOK (USA), Signe Ostb: 1/90.00
7 ROMANTOVICH TAKE ONE: Dutch Warmblood / G / 14 Numero Uno x Karandasj
CHRISTINE MCCREA (USA), Candy Tribble: 4/82.66
8 TIC TAC: Belgian Sport Horse / S / 11 Clinton x Darco
LESLIE HOWARD (USA), Jane Clark: 4/83.47
9 HH COPIN VAN DE BROY: Belgian Warmblood / S / 12 Darco x Brown Boy
QUENTIN JUDGE (USA), Double H Farm: 4/84.16
10 IMOTHEP: Dutch Warmblood / S / 11 Indoctro x Calvados
DARRAGH KENNY (IRL), Hyperion Stud LLC: 4/84.49
11 POWER PLAY: Holstein / G / 10 Casall x Limbus
ERIC LAMAZE (CAN), Artisan Farms, LLC: 4/84.60
12 FLEXIBLE: Irish bred / S / 18 Cruising x Safari
RICH FELLERS (USA), Harry & Mollie Chapman: 4/84.66
Final Results: $210,000 CNOOC Nexen Cup Derby
1 HH DARK DE LA HART: Belgian Sport Horse / S / 11 Kashmir van Schuttershof x Nonstop
QUENTIN JUDGE (USA), Double H Farm: 8/0/45.73
2 INDIANA 127: Dutch Warmblood / G / 12 Indoctro x Unknown
ANGEL KAROLYI (VEN), Hollow Creek Farm: 8/0/49.70
3 CRISTALLO: Holstein / G / 16 Caretino x Cicero
RICHARD SPOONER (USA), Show Jumping Syndication Intl: 9/166.21
4 FINEMAN: Swedish Warmblood / G / 11 Feliciano x Beach Boy
SHANE SWEETNAM (IRL), Sweet Oak Farm: 9/168.61
5 WRIOMF: Dutch Warmblood / M / 11 Tangelo van de Zwthoen x Julius
CHRISTIAN SORENSEN (CAN), Christian Sorensen: 12/149.64
6 WORLDS JUDGEMENT: Dutch Warmblood / M / 11 Judgement x Farmer
LISA CARLSEN (CAN), Alycia Hayes: 16/157.80
7 ABSIE: Belgian Warmblood / M / 14 Corland x Heartbreaker
ANDREW RAMSAY (USA), Shalanno Farms LLC: 16/161.91
8 FANTASY: Hanoverian / M / 9 For Pleasure x Acorado
DARRAGH KENNY (IRL), Oakland Ventures LLC: 16/164.09
9 ANTARES: KWPN / G / 9 Manhattan x Cavalier
PABLO BARRIOS (VEN), Stal Thijssen: 20/157.98
10 ACHIME: Warmblood / G / 9 Chin Chin x Heartbreaker
LESLIE HOWARD (USA), Jerome Guery: 20/163.90
11 RIVIERRA: Warmblood / M / 9 Cool Fontaine x Speed Clayetois
SCHUYLER RILEY (USA), van Decraen Lieven: 24/157.45
12 MAN IN BLACK: Dutch Warmblood / G / 12 Gentleman x Unknown
JACK HARDIN TOWELL JR. (USA), Jennifer Gates: 28/164.73