Parker, Colo.—July 31
When Erica Jarrell, sitting in the press conference with a gold medal around her neck, talked about the day of show jumping in the CCI* at the Adequan FEI North American Junior and Young Rider Championships, it wasn't even her own round and success with Uni Sprite she referenced.
"It was overwhelming," she said. "I was holding on for support to one of my grooms while my teammates were riding. Cornelia [Dorr] had the most beautiful show jumping round I've ever seen in my life."
The team from Area I (Jarrell, Dorr on Sir Patico MH, Katie Lichten on RF Luminati and Madeline Lichten on Yarrow) clinched the junior gold with a final tally of 150.7 penalties. Area III's team (Mikensey Johansen on Grey Prince, Carson Richards on Fernhill Mr. Cool, Parker Miller and What Law, and Haley Curry on Resolute Protector) ended on 160.8 penalties. The team from Area VI took bronze.
"I was just overjoyed for everyone," said Katie, who also finished seventh individually. "We had beautiful show jumping rounds, and we're such a tight team this year—we all love each other so much—to have it all come together with gold is really amazing. Individually it really confirmed my love for the sport, and that I really want to do this my whole life."
In the individual one-star competition, Carmen Holmes-Smith and Spartacus moved up from a tie from third after cross-country to gold (45.9 penalties) with her clear round. Haley Rosenberg and Evil Munchkin were second on the same score—with the tie broken by the cross-country optimum time, and Dorr earned bronze with 46.6 penalties. One rail down relegated cross-country leaders FE Akari and Annick Niemuller to fifth.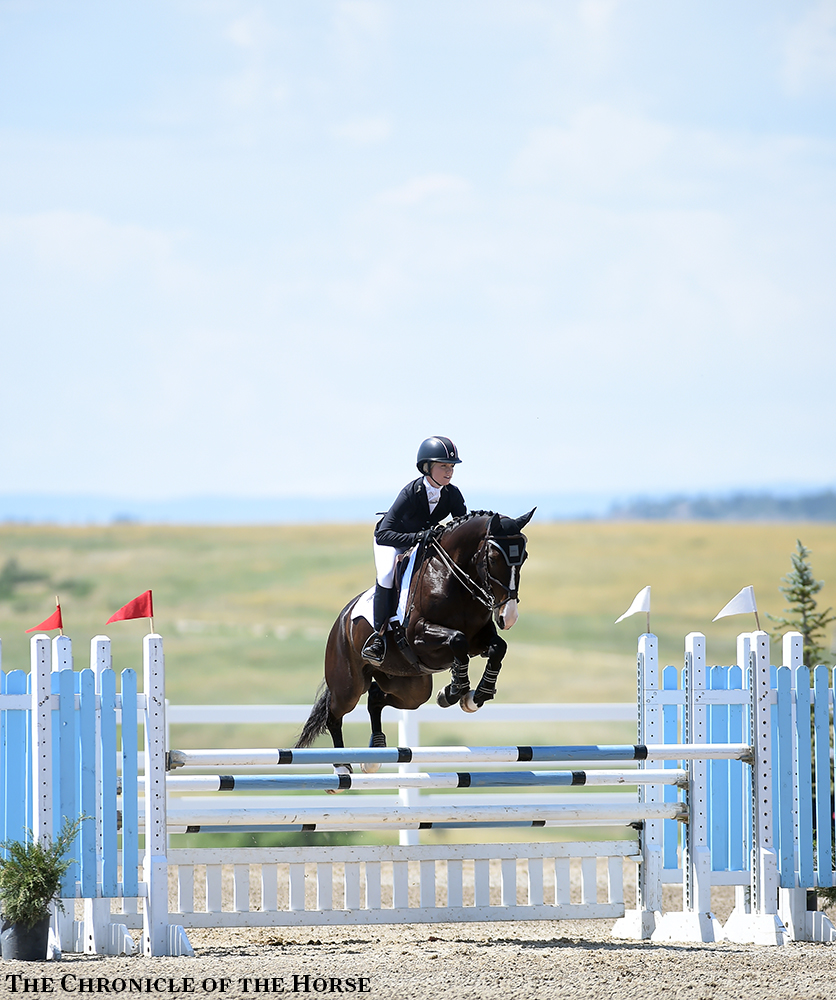 Carmen Holmes-Smith and Spartacus. Photo by Lisa Slade.

"I was thrilled with my horse today," said Holmes-Smith. "The scores were very, very close, and there was no margin of error. I hit one rail hard, which was nerve-wracking, but I was thrilled with how he stepped up and performed."
Holmes-Smith and her mount, who's been in her family for about four years now, started the weekend in a tie for seventh place, and they ended on that dressage score.
"It was pretty emotional," said Holmes-Smith, 18. "I didn't come into this competition thinking I was a contender for the medals. But he put in a beautiful dressage test. Cross-country is always pretty strong for us. We're usually good in stadium, but there's always that chance you can mess up, and it can ruin the weekend for you."
Rosenberg was another rider who finished on her dressage score this weekend.
"I mentioned yesterday that the horse is only as good as the rider, and I think we really stepped up as a pair today," she said. "I know he can do it, but I can't always do it. I was proud of myself for riding my horse to the best of my ability today. This has been our best competition ever."
Area V/IX Team Takes Gold With Three Riders
"It's just us three, and we held our own this weekend!" said Alyssa Phillips after winning team gold on Bliss III with Area V and IX in the CIC** with fellow riders Clara Cargile on White Indian and Madeline Backus on PS Arianna (189.7). The team from Ontario and Alberta earned silver with 218.0 penalties, and Area VI and VIII were bronze with 250.5.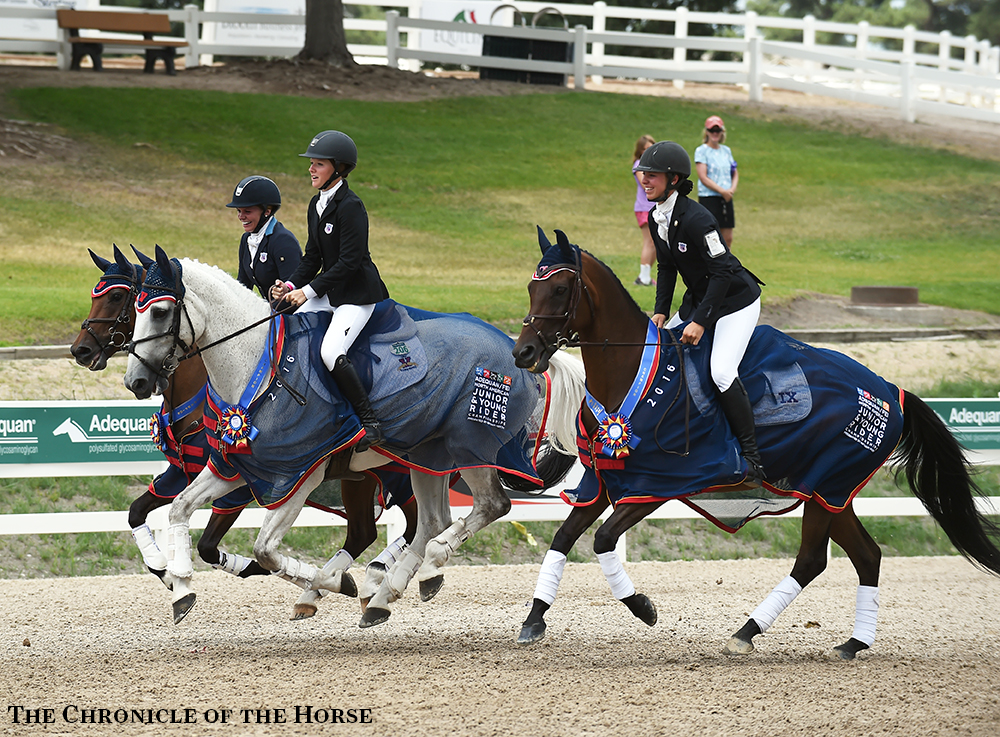 The team from Area V and IX (from left) of Alyssa Phillips on Bliss III, Clara Cargile on White Indian and Madeline Backus on PS Arianna earned CIC** gold. Photo by Lisa Slade.
"It's been a goal of mine for as long as I can remember to do the two-star at Young Riders, so to be able to do it—I wanted to take the opportunity while I had it," said Backus.
Cargill was leading the individual standings but she had the first rail down, which allowed Canada's Shelby Brost on Crimson to move up into first.
" 'Crim' is a bit of a freak in the show jumping," said Brost. "You just hang on and kind of stay out of her way. That last line was a little iffy, and she gave it her all. I'm so proud of her. I just kind of had to jump a clear round, and I would have had a medal. I was beyond thrilled with her to even be in second, and my coach came up after and said, 'How do you feel that you just won?' That was awesome, I didn't expect that."
See full results from the team and individual divisions. You can also read all the Chronicle's NAJYRC coverage.