Looking back on the year Eileen O'Leary had aboard Bahama Boy in 2016, it would be easy to focus on the ribbons. The pair took blue ribbons at the CFHJA May (Fla.), the Venice Hunter/Jumper Spring Concours (Fla.), and Ocala Masters (Fla.). Their crowning achievement, though, came as champions in the adult amateur individual division at the U.S. Hunter Jumper Association Children's/Adult Amateur Jumper Championships in Culpeper, Va., this past summer. They were the only pair to jump four double clear rounds.
"It was amazing. It all came together that weekend. I landed off the last jump, and I was crying and hugging him," said O'Leary. "I was so elated just to be there, and I couldn't believe we pulled it off and won."
For Florida-based O'Leary, this was the year a lot of things came together. She grew up fascinated by horses, but her mother couldn't afford lessons. A young O'Leary worked at nearby farms, mucking stalls, leading trail rides, and managing pony parties in exchange for lessons. As she got older, she became known as the girl who would test out green horses and work with sale prospects at Mary Donner's Spring Vale Farm in New York.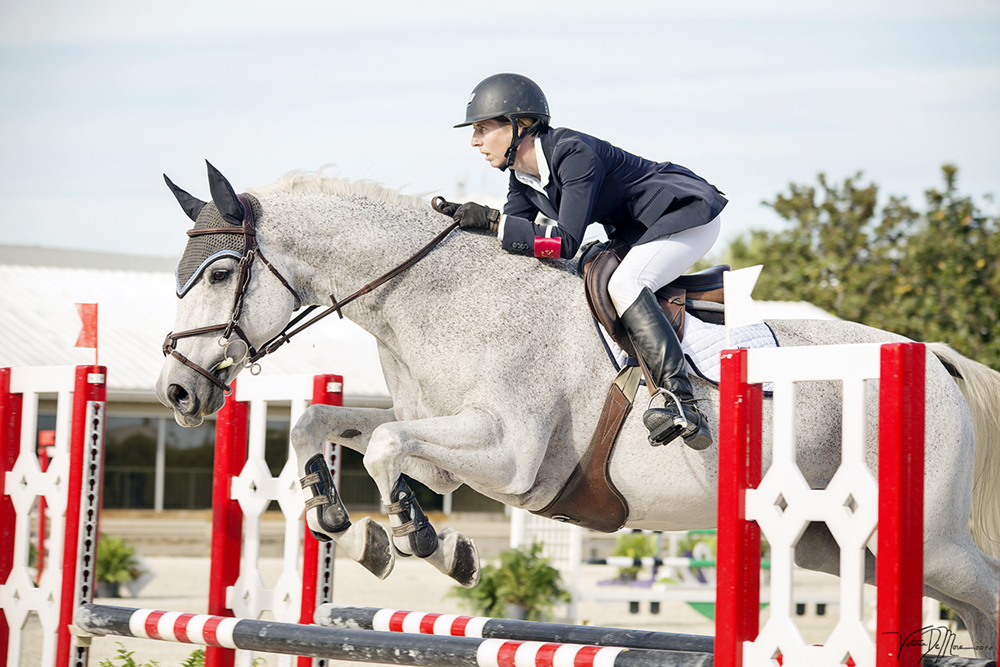 Eileen O'Leary and Bahama Boy. Photo by Brianna Juhl for Victoria DeMore Photography.
"They called me the crash test dummy because I would always get on whatever it was," she laughed. "I think in the long run that was really amazing because it made me a much better rider. Some of them would forget to put their landing gear down, some of them wouldn't jump at all, and some of them were the best horses in the country, so I got a really large exposure to a lot of different horses."
O'Leary resolved when she grew up, she would settle into a career that could give her both the means and the time to keep and show her own horse. She began leasing 14-year-old Dutch Warmblood Bahama Boy, fondly known as "Vincent" or "Vinny," about a year ago when owner Bre Pickens began hunting for a lease situation. Pickens was pregnant and looking for someone to take the horse on for a few months and keep him going while she had her baby. When Pickens saw how well Vinny and O'Leary got along, she agreed to a one-year lease. Now, O'Leary hopes to buy Vinny at the end of the lease.
Vinny has a reputation for being a handful if he doesn't click with a partner, so O'Leary was thrilled when, a few months into their time together, he gave her a hint that she was "in" with him.
"We were at a horse show in Venice, and we were coming down to the last jump in the jump-off, and I saw the flyer and Vince just said, 'Hang on, here we go. I got you,' " she remembered.
Vinny lives in O'Leary's backyard with her other horse, and she feels that extra time with him has made all the difference in their relationship.
"He's really like one of my best friends," she said. "He follows me around the farm. He comes up to the porch. If he never jumped again, I'd buy him anyway just so I could spend the rest of his life with me."
O'Leary's bond with Vinny is so strong in fact, she says she turned down a promotion earlier this year in part because of him. O'Leary is a registered pharmacist and field manager for CVS in Florida, and was offered the chance to become district manager.
"They basically said, 'If you take the job, in order to do it well, you're probably going to have to quit riding, or at least, you won't be able to show and ride like you ride now.' And I was like, 'OK, never mind,'" she said. "It would be lovely to make more money and all, but I work to live, I don't live to work. Horses are my happiness, and you've got to have that in life. If you give that up, the promotion doesn't seem worth it. Especially with the opportunity I had with this amazing horse. There's no way I could give up this opportunity, now that I finally had it."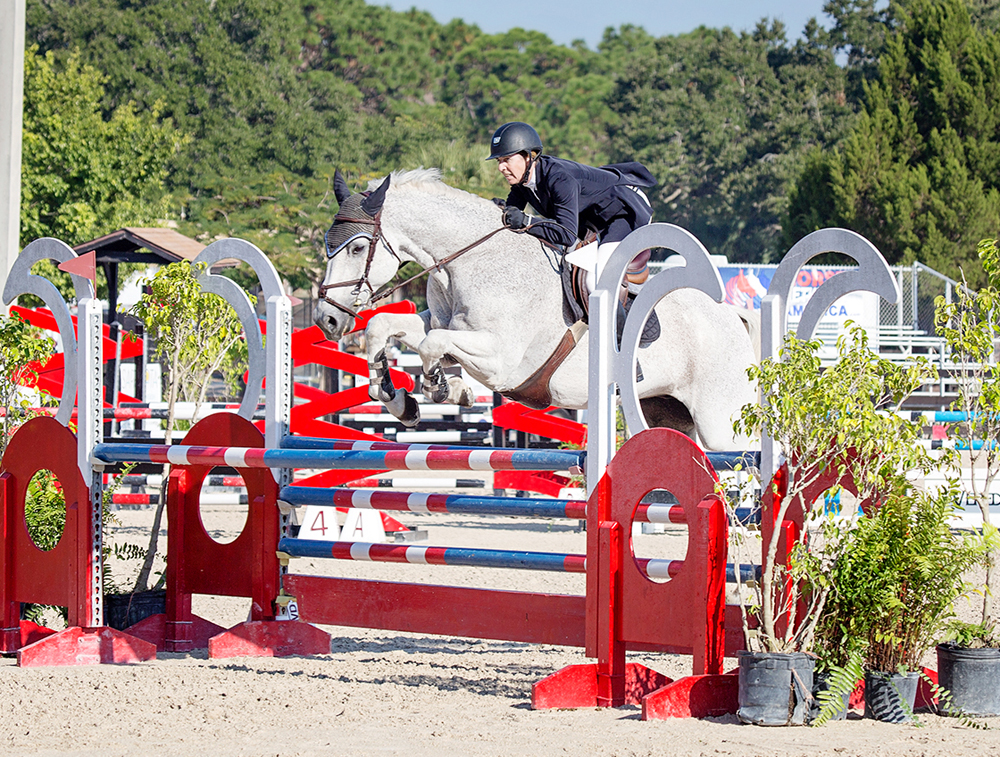 Eileen O'Leary and Bahama Boy at Fox Lea Farm in November. Photo by Farrah Butt for Victoria DeMore Photography.
Even without the promotion, though, O'Leary's job takes a lot of hours and a lot of weekends; she's made more than a couple of conference calls from the saddle on the way to the warm-up ring. She has to plan her show season carefully to account for finances and schedules, which in 2016 meant her husband, also a rider, gave up his show season to support hers instead. She also hauls Vinny herself, and that often means loading up late Friday night, driving to the show grounds, riding for two days, and coming home on Sunday. Luckily for O'Leary, Vinny is low-maintenance.
Last year was about throwing equitation classes into the mix for O'Leary, who trains under the tutelage of Natalie and Shawn Russell at Oakmore Equestrian. In 2017, she hopes to qualify Vinny for the North American League Championships, although that will mean choosing her classes wisely and remaining as consistent as possible.
After a childhood spent longing for her own horse however, O'Leary said the ride—especially the ride with Vinny—is much more important to her than the ribbon.
"I never thought I'd have an opportunity to ride a horse like him. I have one of the best opportunities of my lifetimes right now, to partner with a horse that I really get along with, who has the talent, who's easy and super fun to ride," she said. "Every time I walk into the ring, it's fun. Every single time. I never leave without a smile on my face, regardless of what happens in the ring.
"If we go out there and I won a class but I didn't ride great, I don't always feel so good at the end of the day. But if we go out there and ride our best and somebody beats us, that's OK because I can feel great about the way we rode. It's not always about the win, it's about going out there to do your best."