A few months ago, my low-maintenance, sound-as-a-bell draft cross came up with an amorphous lameness in one of her feet. It was nothing serious, just a minor ouchiness a lot like a stone bruise, but it wouldn't go away. After a few weeks of rest and foot packs I had a happy, somewhat fatter mare who still had an amorphous lameness, so I called the farm's vet to take a look. He did a lameness exam and agreed: it was such a small, infrequent misstep, it was almost imperceptible, but once you knew to look for it, it was there.
"What could be this minor yet also this persistent?" I asked.
"Probably nothing too serious," he assured me. The worst it could be would be some early arthritis or ringbone, but it was probably just an angle issue, and nothing a therapeutic shoe wouldn't cure. He'd come back tomorrow and confirm with X-rays. In the meantime, he told me, try not to worry about it too much.
This veterinarian did not know me well enough to know that before his truck was out of the farm driveway, I was Googling "ringbone." I had no prior experience with it, and am not sure what I expected to find, but it was more serious than I'd realized. Horses with ringbone don't have much jumping time left ahead of them. They may not have many more years of full-time riding ahead, either. Horses with ringbone don't automatically become pasture pets, but they can't be cured.
Because I like to be five steps ahead of problems (including those which have not yet happened), I sat on the tack trunk thinking: if the radiographs came back with very early ringbone, and we still had months or years of jumping and full work left, what would we do with them?
As I've written before, Jitterbug is a former neglect case. I started her under saddle with the help of a friend when she was five years old. I chose eventing for her because I knew she loved to jump, and she wouldn't make a hunter. Even though I grew up a hunter/jumper and knew little of the dressage seat, I knew we'd both spend so much time using dressage to build strength on the flat that we may as well compete at it. If it was too awful, I figured, at least we'd get to play on the cross country course at the end of the weekend.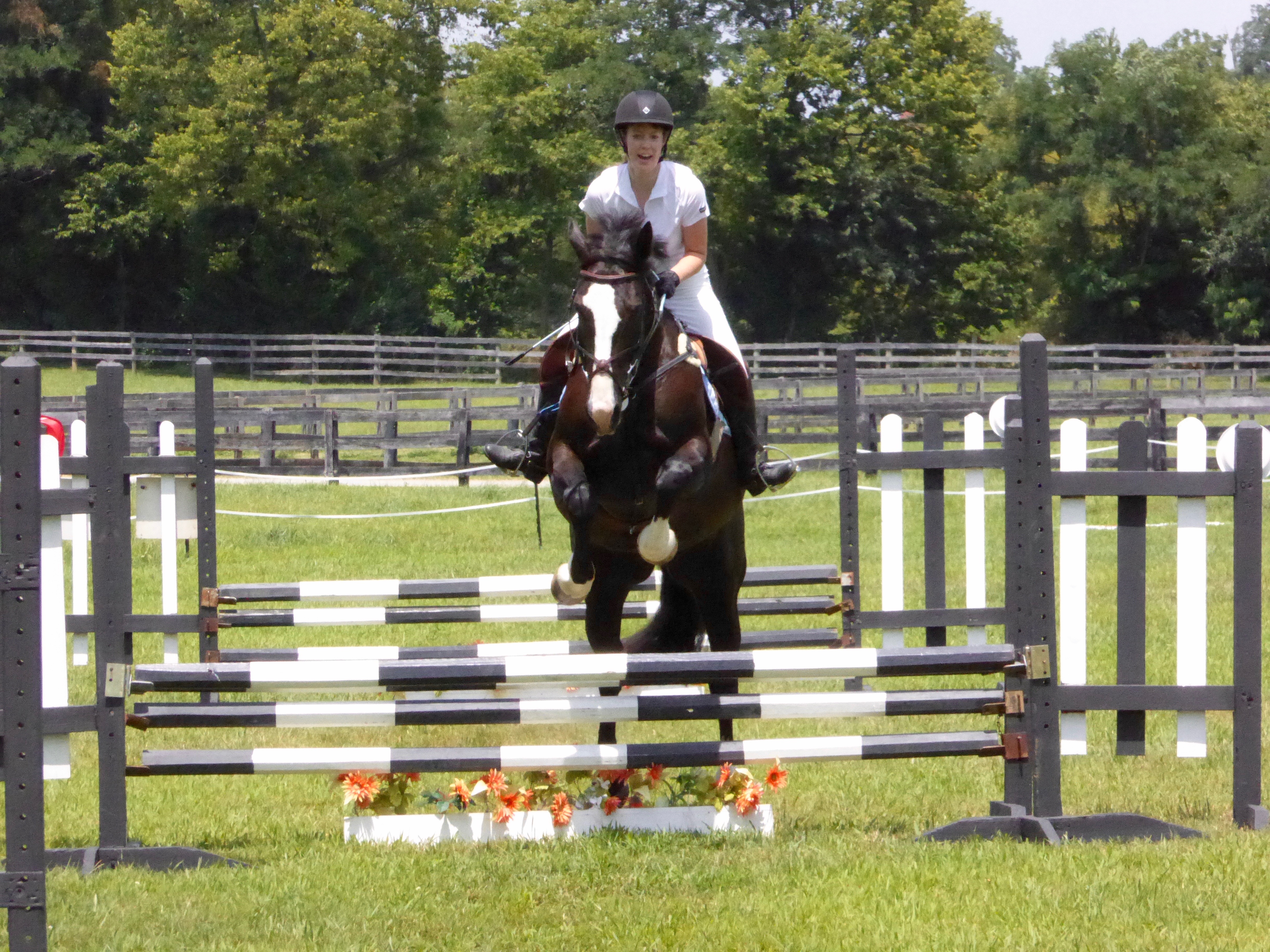 I had no idea how much she'd hate the repetitive nature of dressage, or how much I'd hate struggling desperately to build my skills and muscles fast enough to keep up with hers. The trouble with Jitterbug (if you haven't figured this out from her columns on managing people) is she'll put in double the effort an exercise takes avoiding the exercise in the first place, especially if it bores her. It's not that she's stupid; she's the really brainy kid in school who spends all his time in detention because he would rather hurl spitballs at the teacher than do a worksheet two grade levels below his intellect. The shame of it is, she's a nice mover when she applies herself. Even when she bucks me off, she does it with amazing balance and athleticism.
Our moments of success in the sandbox are so fleeting that it's hard for me to celebrate them, and each one represents so many hours of frustration on my part they don't often feel worth it. Dressage is the thing we have to work on all week because it's the thing we're weakest at…and because in its broad strokes, it's useful in the jumper ring. Dressage is like kale. Some people love it, other people choke it down because it's good for you, and I'm in the second group.
Our flatwork often puts me in mind of a famous saying about there being a difference between quitting and knowing when you are beaten. There's determination, and there's delusion. How do you know when you've crossed the line?
Jitterbug would happily jump school every afternoon of her life if I had the time and the guts for it. My plan has always been to complete a novice horse trial with her, and pay her back for her years of patience by switching to the jumpers. We'd still have to learn some dressage, but it would matter less if we spent 20-meter canter circles looking like a giraffe from time to time.
As it turned out, the radiographs showed no hint of ringbone, arthritis, or anything other than a need for a temporary small wedge to take pressure off what we suspect was an annoying soft tissue injury. Still, I wondered: you never know how many rides you have left with any horse. I know too many people whose time with their horses was cut short or altered unexpectedly. I don't want to look back and wish we'd spent less time eating kale and more time having fun. Our next dressage hurdle will be smoothing our canter; after years of sweat and tears, our trot is sometimes light and fluffy, but the canter feels so much harder to fix, so much more impossible.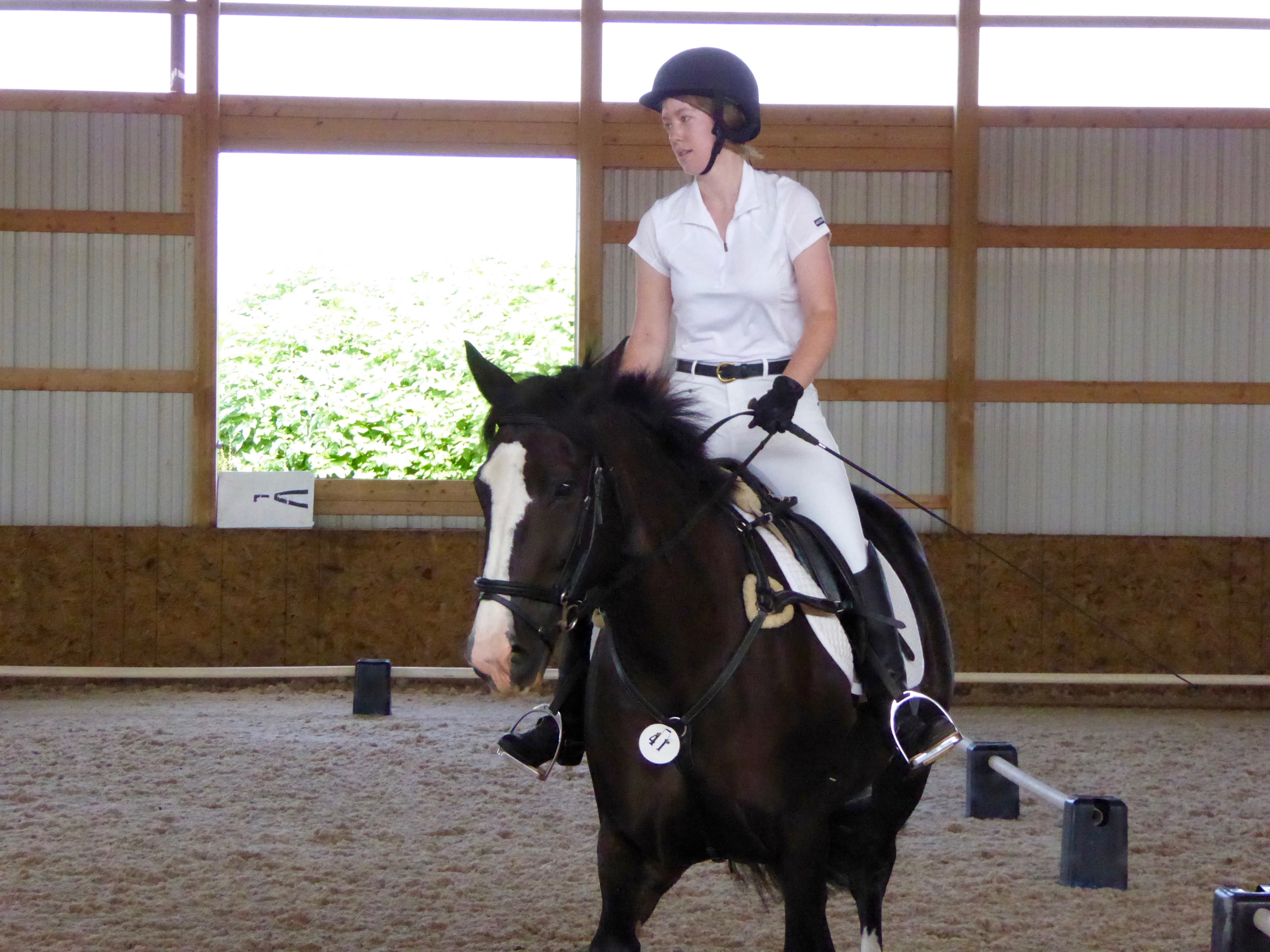 I brought all these ruminations to my trainer, who is a very relaxed, in-the-moment kind of person (which is why I'm happy to pay her my hard-earned money in exchange for her constantly telling me to "Calm down"). Thinking five steps ahead of any potential problem strikes her as exhausting and unnecessary, and she's probably right about that. She told me what she always tells me: Stop thinking about it so hard. Wait and see how the spring dressage lessons go. Don't assume you'll be a competitive jumper without copious dressage, because you won't; the only difference is, you won't get a score on it. And most importantly: you're not beaten yet.
So, we'll soldier on. The hand weights will migrate back into my living room, and Pinterest will once again direct me to a litany of core exercises based on my search history. With spring comes new hopes and a new show season, and we're not beaten yet.