"It's truly amazing how different your psyche is, depending on the horse's ears you are looking through," Susan MacRae mused.
Her off-the-track Thoroughbred Impromptu, who raced under the name Mo's Secret Heart (Mo Mon—Saratoga Luck, by My Prince Charming), are the ears she's been looking through lately, and she's enjoying the view.
MacRae, a business process analyst, has competed successfully in eventing through preliminary. After losing some confidence on a horse that wasn't the right match, she's bringing Impromptu, known as Riley, up through the ranks, setting her sights on the long format events she and her husband Duncan MacRae passionately support.
Susan, of Kintnersville, Pa., started riding in Pony Club as a child. Now 57 and an OTTB fan, she got her first horse in sixth grade, a $350 Morgan from the University of Vermont Morgan Horse Farm. She sold that horse, UVM Rival, when she went to college and instead rode friends' horses and catch rides.
The next time Susan owned a horse it was a Quarter Horse, and that mare took the former equitation rider to eventing.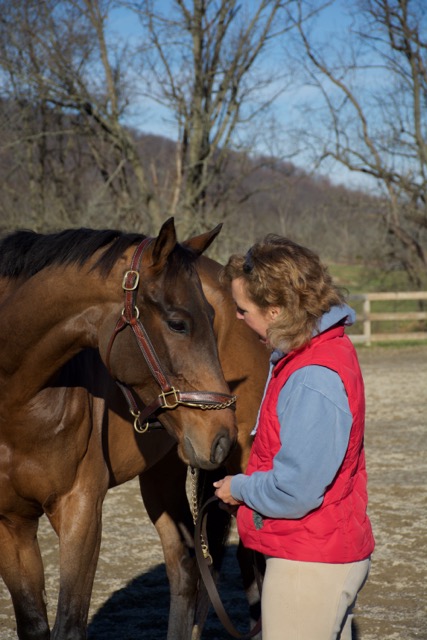 As Susan tells the story, her husband, Duncan, who works in golf course irrigation, was waiting to talk to a client who was a Quarter Horse breeder, and he saw a 3-year-old filly standing in her stall. "She's going to the auction Thursday, if you'd like to take her home," the breeder said.
Susan owned the mare, know as "Sadie" until the horse was 27. She was a "game little thing," she said. One day early on she took her to Bucks County Horse Park to school, and the green horse tackled everything put in front of her.
"Horses just don't do that; you need to event this horse," she was told. She went on to compete Sadie through preliminary under the name Singular Sensation (her name in the Quarter Horse registry was a less dignified Miss Cee The Sox).
Duncan, also a rider but at the time not an eventer, was not thrilled at first about his wife's turn to eventing. He'd once seen a horse die at Essex Horse Trials (N.J.).
"Wait 'till you go cross-country," she told him.
Go cross-country he did. Duncan would later compete his Thoroughbred, Flashpoint, (Regal And Royal—All Times, Al Hattab) up to intermediate and in the last long-format CCI** at Radnor Hunt Horse Trials (Pa.). "Tip" was his "horse of a lifetime" Susan said. Duncan went on to be the U.S. Eventing Association Area II chair. He is now an at-large Area II council member and Susan is recording secretary.
"I don't know now how anyone does eventing on any serious level without a supportive spouse or a spouse who is involved," Susan said, though, she admitted it was tricky when they were both competing.
The MacRaes groom for each other and even learned to coach one another at shows.
Duncan's current OTTB Take A Leap is a Storm Cat grandson, and Susan says he's everything you hear about Storm Cat descendants: "athletic, amazing personality, they'd just prefer to do anything you'd like them not to do." Duncan has been working patiently to figure out the key to "Leap," Susan said, and so has not competed in four years.
Riley earned Susan what she called her "15 minutes of fame," when she became a recipient of the 2017 CANTER Pennsylvania Becky Julian scholarship, which gives $500 each to three recipients to be used for training purposes such as lessons, clinics, camps or seminars.
Susan trains with Maureen Ferris of Elm Brook Farm in Warren County, N.J. Ferris encourages her students to learn from other trainers as well, and a result Susan has trained with current USEA President and avid amateur-supporter Carol Kozlowski and will use her scholarship to lesson with Canadian Olympian Samantha St. Jacques who also lives in Pennsylvania. "She seems to understand the Thoroughbreds, and not all trainers do," Susan said of St. Jacques.
Sadie wasn't the only horse Susan rode at preliminary. She also competed Tip. "Things get a whole lot more serious at prelim," she said. But Tip was a horse who gave his rider confidence. She remembers riding Tip at prelim and thinking the intermediate fences she was galloping by didn't look so bad.
Sadly, Tip died at age 20 of a heart arrhythmia after a "foot perfect" cross-country go at Fair Hill (Md.). Duncan posted on his Facebook page at the time that "he died doing what he loved and doing it with style and grace. He was a gentleman and a competitor and my best friend until his last breath."
Now it is Riley who is giving Susan confidence. Her previous ride was not a good match for her she admitted. "He did a number on me," she said of the gelding. "He dumped me dirty twice."
After discovering he has had kissing spine, he had surgery to help him, "but after that I was trained adrenaline-wise" to react to sounds and anticipate spooks. With the help of her barn's working student she was able to find him a career he liked, and the horse is now a successful hunter.
Susan pointed out that one of the challenges of a full-time amateur working with one horse is that you are stuck to a certain degree with the horse you have, and you are limited in getting the exposure and training you need.
And Susan isn't just an amateur rider. On top of her riding, job and doing course design and Area II duties, her other passion is embroidery.
She earned a master craftsman certification in crewel embroidery from the Embroiderers' Guild of America, which is a six-part certification program that took her about five years to complete. "I also embroider in a technique called thread painting or needle painting, which has very realistic results," she explained.
Her latest piece, which won a blue ribbon and a special award for best original design at the Woodlawn Needlework Exhibition in Alexandria, Va., in March, was a portrait of her Collie, Nicholas.
Susan points out that many amateurs don't have the time or the money, if their horse is not working out, to go buy another horse while working through the problems with their current ride. "I was lucky and had the funds to buy another when working with this one," she said.
One way that she recommends for getting more education as an amateur rider is to do what she has done and attend course design seminars to get "a better overall view of what the designer is asking—not just gallop around and jump." Susan is a course designer at the lower levels through training at Bucks County (Pa.).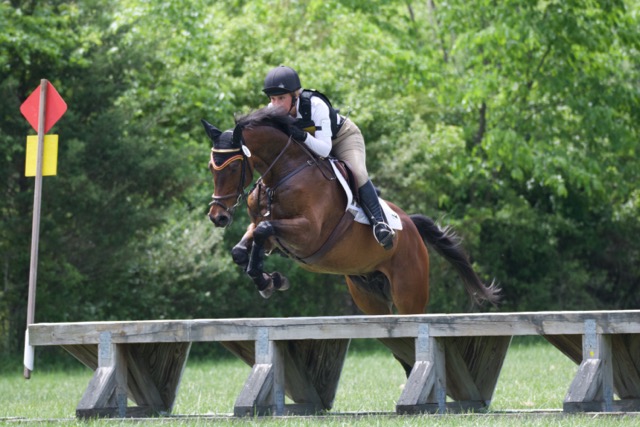 Riley isn't necessarily an easy ride. He didn't come to Susan straight from the track, and she doesn't know what was done with him in the meantime. "He had developed some really bad habits, but beside that he's such a kind horse and tries so hard to do what you want him to. So he's not perfect, but I'm comfortable on him," she said.
In addition to the right horse, how do you regain lost confidence as a rider? When asked if she uses techniques such as visualization, Susan laughed.
The one time she tried to follow Jane Savoie's advice and visualize the perfect ride, "I crashed."
Instead, she said, "the key to me right now is the horse I'm sitting on. Your confidence grows. You train gradually and don't put yourself in a position to be overly nervous. My trainer, Maureen, was very good about not putting me in situations where I would be nervous, until I said, 'I'm ready for more,' and that she didn't need to take such good care of me. Once I got on a different horse, it seems to have really gone away."
Currently, Riley is "tense in dressage, but not bad," and is getting better. She thinks whoever had him before might have been nervous and hung on his face, so it's taken some time for him to relax and stretch.
And when he went out to the cross-country warm-up, "it was as if he couldn't understand why there were a bunch of horses out there going in circles, but once on course, he had fun."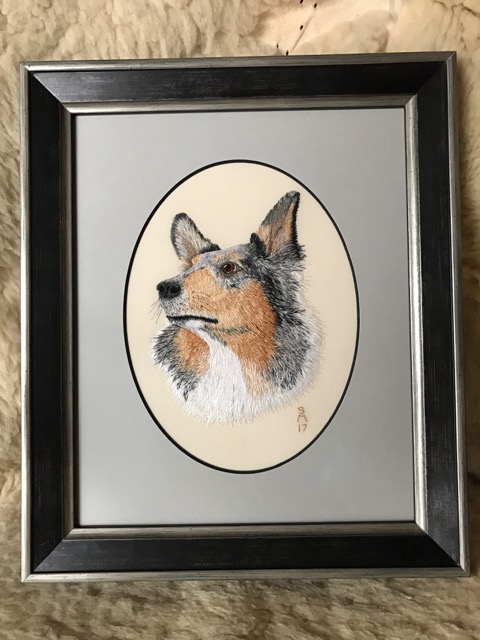 And Susan's CANTER scholarship is letting her build on that foundation and start taking him different places.
Eventually she'd like to do a long format event at prelim. Susan did a training three-day at Waredaca (Md.) in 2007, but went off course in the show jumping. "My husband and I both passionate supporters of the classic format," she said.
She appreciates the coaching and learning experience that comes with the long format, instead of focusing on the ribbons.
"I was amazingly competitive when I did the equitation championship," she said of her early riding days. "I was chasing points." And while she went on to be the New Jersey Horse Show Preliminary Adult Equitation champion back in the 1980s, she's now mellowed and "it really is fun to improve and learn, go to try to test that more so than for the ribbons and trophies. Maybe that's a function of getting older?"
For this competition season, Susan had set her sights on doing a long format novice three-day with Riley. But she says it may be that she does some unrecognized shows, and then a recognized event at the end of the summer. "It's more about trying to do the right thing, and if it takes an extra year to do that, then so be it," she said.