Renee Cash Chong overcame a string of tragedies, worked patiently for years, and drove 10 hours to Nampa, Idaho, to pursue her dream of riding a homebred to victory in the dressage ring. Her work paid off on September 21-24 when she and Icon DES took home the reserve championship in the adult amateur training division of the GAIG/U.S. Dressage Federation Region 6 Championships.
Cash Chong, 53, and her Dutch Warmblood gelding "Icon" (Sir Sinclair—Zenseo) hail from Oak Harbor on Whidbey Island off the coast of Washington state. She and her husband, Richard Chong, run a small operation breeding Dutch Warmbloods. Cash Chong is bringing the 4-year-old along herself, and this was his first show season.
"I have a lot of pride in him," Cash Chong said. "We started him last year for a couple months and then again in December of last year. He's exceeded all my expectations. He goes to shows and just settles in. When other horses are freaking out about stuff he's just relaxed; maybe it's because we have such confidence in each other."
Icon isn't Cash Chong's first homebred, but she endured a string of bad luck with past foals so he is the first homebred she's been able to compete.
"I've lost babies before," she said. "The first one I bred before Richard and I got married broke its leg as a 2-year-old and had to be put down. I've had a few like that, they've never gotten to the age that I could ride them just due to these tragedies."
Cash Chong got into the breeding game with the help of her husband, whose lifelong dream of breeding his own horses led him to import three mares from his home country of the Netherlands in 2004. He and Cash Chong married in 2010 and founded Dutch Equine Stables. While Cash Chong lacked direct breeding experience, she had been around horses and riding since she was little.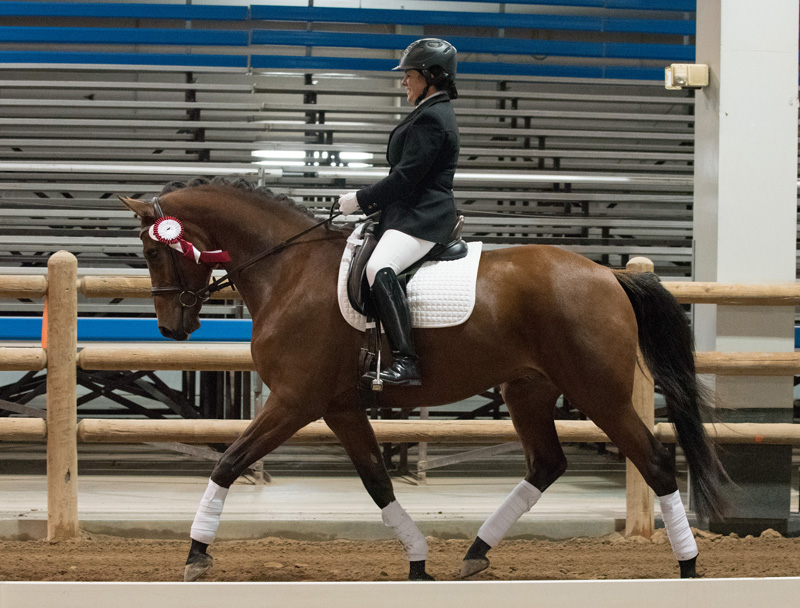 "My mom loved horses," Cash Chong said. "She was born in Germany in 1939 and food was terribly scarce. She loved horses so much that when the milk maid came with her horse and carriage my mom would trade her food for a chance to spend time with it. She rode—she was actually into dressage before I was, but never cared much for showing."
Cash Chong found her first horse at a local hunter show. After dozens of bays, chestnuts, and greys went through the arena, a palomino pinto cantered in and impressed Cash Chong and her mother with its snappy knees.
"She was 15 hands and just popped her knees up," Cash Chong recalled. "My mom was like, "I love this horse, this would be a great horse for you.' I went and tried her and had no control, I'd only been riding for a year so this pony took me for a ride. The owner pointed to some huge oxers in the ring and asked if I knew how to jump them. When I said no he said, 'Well you'd better learn, because the pony does!'"
College and work kept Cash Chong out of the saddle through most of her 20s, though she leased horses when she could. She attended the University of Washington and graduated with a degree in communications. She returned to the sport when she was 30.
"I couldn't stay away anymore, the horses have just always been in my blood," Cash Chong said. "I had purchased a mare who was green broke at 6-years-old, and my goal was to do eventing but the trainer I was working with was a dressage trainer. So we started with dressage with this horse because she didn't have any training. The rest is history. I stuck with dressage and never looked back."
Cash Chong fills her time out of the saddle as a real estate agent in the Puget Sound region. She's lived in the Pacific Northwest all her life and says that knowing the area so well gives her a definite advantage.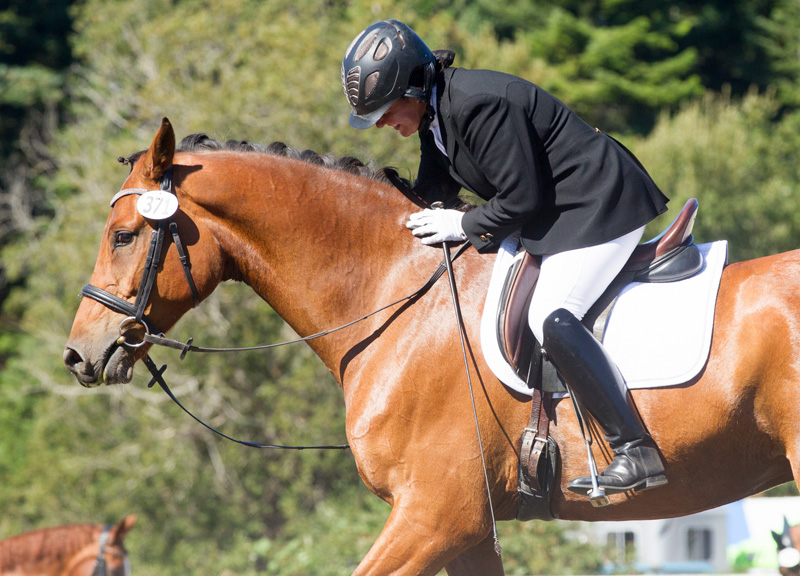 "I've been doing this for 23 years," Cash Chong said. "It's a great job to have with horses because it's flexible, and a lot of my clients are fellow horse people. I was working in retail as a store manager before this, and I just had to get out. I'd always had an interest in real estate, I had a relative who did it and every time she came over for the holidays I'd grill her about her job."
Despite Cash Chong's accidental entrance to dressage she's fallen in love with the sport and hopes to climb the ranks to Grand Prix.
"I like the challenge," she said. "I like that there's always something more to learn. It's kind of a perfectionist sport, so maybe that's what I am. It's a beautiful sport, and it's great for the horses. I'm really excited to move on. I've already got goals for next year. It's really exciting to be taking steps down that road. I told Icon in the warm up, I said, 'Okay buddy, this is the last training test you ever have to do!' I just can't wait to see how far we can go together."