When Rachel Colson went to look at Twice Royal at the track 11 years ago she thought she'd found a project she'd sell in a couple of years before finding the next one. Instead he's been a constant in her life, from dealing with jaw surgery and colitis for him, to college, marriage and losing her mother.
"We have saved each other," she said. "I was meant to be there for him when he had his medical difficulties, and he was meant to be there for me when my mom passed."
Two years ago Colson's mom, Michelle, suffered a stroke and died a month before Rachel's wedding. Having "Royal" as a constant through her grief helped her get back to a sense of normalcy.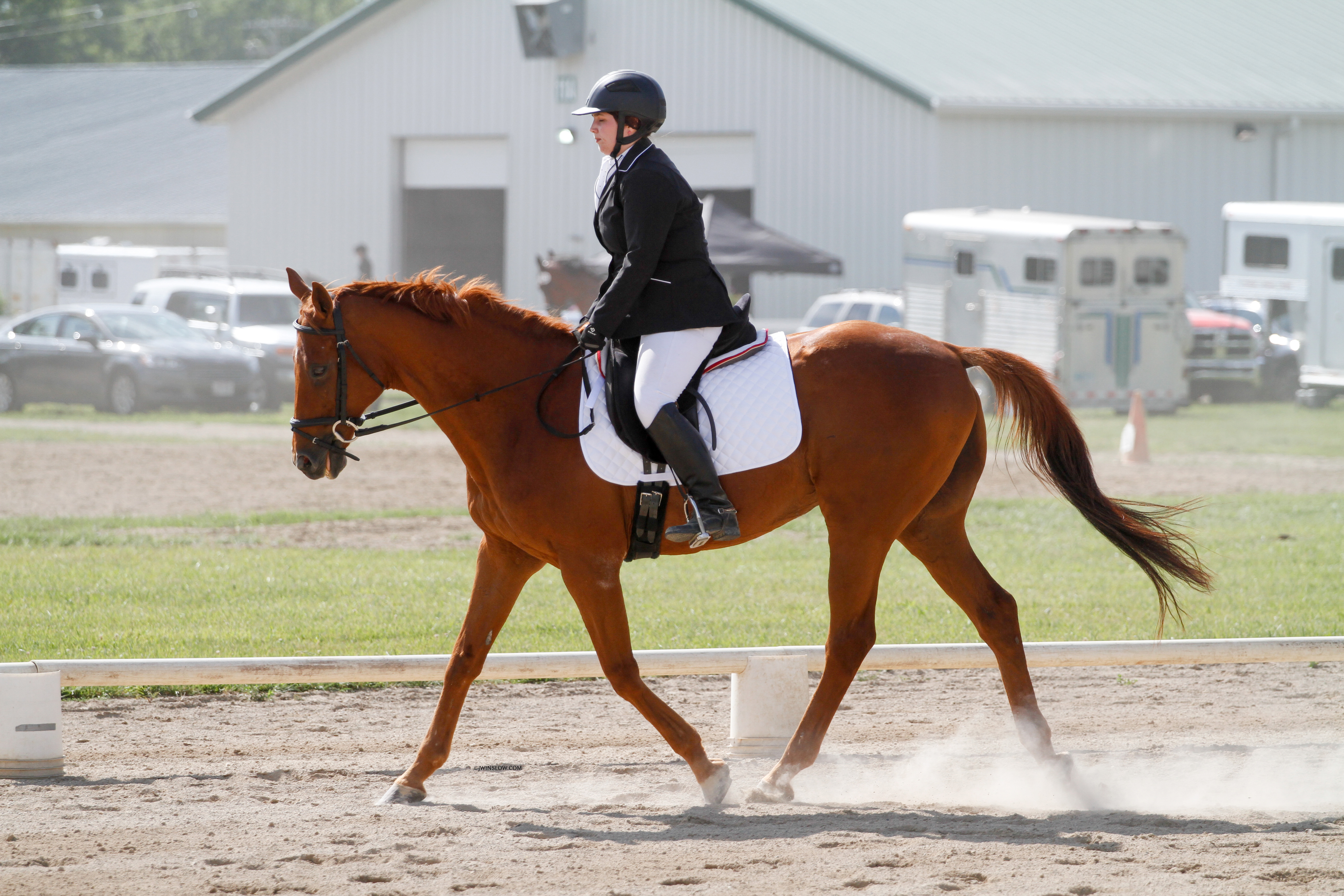 "She was always very big into the horses and supporting stuff," said Rachel. "After something like that you can either lose yourself in things that are for the good, like horses or volunteering. It was difficult. There's always good days, there's always bad days. Regardless, at the end of the day there's still things that need to be done, and there's still animals that need you, and that's the motivating factor. Also setting goals with riding and having that system with your horse. Your horse doesn't care at the end of the day what's going on. It's just having that constant there."
Rachel, 25, grew up in the Columbus, Ohio, area and started riding at 11 when she could work off her lessons.
"My parents were poor city people that did not know what they were getting themselves into by buying me My Little Ponies when I was 5 years old," Rachel joked. "Nobody had any experience with it. I had no family with horses. At the age of 11, I picked up a phone book and decided this is what I want to do, this is how I'm going to pay for it. It's like with anything, if you show determination and motivation it goes a long way."
Royal came into her life three years later when she got a call from a friend saying she knew of a horse off the track that might be a good fit.
"I wasn't looking at all, and to appease me my dad said, 'OK, we'll go down and look at this horse,' thinking he was going to be a complete mess and be psychotic. And the next thing we knew, a week later we had a horse," Rachel said.
Royal (Verzy—Queenly, Flying Paster) raced 100 times and earned $115,000 on the track before retiring at 10. Under the guidance of Pam Graham, Rachel brought the chestnut along at the local horse shows with the plan to sell him.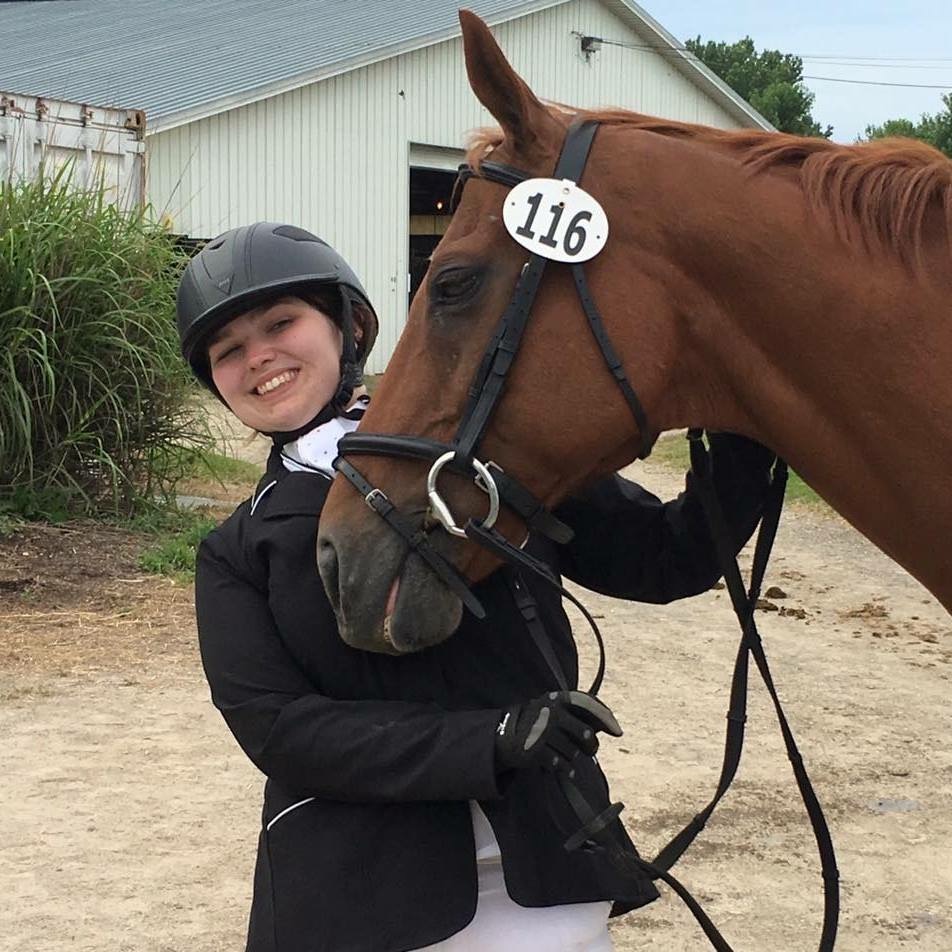 "My attitude always was, it's kind of part of the horse business. You have a horse for a couple of years, and then you take another step and move on," she said. "Within my first year of owning him, he wound up breaking his jaw, and he had several surgeries at Ohio State in which we found out that he had colitis. Through all of that you don't exactly have as much of the business or professional mindset. You get pretty attached, and from that point on those plans fell to the wayside, and we just had a really good relationship and a really good bond so we scrapped that idea."
When it was time for college, Royal got put on the back burner, as Rachel was working three part time jobs to pay her way. She'd ride occasionally but for the most part she devoted their time together to grooming and treats. Once she'd graduated, Rachel got back into riding, but Graham died unexpectedly in a car accident, and that encouraged her to take a step back. When she returned to riding, Bev Newton introduced her to dressage, and from that point she was hooked.
"I started to feel that connection and to get that suspension in the forward movement, and I was like, 'Wow! This feels great.' My horse is moving really well under me, and I felt that connection, so it was just more fun than jumping fences."
These days she's riding with Renee Peters and made her dressage showing debut this season at intro and training level.
"Our first show of the year was a little interesting. My 20-year-old horse was acting like a 5-year-old," Rachel joked. "It was easier in a mental aspect of saying, 'We're doing flatwork now,' but the transition in frame and position was a lot more challenging. We spent four months working on getting that more balanced frame and that connection on a circle at the trot. A hunter seat is much different than a dressage seat, so at my first show, instinctively because you get nervous or tense at shows you go to what you know. So here I am in my dressage saddle and I'm perching forward and my trainer's like, 'Oh my God, I don't know her!' "
The year held a lot of milestones for Rachel and Royal as they competed at their first recognized show at the Kentucky Horse Park and finished their season with their best scores to date, earning multiple year-end awards.
Rachel fits her riding in around her busy job as a psychiatric and addiction registered nurse. She works both in the psychiatric offices and at the hospital, meaning her hours are often long and fluctuate week to week, so she sits down at the beginning of the week to plan her riding days and schedule a lesson.
"I set out my agenda at the beginning of the week and go about that. I decide which days of the week are going to be Crockpot days, and which days my husband is buying dinner," she joked.
She married her husband Josh Clevenger in March 2015, and joked that she hooked him in a time when horses were less of a priority so he was in for a bit of a shock.
"He didn't realize what goes into shows and what goes into riding until after we got married, so it's a good thing he did not know about that ahead of time because it may have scared him a bit," she quipped. "He supports me, and he's interested in everything from being on the ground. He's been on a horse one time, and I think that's enough for him. He's the official bucket and coffee holder, two very important things."