Growing up riding in the hunter/jumper ring, Maureen Reilly always wanted to own a horse, but college and building a career meant that didn't happen until her 30s.
Now, several years and a discipline change later, she's enjoying eventing and the challenges it brings.
'ÄúFor me, it'Äôs just that I'Äôm at 51 jumping higher than I have in my life and competing higher in my life. My original goal was training [level], and [my trainer] Leslie Law said I'Äôm good enough to do more, and here we are looking at it,'ÄĚ she said.
Reilly balances her busy career as a pharmacy manager at Walgreens and finds time for at least five rides a week on her horse, Pony Soprano, who sports a unique breeding of 'Äú3/4 Thoroughbred, 1/8 Shetland and 1/8 Arabian.'ÄĚ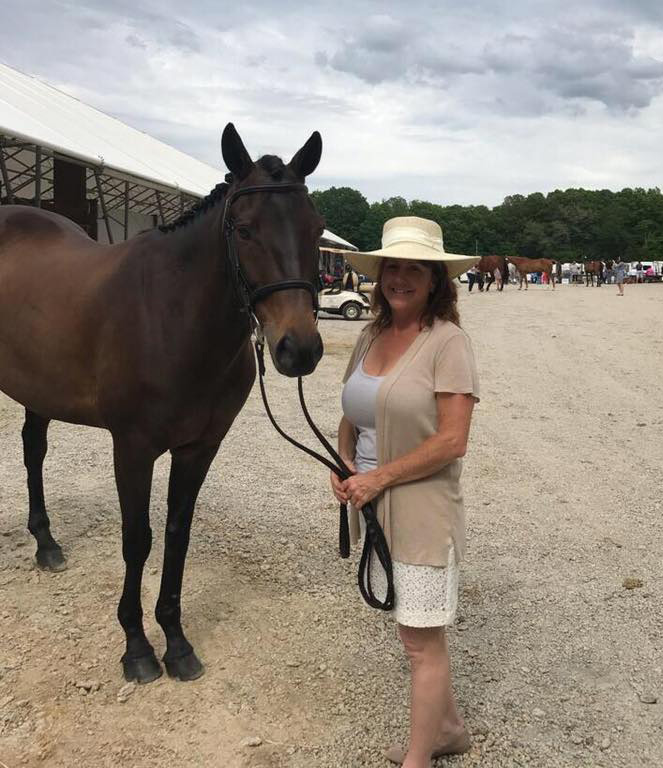 A University of Florida graduate, Reilly spent 14 years teaching high school biology and chemistry, before she went back to the same school to become a pharmacist.
Since moving to Dunnellon, Fla., in 2009, she resides in the heart of horse country where she's able to ride at her 20-acre farm and also haul-in for lessons at event and dressage barns. Reilly picked riding back up in her 30s, but it wasn't for another 10 years until she was finally able to event.
'ÄúI started riding when I was 11 in hunter/jumper and didn'Äôt get my first horse until my 30s. I came up through Pony Club and couldn'Äôt afford a horse, so I rode whatever was available as a kid. I always wanted to event,'ÄĚ said Reilly.
She tried to make a hunter/jumper mare into an eventer, and when that didn't work, she got in touch with the Ocala, Fla., eventing crowd and bought Pony Soprano four years ago to event more seriously.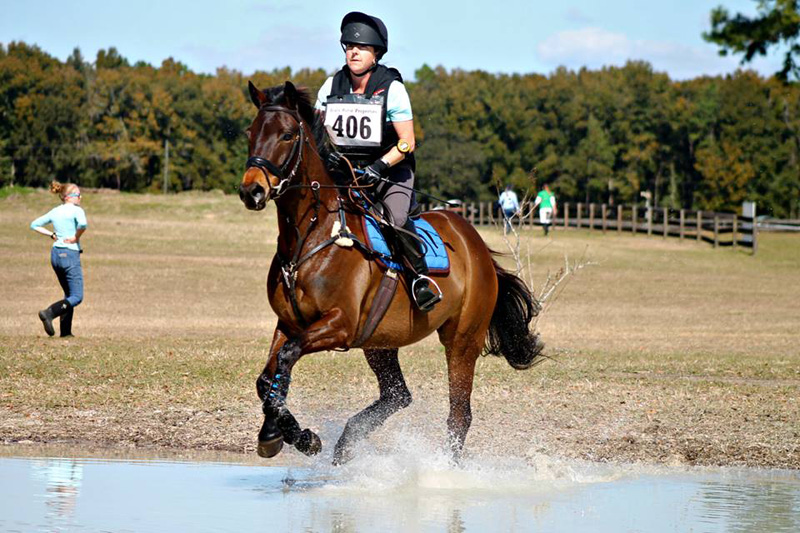 'Äú[Pony Soprano] is kind of interesting. He was supposed to be a fancy large pony, but he just grew too big,'ÄĚ she said jokingly, adding that she had to change his original name of Blue Traveler to a more lighthearted one. 'ÄúMy girl friend and I were at the barn aisle at Rocking Horse [Fla.], and he whinnied'ÄĒthis stupid high pitched whinny'ÄĒand my friend was like, 'Äėholy high pitched whinny, he'Äôs a soprano.'ÄĚ
And thus the Pony Soprano name was birthed. The name was additionally inspired by Reilly'Äôs obsession with the 'ÄúSopranos'ÄĚ TV show on HBO.
Ever since, they'Äôve been a match'ÄĒboth with their sizes and personalities. Reilly stands at 5'Äô3'ÄĚ and her mount, nicknamed 'ÄúCurry'ÄĚ (Miner'Äôs Lamp'ÄĒChelsea'Äôs Christan), is 15.2 hands.
'ÄúWe'Äôre a good fit. He'Äôs got a little pony personality, which I love,'ÄĚ she said. 'ÄúHe'Äôs kind of playful sometimes and super confident. He'Äôs very like 'ÄėLet'Äôs go! Let'Äôs do it!'Äô and likes to get out there on the cross-country field. He also does well in the stadium, but when it comes to dressage, it'Äôs like 'ÄėOh here we go.'Äô 'ÄĚ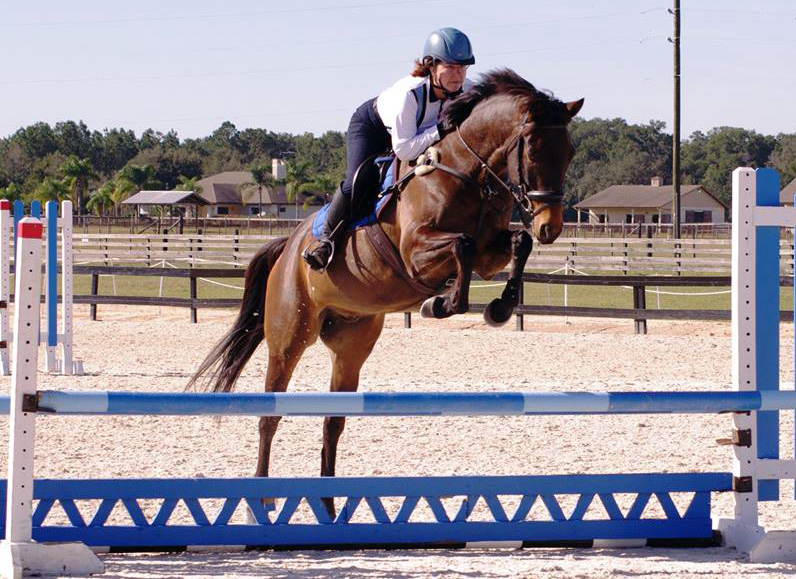 Reilly knew that Curry would be a good candidate for her when she tried him at an eventing farm where a landscaping truck pulled up with rackety rakes and shovels making noise.
'ÄúI thought to myself, 'ÄėI'Äôm about to die.'Äô He perked his ear, turned his head, and that was it. I was like 'ÄėOK, I can relax.'Äô It didn'Äôt faze him at all,'ÄĚ she recalled fondly.
She began competing Curry at beginner novice in 2013 and has since moved up through to training, but it's not only about the competition for Reilly. Although she initially feared how she would handle the cross-country terrain with drops and solid fences, which is far from the rings in the hunter/jumper world, she's grown a lot as a rider, especially with her confidence.
When Reilly first started riding with Law at Law Eventing in Ocala, he encouraged her to move up to a higher level than she entered at an event and has since continued to instill the same confidence in her. Because of this, Reilly now has her sights set on preliminary as a goal for fall 2018.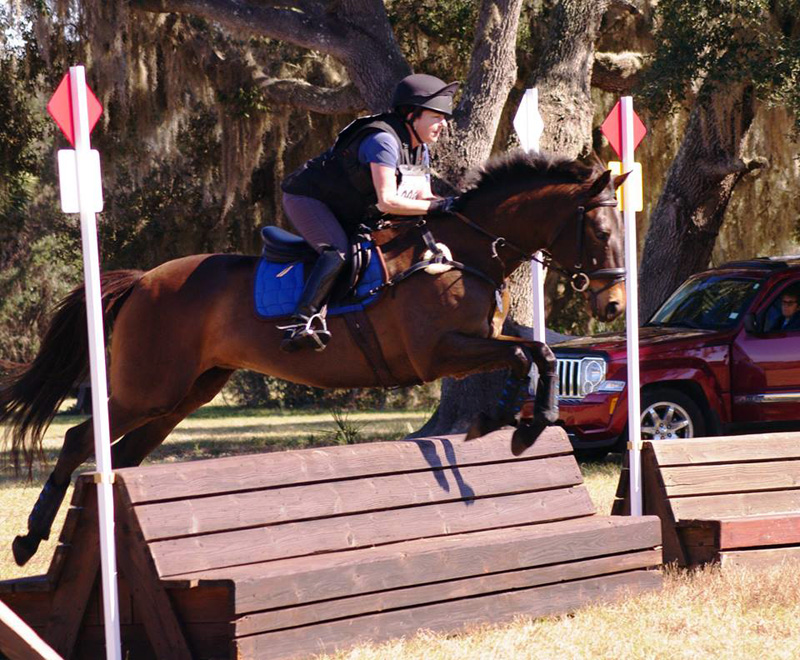 'ÄúIt was putting in the hours in the saddle to get confident, taking lessons, and at times it'Äôs always a little bit scary, but it'Äôs really exciting and fun. As you get more comfortable at that level the next one up doesn'Äôt look so bad,'ÄĚ she said.
She referred to Curry as a 'Äúlittle jumping machine,'ÄĚ but if there is a weak link in the three-day competition setting for them it'Äôs the dressage portion.
'ÄúHe'Äôs not an easy horse for dressage. I think it'Äôs a combination of both of our weak areas. It would be nice if one of us was good at it and the other was learning, but we'Äôre both learning what to do,'ÄĚ she joked.
Although she started eventing at a later age in life, she said, 'ÄúYou'Äôre never too old for anything'ÄĒjust start at your own pace, and work at it. There'Äôs no shame if you stay at whatever level. If you have the confidence to go further it'Äôs great!
'ÄúI think you just get out there and do it and get the best instruction you can get,'ÄĚ she added, which is exactly what she did'ÄĒand it worked.