When Lynn Harrington entered the ring at the Washington International Horse Show (D.C.) last October, she had hopes of making it to the second round of the adult amateur hunter championship. Although she didn't quite achieve that—finishing 22nd of 31—she now believes she walked away with a much greater gift than if she'd actually won the blue ribbon.
The day before at the USHJA Zone 3 Championships, Harrington made a mistake in the warm-up ring aboard North Coast, the Dutch Warmblood she half-leases. It was a big mistake. She and her horse crashed through a jump and Harrington took a tumble. She brushed herself off, hopped back on, and did another line before heading to the show ring.
A year earlier, Harrington says that situation would have made her completely abandon the show. Never mind that she had qualified two horses for Zones after having been back in the saddle for just a couple of years after a break; Harrington had struggled with fear ever since her return to jumping and showing, and incidents like this were exactly what she'd envisioned when she got nervous.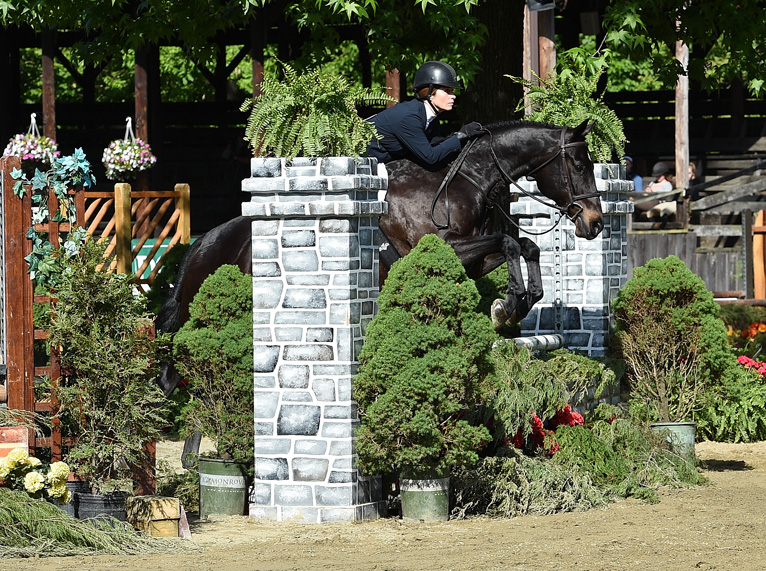 Instead, Harrington took North Coast on the ramp to the show ring, and another competitor stopped her.
"She says, 'Lynn, leave the schooling ring behind. You know what to do. You've got this,'" said Harrington. "It meant so much coming from an amateur, and one of my competitors, instead of my trainer." Harrington did leave the schooling ring behind, and put in rides she was proud of on North Coast and her Connemara cross, Bright Star.
After years away from the sport she loved, those rides were big ones for Harrington. Her first experience with horses came when her grandfather put her on the back of a pony outside a Carvel Ice Cream stand in New York City. From that moment, she was in love. Harrington grew up showing hunter ponies until she went to college, and graduated to the adult amateurs afterwards. She dabbled in lower-level eventing and foxhunting. Then, about eight years ago, she decided to take a break.
"I was afraid to take a break but I was afraid not to take a break," she said. "I was like, 'I can't be horse rich and cash-poor,' and, 'Oh I'm turning 40, I need to buy a house.' The maturity of life started catching up, but boy did I learn a lesson: horses are much more rewarding, and sometimes lucrative, than a house."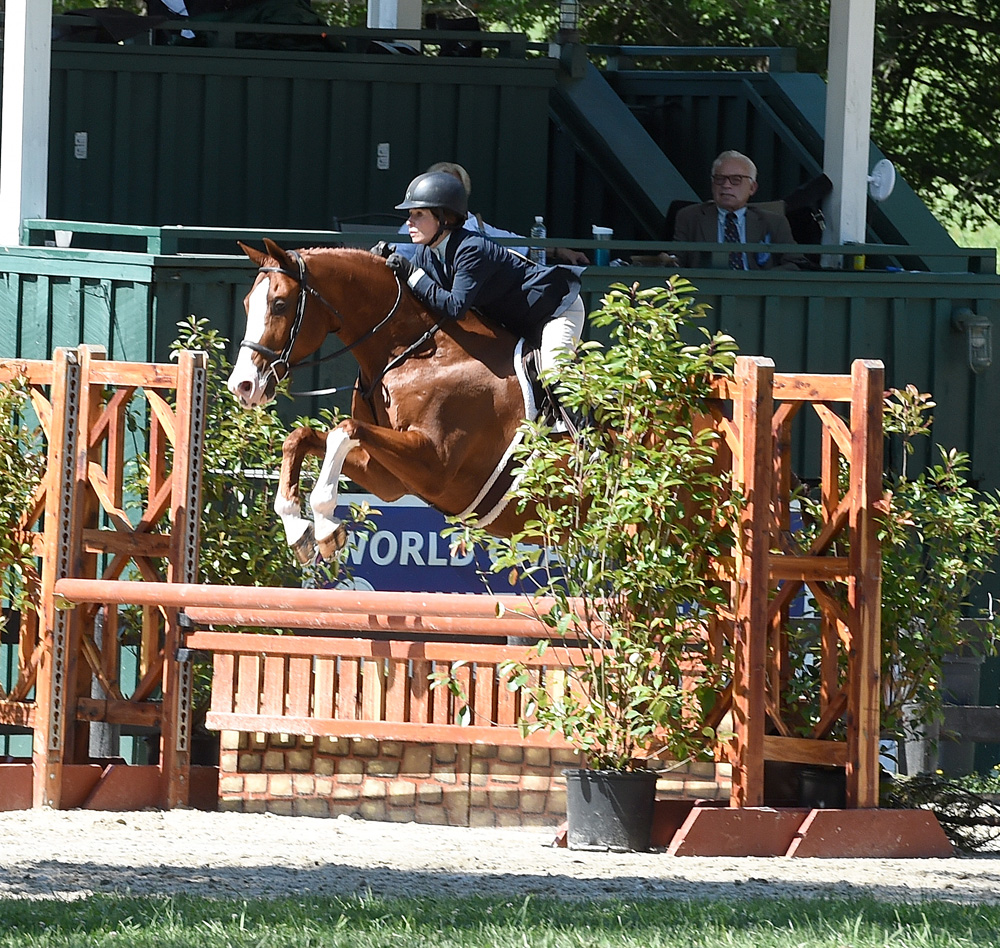 When she began taking lessons again, Harrington learned she had a new problem: fear.
"At first it was, 'I'm going to kill myself' [from making a mistake,]" she said. "I really was petrified. It was irrational. It was about lessons and showing and jumping."
Harrington remembers her fellow boarders at TuDane Farm in Middleburg, Va., joking they would make her her very own branded barf bags. Luckily, they didn't have to do that.
Once she got a little more time in the irons, the fear shifted to particular tasks, and ultimately centered on a fear of failure. Together with trainer Jonelle Mullen and sports psychologist Margie Sugarman, Harrington has built a mental toolbox to help her conquer her fears.
Mullen started her from the ground up, letting Harrington jump tiny courses until she got bored with them. The other key was putting her on patient horses who forgive her mistakes; both North Coast and Bright Star are schoolmasters and very willing partners when given focused instruction. She has developed breathing techniques to calm her mind and nerves, and has mantras to help her count her way through a difficult line.
She even practices visualization, but not just by imagining positive scenarios—for Harrington, it's much more helpful to visualize the situations that scare her, and walk through what she'll do if they arise.
She has also learned to cut herself a break when looking back on a ride; sometimes the most important thing for a rider dealing with anxiety is just showing up and completing the task. For some people, that can be a tremendous challenge on its own. The added pressure of wanting to win the class can make the situation seem totally overwhelming.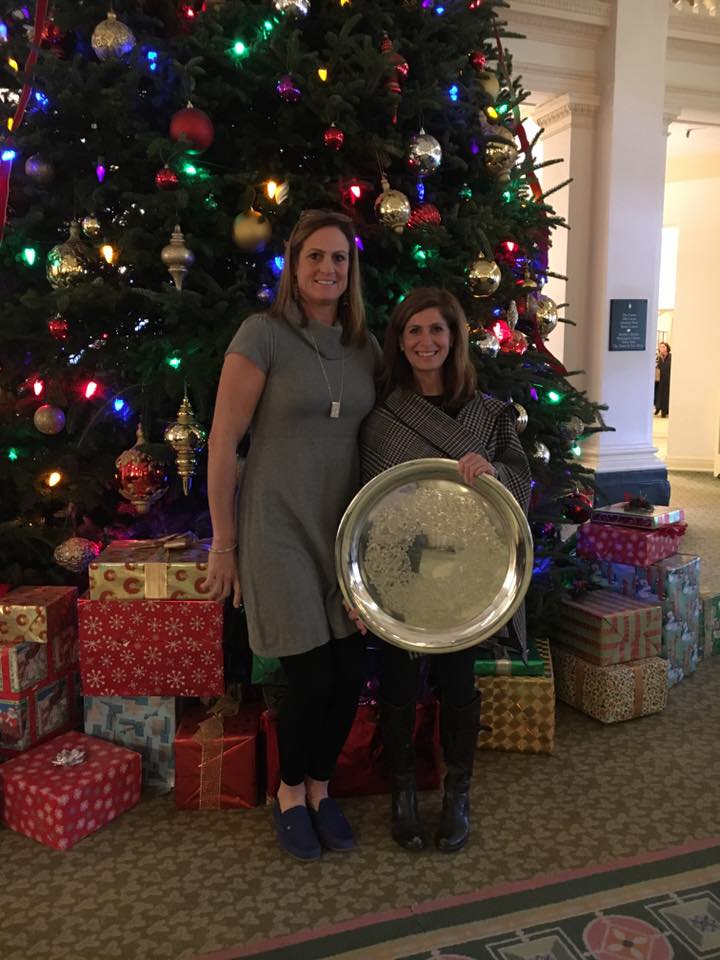 "I realized, 'You're trying to fulfill something you'd always dreamed of doing when you were a kid; you've got to give yourself a break,'" she said. "We're trying, especially in show hunters, to be perfect. You can't always be that way."
So, in the name of not trying to be perfect, Harrington set her 2016 goals based on qualifying for the Virginia Hunter Championships, which takes into account the number of sanctioned shows a competitor attends, rather than their placings. When she rode well enough to make it to Zones, as well as the Washington International finals and the North American League Adult Classic with Bright Star, she was surprised and thrilled.
Harrington went from her upsetting warm-up experience at Zones straight to Washington. As she was waiting for the tack trunks to be unloaded in the stabling area, she spotted the girl who had encouraged her on the way to the show ring at Zones, standing beside her trainer.
"I said, 'Oh gosh, Vanessa, I've been wanting to send you a note. I've been wanting to tell you how much I appreciate your kind words and your encouragement. It really helped me,'" she remembered. "And she goes, 'Oh Lynn, we saw you in the schooling ring we saw you march down that ramp, show two horses and we both looked at each other and said, 'Gosh, that girl's tough as nails.' And I thought 'if you only knew how much I deal with fear and anxiety and what a wimp I am!'"
Harrington didn't get the type of ride she had hoped for at Washington. Bright Star was completely distracted by the lights and commotion, much to her surprise. Harrington lost her stirrup over the first fence and missed the second.
"I sat there and thought, 'Plan A was to get into second round. Damn. Plan B? Better get around this ring," she said.
They made it through in one piece, although Harrington said she's sure it wasn't pretty. It was one of the gutsiest rides she had ever put in, by her estimation. It wasn't until afterward she realized what the experience had meant to her.
"After a few weeks, after I came down from all of it, I realized, there's regrets, but I started to look at it differently," she said. "I thought to myself, 'Maybe the big win doesn't come in the form of a ribbon or prize money. Maybe the big win for me at least this year was, 'Oh my gosh, I didn't know this, but maybe I'm tough as nails.'"
That toughness might be the reason Harrington won the Virginia Horse Show Association's Sportsmanship Award for 2016. She was nominated by her peers, and after her initial surprise at being named the winner, stressed that for amateur riders, most victories are a sort of team effort.
"This is not my award," she said. "This is an award I share with everyone around me. Going back three years and just wanting to get back to my adult amateur division and do a 3-foot course and do it well, was extremely daunting. What really dumbfounded me, and it continues today, my amateur rider community—the adults, the ammy owners, they are so supportive. I had total strangers supporting me. That was a big reason I think I was able to manage my fear and build confidence, and my trainer saw it too."
Sometimes, as Harrington knows well, the amateur rider's brain can play tricks. It can convince you you've forgotten how to do something when it's actually muscle memory, or that jump's six inches bigger than it really is, or even that you'll never stop being afraid. She's hopeful (as so many of us are) that it's equally possible to turn the tables and trick the brain by telling it, 'I'm too tough to hear you.'
Harrington hopes her newfound grit will carry over into 2017. So far, so good: she went to one show in December, where she feels she put in the most consistent set of performances she's ever had. No matter where the year takes her, Harrington wants to meet it, head-on.