For Elisabeth Roberson, it's always been about the Thoroughbred, but when she picked out Skippin' Church as a 3-year-old with a dozen races under his belt, she had no idea how much the chestnut gelding would change her life.
Roberson has battled health issues for much of her adult life, but the prospect of reaching "Seven's" full potential as a jumper helped her through difficult times.
"He's a gift. Everybody has a horse of a lifetime, and he's mine," said Roberson. "He's inspirational. He was so easy to bring along, so cooperative. He jumps in beautiful style, and he's brave to the jumps, and I've just had so much fun on him. He jumps way bigger than I know how to jump."
Roberson, 62, grew up riding with a retired riding instructor from Fort Riley, Kan., Lt. Col. George Tomcho, who taught her the basics of riding hunters and jumpers. She sold her horse to attend Ohio State University as an agricultural economics major, and upon graduation immediately bought an off-the-track Thoroughbred.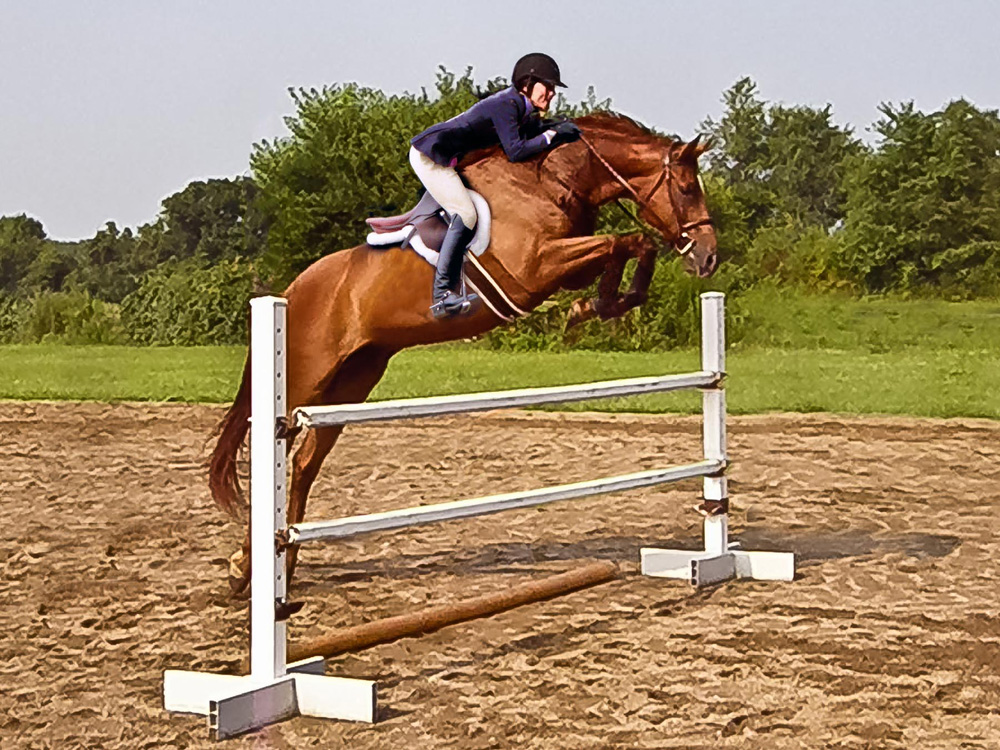 Roberson eventually sold that horse and bought another Thoroughbred mare, In Vogue, to do the amateur-owner hunters with. She was also able to purchase her own farm.
Roberson showed in Ohio in the late 1980s and early 1990s with In Vogue and had some success, but in 1989 she was diagnosed with Hodgkin's lymphoma. She had radiation treatment and rode through it, but it was difficult.
In 1994, she was diagnosed again and underwent chemotherapy, and when she tried to ride through it but didn't have enough strength, she sold the mare.
But Roberson couldn't be without a horse for long, and 16 years ago she found Seven through a local horse show connection.
"He was looking at me out of this dark, dirty stall. This lovely, very typey, very classy Thoroughbred put his head out, and I fell in love," she said. "He told me I could take him out of his stall, and the first thing he did was run over me—and he still runs over me to this day!"
Unfortunately the gelding got his feet stuck through a wall as a 3-year-old and cut his pasterns to the bone, requiring a year of rehabilitation.
After that things were fairly smooth sailing with Seven (Believe It—Mar Toon, Talinum), who raced 12 times under the name Sevenbigones.
After a successful year of showing in 2008, Seven had a pasture accident the following year when he slipped in the mud while cantering in the field. He had a hitch in his gait, and after consultation with several vets that didn't yield a solution, Roberson turned him out for six months.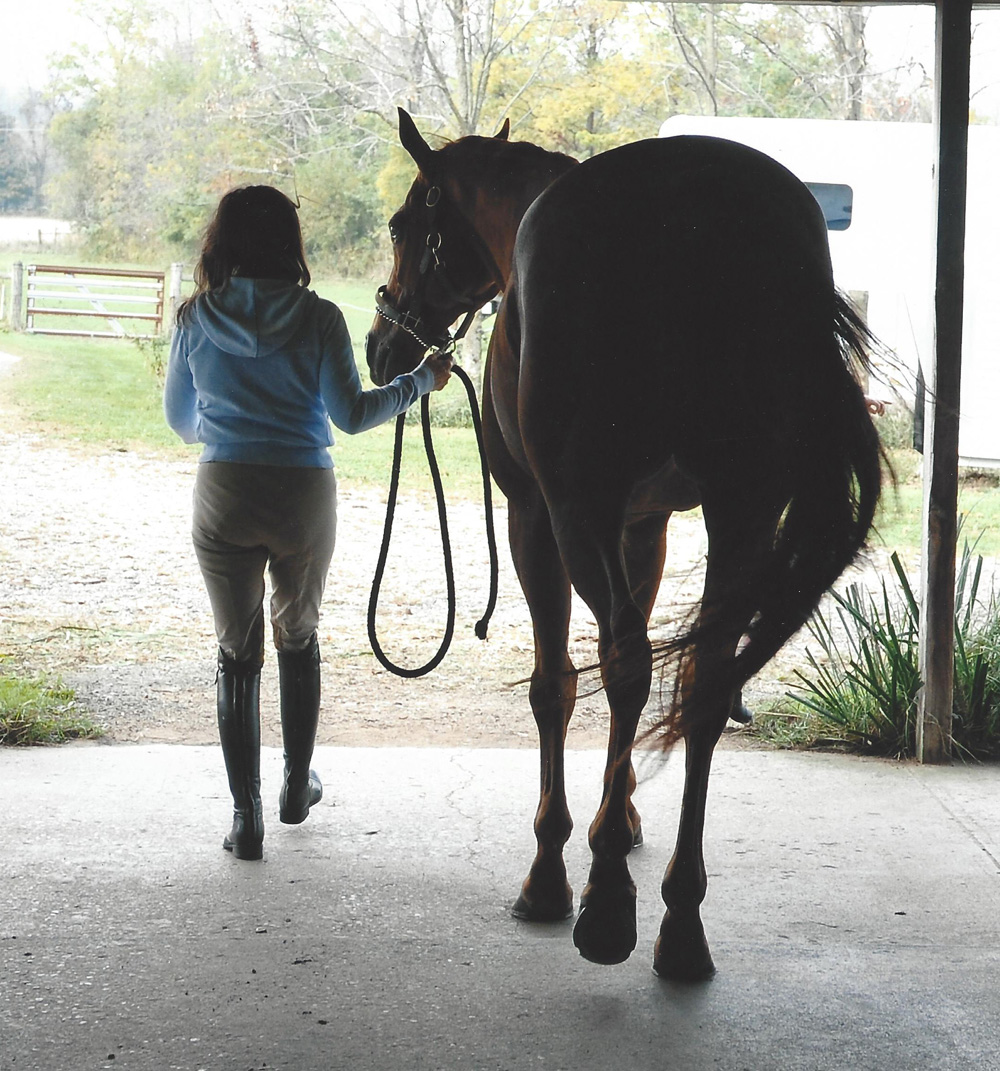 When that didn't help, she started teaching herself bodywork by referencing Jim Masterson's books on equine massage. She also bought a therapeutic ultrasound machine, and the gelding gradually got better.
The effects of treatment for Hodgkin's have left a lasting effect on Roberson, but she's determined to work through them to be able to ride. She suffers from balance problems because of the radiation and chemotherapy and Dropped Head Syndrome.
"It was really embarrassing [going to a horse show.] I have a good eye, and I have a fabulous horse, and I couldn't get my head up in time to see the second fence in a line. I couldn't breathe either," she said. "I couldn't figure out what was going on, so I went to my doctor, who found heart and lung problems from the radiation. I saw a pulmonologist and a cardiologist. Then I developed a sort of disorientation, so I went to see a neurologist who diagnosed me with cervical dystonia, which is spasming in the muscles in the front of your neck. I have Dropped Head Syndrome because the back of my neck muscles are so damaged from radiation that they don't work very well. It's hard to keep my head up during any sort of [physical] activity."
Roberson, Pataskala, Ohio, showed a bit in 2014, but occasionally passed the reins to professionals Holly Helbig and Michaella Gerlacher.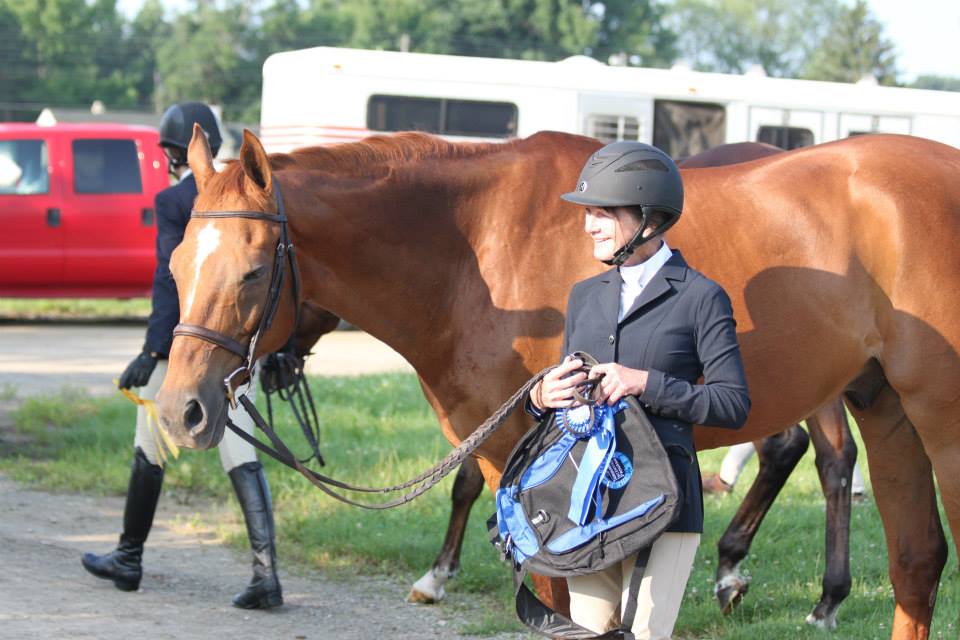 She retired two years ago from her job at Ohio State where she worked at the medical center running a volunteer program and credentialing physicians and is now able to focus solely on getting stronger so she can ride Seven, who's 19 now.
These days Roberson is able to school Seven at home for short periods and shows when she can. She and Seven earned the Thoroughbred Incentive Program Thoroughbred Hunter Championship two years in a row at the Showtime Series in Ohio.
She works out every day with exercises for her neck and cardio and keeps busy running her boarding barn, Silver Lining Farm.
"It's so much fun! I don't know how I ever had time to work," she said with a laugh. "My horse is my inspiration to keep trying to get better because he's so wonderful. He inspires me to get better because he never gave up going through his rehab. He never said no, he never said, 'I'm not trying this anymore.' He just gotten better and better. He's every little girl's dream. I've had a lot of horses through the years, and he's just exceptional that way."