When Betty Tsitrian saw a newspaper ad for a 6-month-old tricolor Percheron/Bashkir Curly cross it had been more than a decade since she'd ridden regularly. Regardless, she barely hesitated to bring the filly home and name her Laureli. Ten years later, the duo made their debut at the 2017 U.S. Eventing Association American Eventing Championships (North Carolina) and have big plans for the future.
"I'm so glad I got Laureli out of where she was," Tsitrian said. "This lady had eight or 10 other foals. She fed them all out of a trough so nobody knew how much food they were getting, she would just come dump a bag of feed in, and whoever was strongest got to eat."
Tsitrian, 57, resides in Trenton, Florida, but she grew up on a farm in Spotsylvania County, Virginia, where her family raised Black Angus cattle. Her parents were not horse people but when it became clear that Tsitrian's love for horses was more than a phase, they gifted her with a pony.
"I was 7-years-old, and it was probably the last time it snowed in Virginia on Christmas Eve," Tsitrian said. "My parents walked this pony a mile and a half from my neighbors house, and when I got up in the morning and went out to the barn there was a little chestnut Welsh Pony with a flaxen mane and tail with a big red bow around his neck. That's how it all started.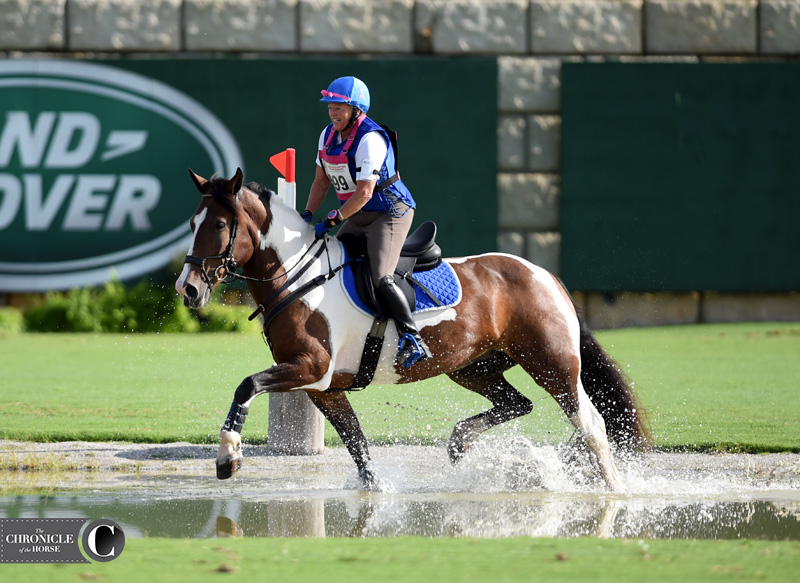 "My mom used to get up at 4 a.m. and braid my pony's mane with needle and thread," she continued. "We had a pick-up truck with sideboards, the pony was so small we would just walk him up a bank, back the truck up so he could walk on, and off to horse shows we went."
Tsitrian specialized in the hunter and jumper rings growing up, but she also spent time breaking yearling race horses in New Jersey. Her experience at the track allowed to her start Laureli herself even after taking an extended break from horses.
"I started her on the ground, longeing, driving, just the basic start; walk, trot canter," Tsitrian said. "Then we were out on a trail, and we jumped a couple of logs, and I thought, 'Hmm, she really likes this.'"
With Laureli's interest in cross-country sparked, Tsitrian got her first taste of the sport through a hunter pace at Misty Morning in Gainesville, Florida.
"I'd like to know how a fun hunter pace turned into an expensive commitment to all three phases," Tsitrian said, laughing. She and Laureli tackled their first event in 2013 at Fannin Hill Farm in Brooksville, Florida.
"We won the beginner novice division, and I was on top of the world," Tsitrian said. "I cried all the way home, I was so happy and proud of Laureli. At that point in time I did not have a coach or trainer so to walk away with a blue made it even sweeter."
Tsitrian and Laureli placed consistently in the top 10 through the 2016-2017 season, qualified for the AEC, and set off for the Tryon International Equestrian Center on their own.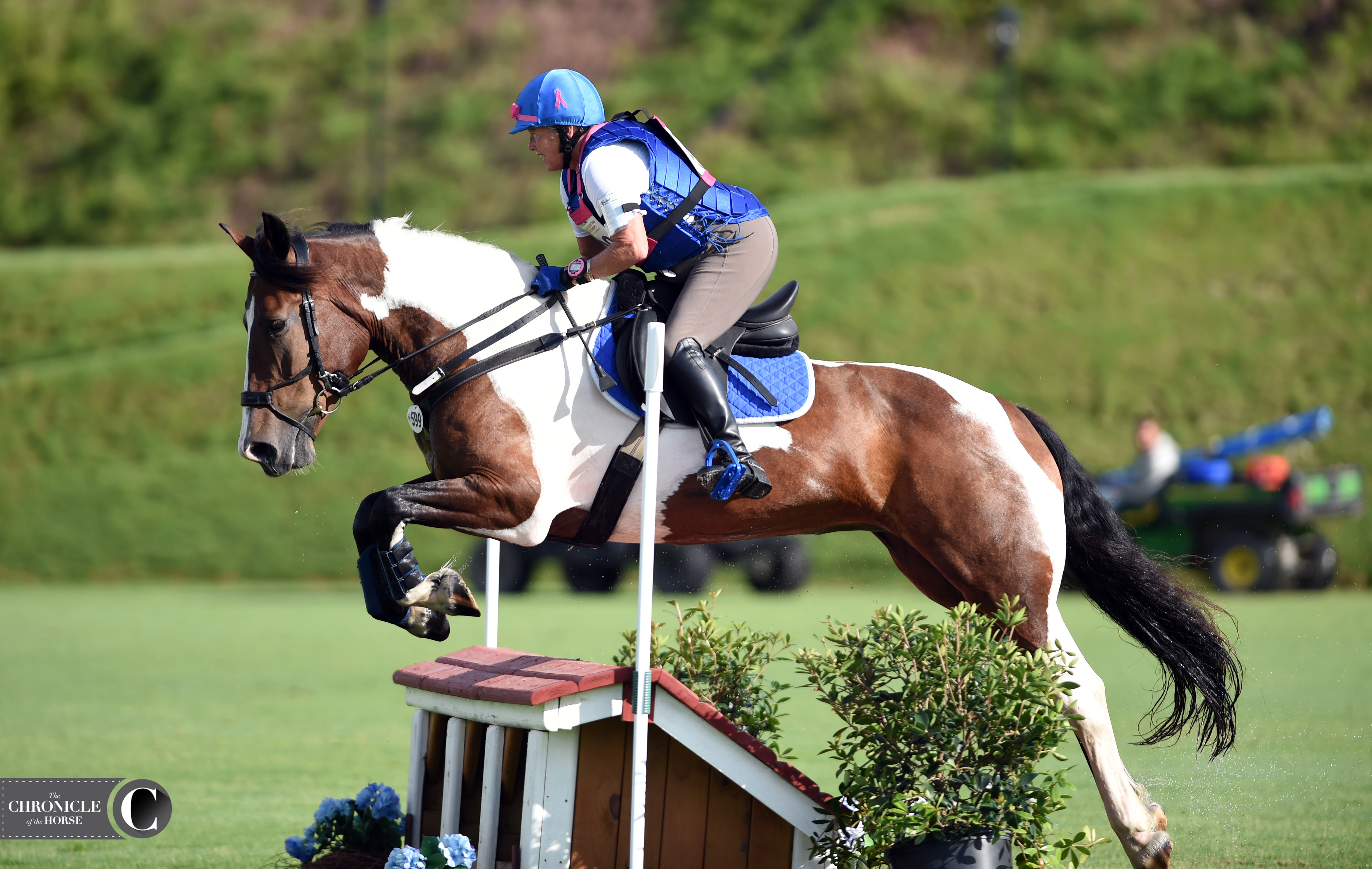 "It was my first time at the AEC, that was my check off the bucket list," Tsitrian said. "I did a Gofundme because I do everything on a shoestring, it's hard keeping up with the house and the other animals, and I had a lot of friends who wanted to help. I went completely by myself; my trainer couldn't go, I didn't have friends up there, it was just me and Laureli. We were pretty comforting to each other."
Tsitrian and Laureli finished 16th out of 35 in the amateur beginner novice division.
"I was hoping we would do better," Tsitrian said. "Our dressage wasn't what it could have been, wasn't what it should have been. I was nervous. When we came back home I actually started Laureli over in dressage with my trainer, Melissa McMaster, and now she's round, her self carriage is improving. I'm really excited about how she's going."
The AEC is heading to Colorado for 2018, which is too far for Tsitrian to travel, but she said she would go back if it returns to North Carolina. Despite a disappointing dressage round, Laureli overcame a unique obstacle and proved herself in the show jumping.
"It was our first time showing at a venue like that, it was intimidating," Tsitrian said. "Laureli's never been in a ring like that, and she's only got partial vision in her right eye. The bands that hold the pupil in place don't work well in her eye, so her pupil is down at the bottom and on the right side of her right eye. She can see enough that she blinks, but when I first started breaking her, she would always spin to the right and put her good left eye out. I thought she was gonna melt down in that ring with the tunnel and the concrete walls, but she was so good."
Laureli isn't the only horse on Tsitrian's 5-acre farm. She shares the property with Leilu, a PMU mare Tsitrian rescued sight-unseen as a 2-year-old a year before finding Laureli.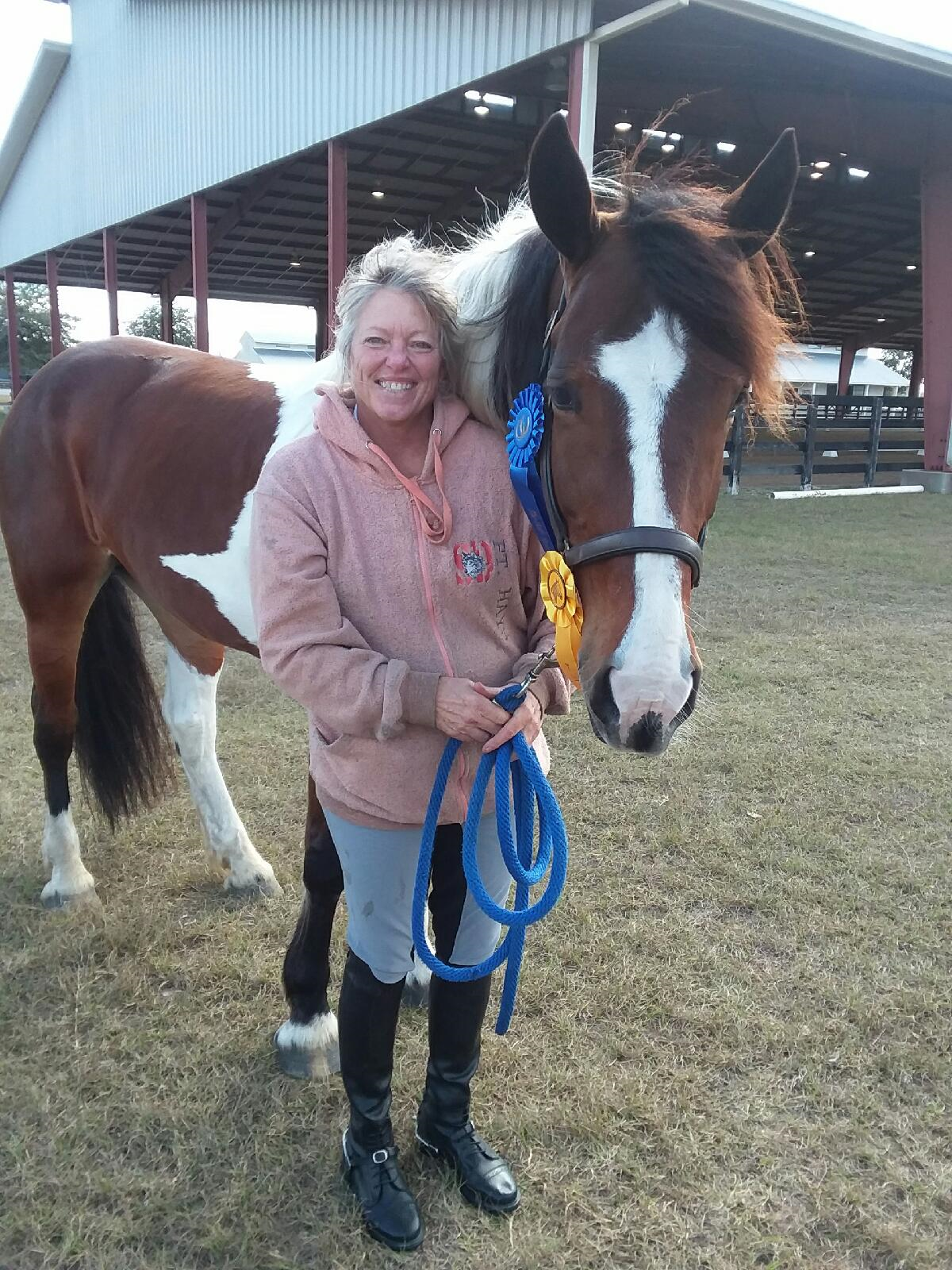 "I'd heard about the PMU foals and where some of them ended up; I wasn't going to have that," she said. Leilu is a Shire/Thoroughbred cross, and completed one event, but at 17 hands and with a build that's more draft than Thoroughbred, she prefers the life of a trail horse.
"My husband, Peter, doesn't really ride," Tsitrian said, "but he did ride Leilu once. She got spooked at something on the trail, and he started to fall, but she stepped right back under him and stayed until he had his balance again. He was like, 'Did you just see that? That was amazing!' And she is, she's wonderful."
Tsitrian sells scuba diving travel and credits her at-home office with allowing her to balance the work required by a farm, horses, dogs, and a husband. She has been training with McMaster, a local eventer who serves as Tsitrian's jumping coach, dressage coach, and farrier. McMaster is also standing a stallion to breed with Leilu, producing what Tsitrian hopes will be her partner when it's time for her to leave jumping behind (she's not in a rush though).
"I'm so excited," Tsitrian said, "I'm going to have a baby! The best kind of baby!"