If there's anything horse people know well, it's that no communication is so personal, so nuanced as that between a horse and rider. When the horse is a quirky, green-broke former racehorse with plenty of brains and an eye for detail, it can become even more challenging to learn the language.
That's just what Alexandria Tiffinger has done with Good Time Charlie, a 6-year-old Standardbred rescued from a feed lot in lower British Columbia. Tiffinger grew up riding both western and english aboard her Morgan, Hal, taking lessons until she was 12 and afterwards schooling on her own. When Hal needed to retire, Tiffinger developed the same habit many of us do: she started scanning Facebook sale ads for rescue horses. Eventually, she came across a gelding offered for adoption by J&M Acres Horse Rescue.
"One day I saw this face on Facebook and as they say, the rest is history," said Tiffinger, 23. "I thought, 'I'll just ask. It can't hurt to ask, and I'll get it out of my system.' That's not how it went."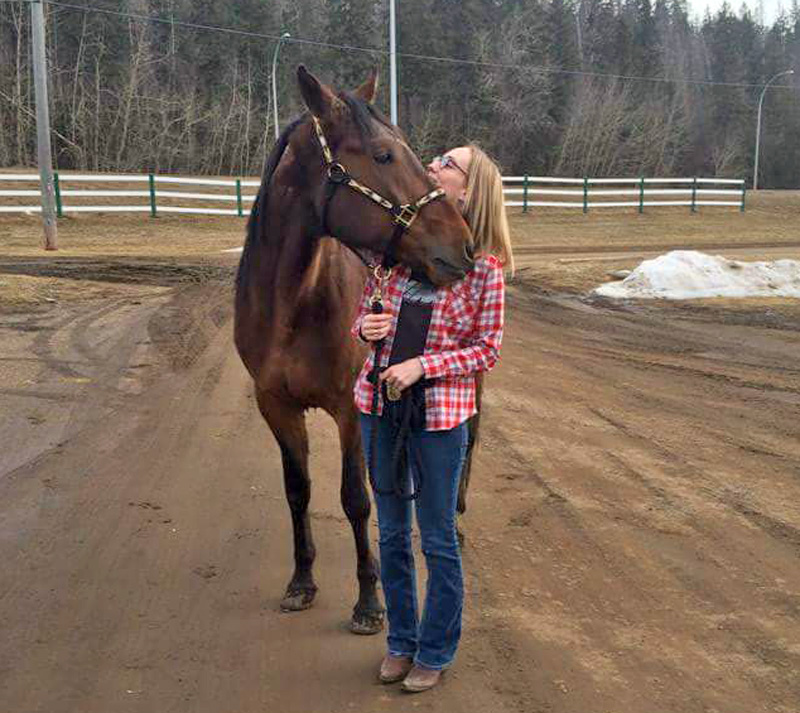 Tiffinger hadn't had much experience with Standardbreds, but had a few friends who had successfully evented with the breed. She had tried other horses who were suitable to help her make the transition into the sport, but none seemed to quite fit. With Charlie, something clicked. The adoption fee was $500 and she could return him if things didn't work out, knowing he'd be placed in a good home. She decided to give the gelding, then 3 years old, a shot.
Charlie hadn't had much under-saddle work at all when she adopted him in 2014, but Tiffinger had wanted a horse who was young and inexperienced. Her parents bought her Hal when she was 18 months old and he was a weanling. She began taking lessons at age 4, and started with Hal when she was 8. They'd grown up together, and she had enjoyed the experience.
"I wanted a horse who was greenbroke again because I really think there's a lot of value in starting a horse if you have the support to do that," said Tiffinger.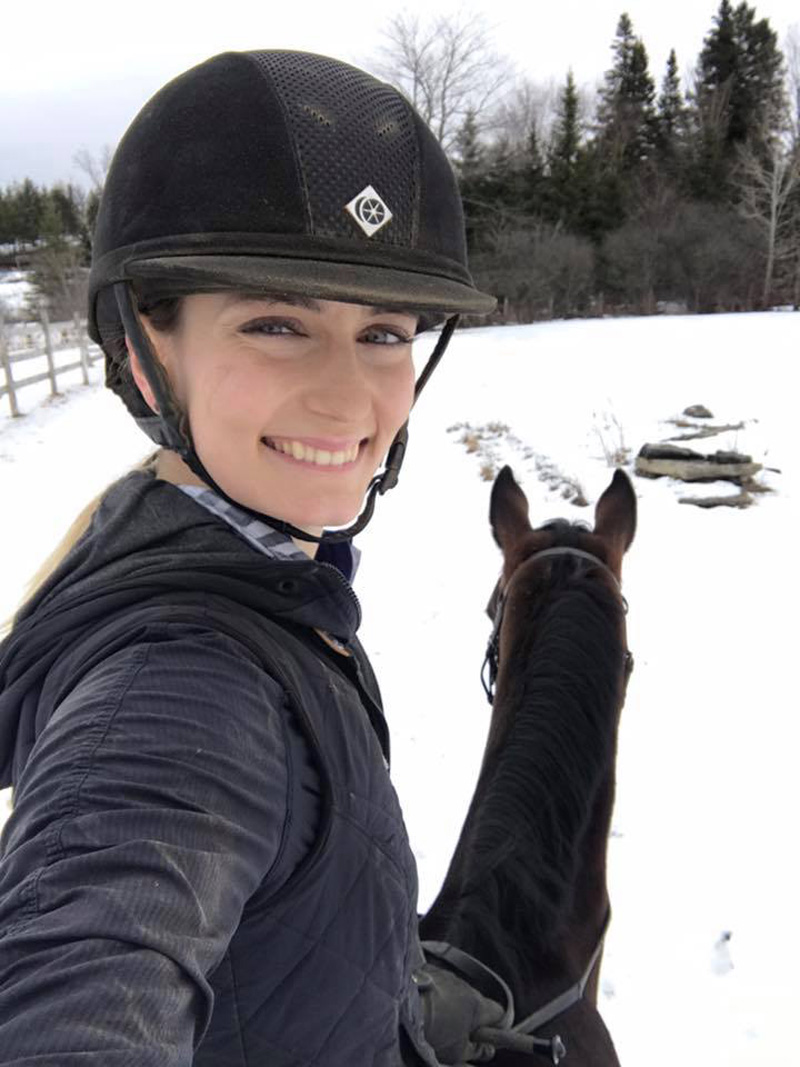 Charlie proved a challenge in many ways, but a rewarding one. He notices everything—even Tiffinger's coach raising a jump one hole—and that can mean he becomes high-strung.
Tiffinger remembers one afternoon when she received a call at the Université de Sherbrooke, where she is a master's student in physiology. She had asked her farrier to put hind shoes on Charlie, and the session wasn't going well.
"You have to 'speak Charlie' to get anywhere with him. He's not a bad horse," she said. "I don't think he has a mean bone in his body, but sometimes he can do things that if you don't know him, they can startle a person a bit.
"Deep down, he's a puppy dog. That's what they told me before I got him and that's what I noticed right away."
As Tiffinger has learned to read him, she has realized Charlie always has a reason for his behavior—the trick is following his train of thought and figuring out how to alleviate his concerns. And the shoes?
"We got it done," she said. "One nail at a time."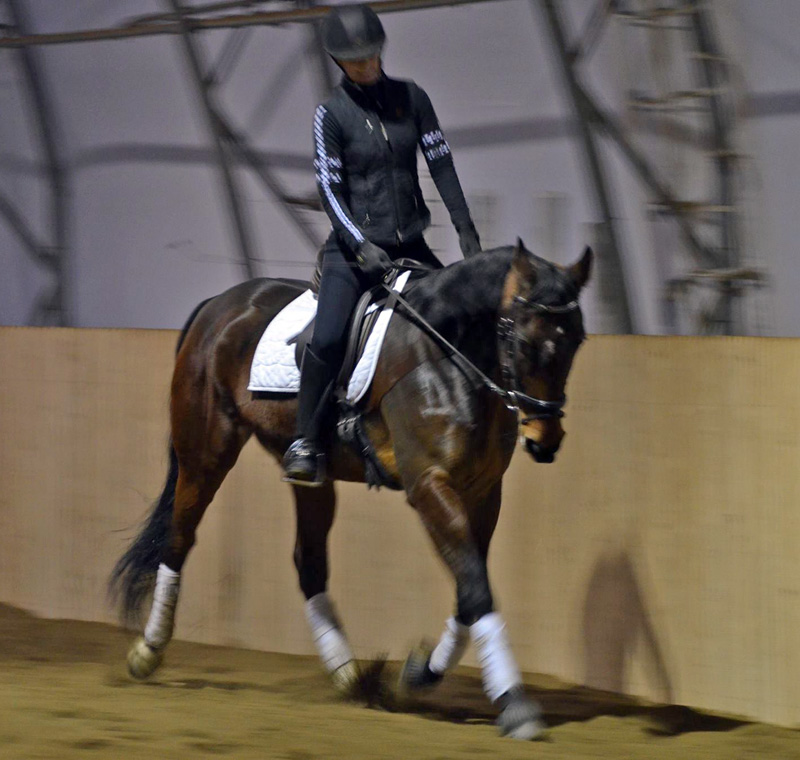 One bit at a time is the approach Tiffinger has taken to his training, as well. Dressage has been an especially steep learning curve for both of them. Charlie is willing, but Tiffinger said "his happy place" is usually with a slight hollow in his back, which makes sense, given a pacer's way of moving. The two spent the winter working on the inside leg-to-outside rein connection, and Tiffinger can feel the pieces falling into place. She's not sure if it's a change in her riding, Charlie's muscles, or simple maturity, but she's happy to have things coming together.
Keeping a horse in full training is a challenge for a master's student. Tiffinger moved across Canada to start her master's program in 2015, bringing Charlie with her. (The hauling fee was significantly more than the price of the horse himself.) Tiffinger works 40 hours or more each week in the lab at the university, which often means scheduling her riding around the experiments. With careful planning, she manages to ride five days out of most weeks, including a lesson. In return, Charlie helped her through a rough transition from her native Alberta to Quebec.
"I can honestly say that Charlie really helped me through the hardest time," she said. "He is absolutely my best friend, there is no question about that. If that was the only reason for bringing him all the way across the country, that's fine. I was really grateful I had him in the last year. I really don't know what I would have done without him."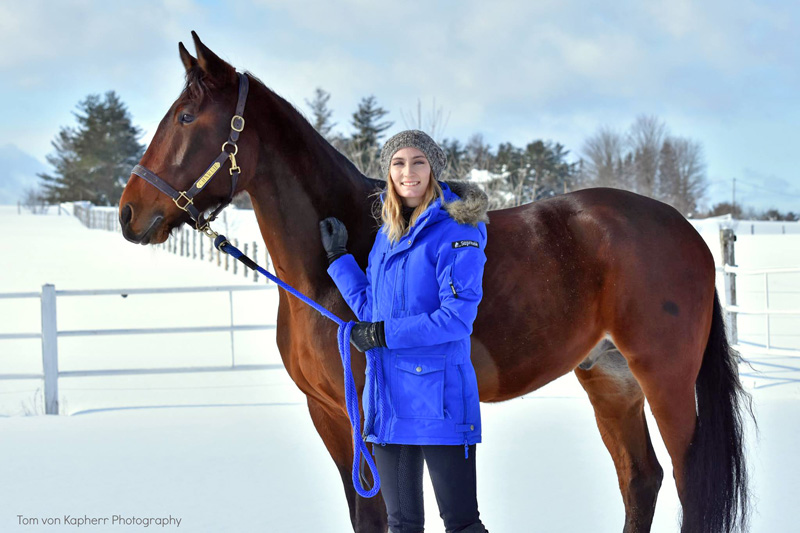 Their show career is coming together, too. The two debuted in 2015 at a dressage show, though "it went absolutely horrible," Tiffinger said. "In the first test we spent more time on two feet than four and we got eliminated." They've spent the past two years competing at pre-entry and entry level in local combined tests and completed their first trial last year. At the end of last season, Tiffinger and Charlie finished reserve champions at entry level at the Association Équestre Régionale de l'Estrie finals, and were champions at pre-entry level.
Tiffinger feels Standardbreds are poorly understood in the sport horse world. She is often asked whether Charlie knows how to trot or canter (he does, and hardly ever paced in early training unless he was confused or unsure). A judge in their early days suggested Charlie was out of his element in the dressage ring. More than one person has told her he's very attractive "for a Standardbred." Tiffinger has found Charlie as capable as any other horse of excelling in eventing, and is hoping to show people the breed's potential.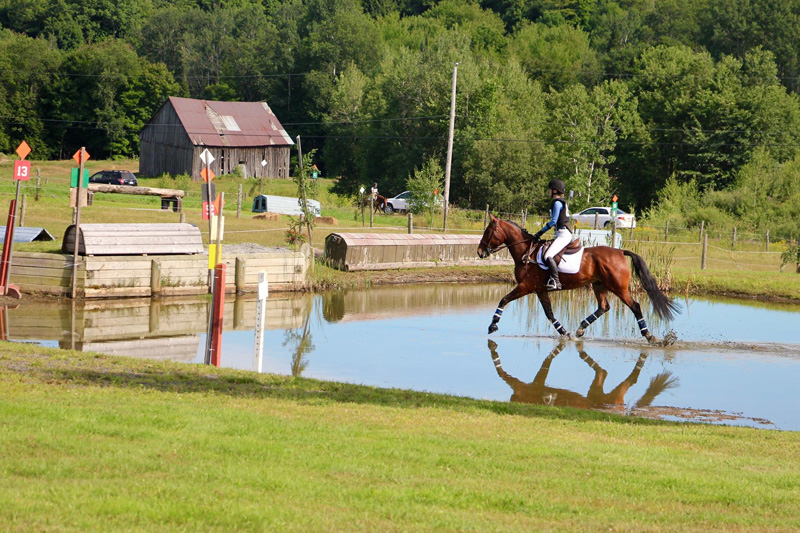 "He is a very talented horse, he is very smart, and I think he has a lot of potential. I'm just going to keep going until he tells me, 'This isn't for me,'" she said, of his longterm training goals. "Not when someone else tells me that.
"Not to be petty, but sometimes I want to say, 'No, my horse can do more than you think he can. I'll show you.' "